Krizle Grace Mago, Pharmally's main point person in government projects, says when asked in the Senate if they swindled the government, 'I believe that is the case'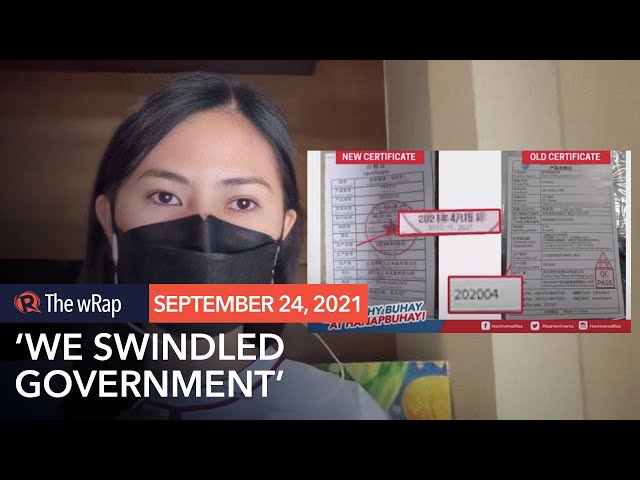 In a stunning admission at the Senate blue ribbon committee on Friday, September 24, Krizle Grace Mago, Pharmally Pharmaceutical's main point person to government projects, said she was instructed to tell warehouse staff to change expiry dates on medical-grade face shields.
"That is something I cannot deny," Mago told senators after Senator Risa Hontiveros obtained a video statement made under oath of an unidentified warehouse staff who said they changed production date stickers on the face shields.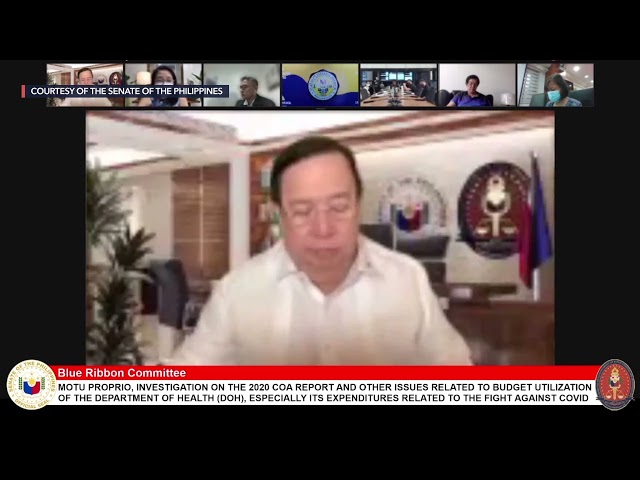 Changing production dates effectively meant changing expiry dates. The US Centers for Disease Control and Prevention (CDC) does not recommend using personal protective equipment (PPE) beyond its manufacturer-designated shelf life.
The warehouse staff, hired by Pharmally in August this year, said they would get face shields with stickers bearing the production date of 2020, remove them, and replaced these with stickers of 2021 production date.
It was not clear what the expiry date of the 2020-made faces shields were, but the warehouse staff said they were already expired and "substandard."
"We don't throw away any face shield even though they are substandard, even though they are distorted, dirty, discolored and soiled. Some of them were soiled because of warehouse leaks," said the warehouse staff in Filipino. The staff's identity was concealed by wearing a hoodie, black sunglasses and face mask in the video.
The warehouse staff said he believed the face shields were for healthcare workers because they saw the boxes were labelled "for DOH" or for the Department of Health.
Asked by Senator Richard Gordon if by tampering with the production stickers of the face shields they "swindled the government," Mago said: "I believe that is the case."
Mago said it was Pharmally Pharmaceutical treasurer Mohit Dargani who instructed her to do so, which the latter denied.
"The instruction did not come from me, I believe it was Krizle who asked in our group if this was doable, but the instruction did not come from me. I think because she is used to getting instructions from me, maybe in this scenario, she thought it was me but it's not the case," said Dargani.
Responding to Dargani's denial, Mago said, "I always follow instructions."
'I was put in another company for convenience'
Pharmally Pharmaceutical is a small company owned by a Singaporean wanted in Taiwan, with only P625,000 in capital, yet it was awarded the most pandemic contracts, totaling P10 billion so far, courtesy of the Procurement Service-Department of Budget and Management (PS-DBM).
The Senate hearings have revealed that to cope with their contracts, Pharmally would be financed and guaranteed to their Chinese suppliers by Michael Yang, former economic adviser to President Rodrigo Duterte.
The hearings have also revealed that in the first tranche of 500,000 face masks, which were delivered in March 2020 to PS-DBM ahead of a purchase order, Pharmally bought supplies from Tigerphil Marketing, which in turn bought the supplies from a company called Greentrends. Greentrends sold it at P18, while Pharmally sold it to the PS-DBM for P27.72 per piece.
On Friday, the Senate security staff said it could not locate Greentrends' address, leading senators to conclude it is a fictitious address.
Bid documents obtained by Rappler show that in June 2021, the DOH awarded a new face shield contract to Pharmally worth P37.9 million. It was a deal won not by Pharmally alone, but through a joint venture with another young company, Business Beyond Limits OPC (BBLOPC).
BBLOPC's office is located in the same high-rise tower in Taguig City, and one of its nominees is Mago. It is owned by a sole incorporator – a certain Sophia Mercedes Custodio who subscribed P10 million as capital when the company incorporated in June 2020, according to Securities and Exchange Commission (SEC) records obtained by Rappler.
"The truth is, I was appointed, how do I say this, nilagay ako diyan (I was placed there) for convenience," said Mago, adding that it was she who knew how to prepare bid documents.
Senator Richard Gordon appealed to Mago to cooperate with the blue ribbon committee, and in exchange, they would offer her protection.
"I don't want to go after you. Gusto naming makipag-cooperate ka para sa bayan (we want you to cooperate for the country)," said Gordon.
Her voice breaking, Mago said: "I am very willing to cooperate. Please give me enough time to think about this, and I will reach out to you."
President Rodrigo Duterte has repeatedly defended Yang, Pharmally and PS-DBM former chief Lloyd Christopher Lao, and had instead slammed the Senate blue ribbon committee for continuing the investigation.
In the last hearing, Senator Francis Pangilinan uncovered that around P550 million worth of test kits, some of them from Pharmally, had expired without being used by the DOH because of short shelf life.
As Lao continued to defend the Pharmally deals by saying they were exempted from procurement rules by Duterte's Bayanihan 1, Pangilinan said they would have to check if Bayanihan 1 had already taken effect on March 25.
Duterte's response was to chide Pangilinan for "debating technicalities in the middle of a global pandemic." – Rappler.com