(2nd UPDATE) Senator Richard Gordon asks the National Bureau of Investigation to help find Krizle Mago
The Senate blue ribbon committee is now having trouble contacting Pharmally Pharmaceutical Corporation executive Krizle Grace Mago just two days after her stunning admission about "swindling" President Rodrigo Duterte's government.
This was confirmed by panel chairman and Senator Richard Gordon via Twitter on Sunday, September 26, after rumors swirled that Mago could no longer be contacted.
"Pharmally Pharmaceutical official Krizle Mago hindi na ma-contact ng Senate blue ribbon committee!" Gordon tweeted.
(The Senate blue ribbon committee can no longer contact Pharmally Pharmaceutical official Krizle Mago!)
"[Dalawang] araw matapos ang kanyang pag-amin na niloko ng kompanya ang taumbayan sa pagpapalit ng expiration dates ng face masks at face shields, 'out of reach' na si Ms. Mago," the senator added.
(Two days after her admission that the company cheated on the people by changing the expiration dates on their face masks and face shields, Ms. Mago is now "out of reach.")
On Monday, September 27, Gordon wrote a letter to the National Bureau of Investigation seeking its help to locate Mago.
"The Chairman and the Committee is worried as to the safety of Ms. Krizle Grace U. Mago of Pharmally Pharmaceutical Corporation, a resource person in our investigation, after her damaging testimony against probable co-conspirators. In this regard, the Chairman requests the National Bureau of Investigation to help us look for her," said Gordon.
In a stunning admission before senators on Friday, September 24, Pharmally's incorporator and regular affairs head Mago said she was instructed to tell warehouse staff to change expiry dates on medical-grade face shields.
Asked by blue ribbon committee chairman and Senator Richard Gordon if by tampering with the production stickers of the face shields they "swindled the government," Mago said, "I believe that is the case."
Gordon later appealed to Mago to cooperate with the blue ribbon committee, and in exchange, they would offer her protection.
Mago said she was "very willing" to cooperate, but asked senators to give her enough time to think about Gordon's offer for protection.
Gordon's staff said the blue ribbon committee first asked for Mago's exact location at 5:47 pm on Friday following Gordon's offer to give her protection. At 7:47 pm, Mago said she would get back to them after the hearing.
After hearing no feedback from Mago for two days, the blue ribbon committee followed up with the Pharmally official at 8:15 am on Sunday. They tried calling her at 9:13 am, but she could no longer be reached.
In a text message to Rappler on Sunday, Gordon also said that information had reached him saying Mago is supposedly being protected now by "bodyguards."
"We hear she is not in her condo, but with 'bodyguards.' As to who from, we are trying to determine pa," the blue ribbon panel chairman said.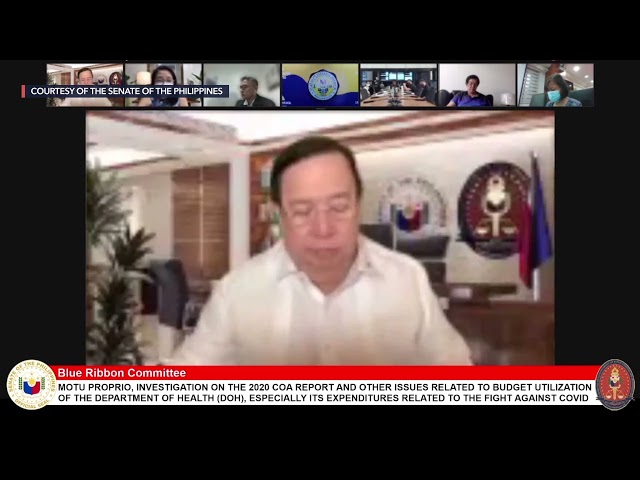 Pharmally, owned by a Singaporean wanted in Taiwan, is a small company with only P625,000 in capital, yet it was awarded the most pandemic contracts worth P10 billion, courtesy of the Procurement Service-Department of Budget and Management (PS-DBM).
The Senate hearings have revealed that to cope with their contracts, Pharmally would be financed and guaranteed to their Chinese suppliers by Michael Yang, former economic adviser to Duterte.
It was former budget undersecretary Lloyd Christopher Lao who signed PS-DBM's contracts with Pharmally. Lao used to work under Duterte's longtime aide turned senator Bong Go when the latter was still with the Presidential Management Staff, but Go denies Lao is his protegé.
Philippine opposition leader and Vice President Leni Robredo was appalled by the revelations being uncovered in the Pharmally hearings, calling it "unforgivable" and an "injustice" duruing the coronavirus pandemic. – Rappler.com