(1st UPDATE) The House takes Krizle Mago under protective custody after she stopped attending Senate hearings
After being "incommunicado" to the Senate, Pharmally corporate representative Krizle Mago surfaces at the House of Representatives, entering its protective custody.
This was announced in the Viber group of the House committee on good government and public accountability on Friday, October 1, with the committee showing photos of Mago at the House.
This comes after Mago stopped attending and responding to the Senate after her revelations about tampered manufacture dates of face shields on September 24.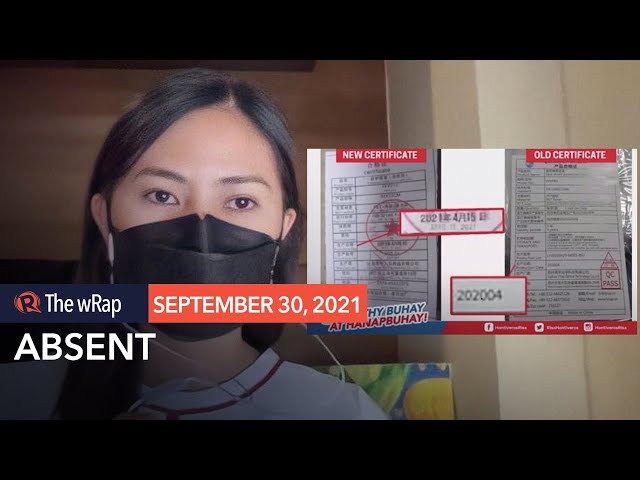 According to House good government and public accountability chairman DIWA Representative Michael Aglipay, Mago entered the House at around 6:30 pm on Friday.
In a letter transmitted to Senate blue ribbon committee chairman Richard Gordon, Aglipay said Mago sent a letter to his committee asking for the House's protection. Aglipay said the House will take her in for 2 months or at least until the committee adopts a report on the Pharmally probe.
Mago wrote a letter to Aglipay on September 30 – a copy of which was shared to reporters – saying that she felt "grave danger" after her Senate testimony. She said she could speak more freely if granted protection.
To recall, Mago confirmed to the Senate that face shields purchased by the Duterte government from Pharmally had their manufacture dates tampered, replacing label stickers from 2020 to 2021.
She also confirmed the video of a Pharmally warehouse employee describing the face shields as already expired and "substandard."
Pharmally is a small company owned by a Singaporean wanted in Taiwan. Though it only had P625,000 in capital, it obtained the most government pandemic contracts, totaling P10 billion so far, courtesy of the Procurement Service-Department of Budget and Management (PS-DBM). – Rappler.com