(UPDATED) Officials of the embattled state insurer covered by the order will have until October 5 to hand in their resignations
Philippine Health Insurance Corporation (PhilHealth) President and Chief Executive Officer Dante Gierran has ordered the agency's senior executives to "immediately submit" their courtesy resignations as part of his efforts to reform the embattled state insurer.
In a September 30 memorandum obtained by Rappler, Gierran ordered all PhilHealth officials with salary grade 26 and above to comply with his order by Monday, October 5. Officials with this salary grade include vice presidents, senior vice presidents, and senior managers.
A week before Gierran gave the order, the PhilHealth board held a meeting on September 24, where it directed the implementation of Board Resolution No. 2457 s. 2019.
The board resolution's dispositive portion read, "Wherefore the board resolves as it is hereby resolved to direct all PhilHealth officials holding positions with Salary Grade 26 and above to immediately submit their courtesy resignation to the President and CEO."
A PhilHealth vice president and other senior officials who asked not to be named confirmed the resignation order in separate messages to Rappler on Friday, October 2.
PhilHealth Workers for Hope, Integrity, Transparency, and Empowerment (WHITE) vice president Bryan Jabay also confirmed Gierran's order in a message to Rappler.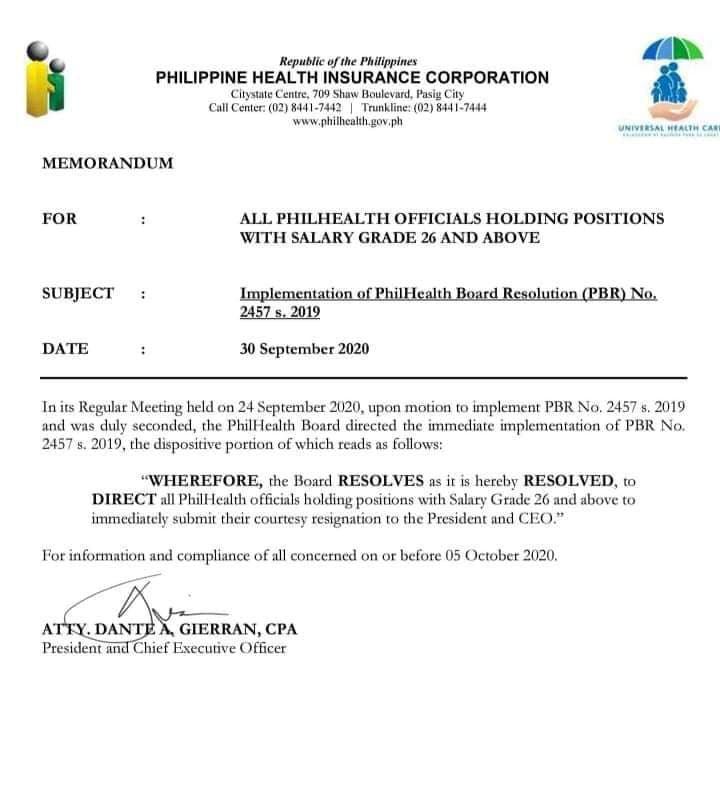 In an interview with CNN Philippines on Friday morning, Presidential Spokesman Harry Roque said that the Malacañang backs Gierran's order
"Atty Gierran knows that he does not have much time. That's why I think it was important for him to request for all the senior executives to file their courtesy resignations because that's the fastest way that he can reorganize," Roque said.
Gierran issued the order a day after President Rodrigo Duterte broached the idea of abolishing PhilHealth, citing his frustration over anomalies that continued to pound the state insurer.
"This PhilHealth, I am going to propose to Congress to abolish the… If you privatize it, there is no money….This can no longer be, the people are already entrenched. Nothing will happen. Either I'm going to revamp, consider everybody resigned there and if there's the structure, we can slowly…disband," Duterte said in a mix of English and Filipino on Monday night, September 28.
Duterte had earlier named Gierran, former National Bureau of Investigation chief, to replace Ricardo Morales. The President had relieved Morales, who is battling cancer, for health reasons.
In August, lawmakers investigated PhilHealth for alleged corruption as whistleblowers claimed that some P15 billion ($309.6 million) in funds were pocketed by its executives.
The PhilHealth anomalies have fueled anger against the government at a time when the Philippines continued to log more coronavirus cases daily. Nearly 7 months into the pandemic, the Philippines reported the highest number of total coronavirus cases in Southeast Asia. – With reports from Bonz Magsambol and Camille Elemia/Rappler.com