The Court administrator commits a rule that would state in clear terms that search warrant records need to be subpoeanaed
The Judiciary, praised by several lawmakers for its recent display of judicial activism, is requesting P7.47 billion more in its 2022 budget which would mainly be used for hiring of judges, and enhancing its virtual capacities.
"I really congratulate and thank the Alexander Gesmundo court for having judicial activism," said House Deputy Speaker Rufus Rodriguez during the House Appropriations Committee hearing of the judiciary's budget for 2022.
The Department of Budget and Management (DBM) recommended P44.98 billion for the judiciary in 2022, which is lower than the P45.31 billion it got in 2021. The Judiciary is asking for additional P7 billion.
While there was largely support from lawmakers to support the budget increase, it doesn't come without expectations.
Bayan Muna Representative Carlos Zarate pointed out that even though the Supreme Court has already required the use of body cameras in the execution of search warrants, and scrapped remote search warrants, there is more that needs to be done to prevent the courts from being used in state abuses.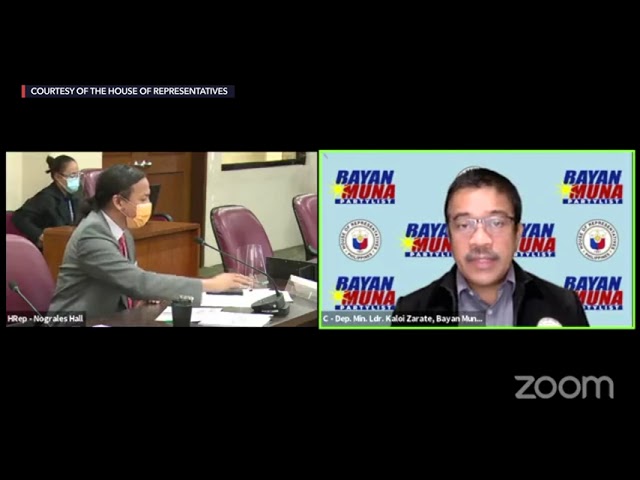 For one, Zarate asked if the judiciary will do an audit of search warrants which have been criticized as having been misused by judges that led not only to the detention, but deaths of activists.
Many of these search warrants, particularly those by Quezon City Judge Cecilyn Burgos Villavert, have been voided by co-equal courts.
The answer of Court Administrator Midas Marquez was not categorical, saying only that "issuances of search warrants are normally being reported to the Supreme Court, that's included in the monthly reports submitted by our courts nationwide."
What Marquez committed was a rule that would state in clear terms that search warrant records need to be subpoenaed.
When someone is arrested as a result of the search, the actual case – usually, it's illegal possession of firearms and explosives – is handled by a court different than the one which issued the search warrant.
Lawyers of activists, for example Reina Mae Nasino, would sometimes have difficulty getting the judge handling the actual case to subpoena the documents from the judge who issued the search warrant.
It is a peculiar situation because it is a judge acting against a co-equal judge.
Records are important to check the validity of the search, which in many recent cases, have resulted favorably for and have freed activists.
"We will be issuing a circular to that effect to clarify. It is not a question of judicial courtesy, but you're correct, it's in the rules that those records need to be subpoenaed," Marquez said in a mix of English and Filipino.
What does the judiciary need
Marquez said, and Rodriguez – a lawyer – agreed, that the DBM-approved budget for the judiciary in 2022 was unconstitutional, because it was lower than their 2021 budget.
The Constitution grants fiscal autonomy to the judiciary, which guarantees that its budget may not be reduced to an amount lower than the previous year.
Marquez said that upon an appeal, the DBM gave the judiciary P300 million more, but still so short of the P7.47 billion that could push their 2022 budget to around P52 billion.
Bulk of the addition, or P960 million would go to its COVID-19 expense, which is to pay for IT needs like internet and other equipment, and supplies and hazard pay to personnel.
There is P920 million earmarked for new positions, including judges-at-large and personnel for its newly-created Judicial Integrity Board which is tasked to investigate corruption and other ethics violations within the judiciary.
Judges-at-large are roving judges with no permanent salas but can assist courts with clogged dockets, and envisioned to handle cases in courtrooms in far-flung or conflict-stricken areas where nobody wants to apply.
"Kapag hindi po natin nakuha ang hinihingi nating P7.47 billion medyo mahihirapan po tayong patakbuhin ang ating hudikatura, hindi po natin mase-swelduhan ang mga judges-at-large, ang courtrooms hindi natin mauupahan...we will have to source funds elsewhere for us to be able to continue paying annual license fees for our 365 platforms," Marquez said.
(If we don't get our requested additional P7.47 billion, we wil have a hard time running the judiciary, we won't be able to pay our judges-at-large, we can't pay the lease of our court rooms.)
The 365 platform is what the judiciary uses for its virtual hearings, piloted at the start of the pandemic in 2020.
Rodriguez, though, quickly turned from praising the judiciary to criticizing the Supreme Court for what he said are six-year pending court constructions in Cagayan de Oro City, his hometown.
Rodriguez said if he sees no solid plan of action on his concern, he will not defend the requested additional appropriation in the plenary.
"We always fight it out because we believe the judiciary is the last bulwark of democracy, but with this kind of inaction, we are going to oppose the budget of the judiciary in the plenary," said Rodriguez, shouting through Zoom.
– Rappler.com