'The PRC is a humanitarian organization and is not in the business of selling any vaccines. It does not charge for anything that it got free,' says Carissa Coscolluela, governor of the Philippine Red Cross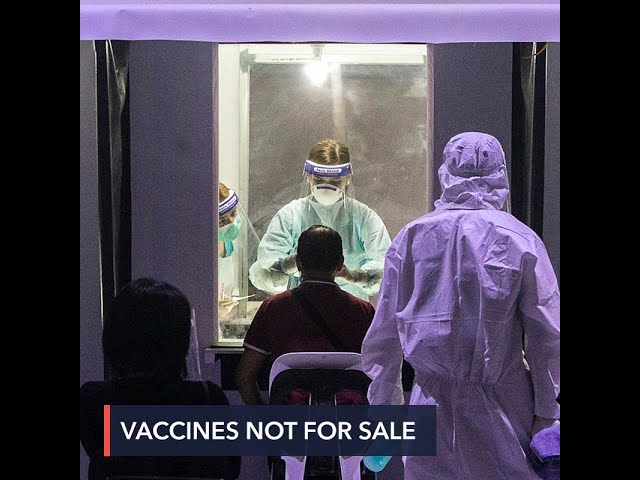 The Philippine Red Cross (PRC) on Monday night, May 17, clarified that it would not sell COVID-19 vaccines as it is a "humanitarian organization and is not in the business of selling any vaccines."
"To set the record straight, PRC Chairman Richard Gordon never announced that the Red Cross is selling vaccines. He stressed the need to act fast and vaccinate as many people as we can," PRC Governor Carissa Coscolluela said.
Coscolluela said the PRC "procured Moderna COVID-19 vaccines and intends to vaccinate Red Cross members and donors" willing to bear the cost of the vaccines and related expenses for vaccination.
PRC issued the statement after its chairman, Senator Richard Gordon, said the organization would be offering COVID-19 vaccines for P3,500 for two doses of the Moderna shot.
In an interview with ANC's Headstart on Monday, Gordon said the PRC ordered Moderna vaccines with the private sector through businessman Enrique Razon.
"200,000 doses because that's two doses per person. Because we will vaccinate about 100,000 people," Gordon said.
An Inquirer report added an initial batch of 1,500 is scheduled to arrive in June.
According to Coscolluela, the vaccines cost $26.83 per dose, and there would also be an administration fee covering "costs for syringes, gloves, PPEs (personal protective equipment), meals and allowances of our doctors and nurses, and other essential expenses related to the vaccination."
"The PRC is a humanitarian organization and is not in the business of selling any vaccines. It does not charge for anything that it got free," Coscolluela added.
The Philippines recently issued emergency use authorization (EUA) for Moderna's COVID-19 vaccine. This means the government can only procure the vaccines and that these are not yet available on the market. – Rappler.com