'No untoward incident' during the return of the ships, says Vice Admiral Ramil Roberto Enriquez of the Armed Forces of the Philippines
Philippine resupply ships returned to Ayungin Shoal (Second Thomas Shoal) on Tuesday, November 23, a week after Chinese coast guard vessels blocked and fired water cannons at them.
"Dumating na ang resupply boats sa Ayungin Shoal at nakarating na sa BRP Sierra Madre ngayon tanghali (The resupply boats had already arrived in Ayungin Shoal and also arrived at the BRP Sierra Madre this noon)," said acting Presidential Spokesperson Karlo Nograles in a briefing on Tuesday, November 23.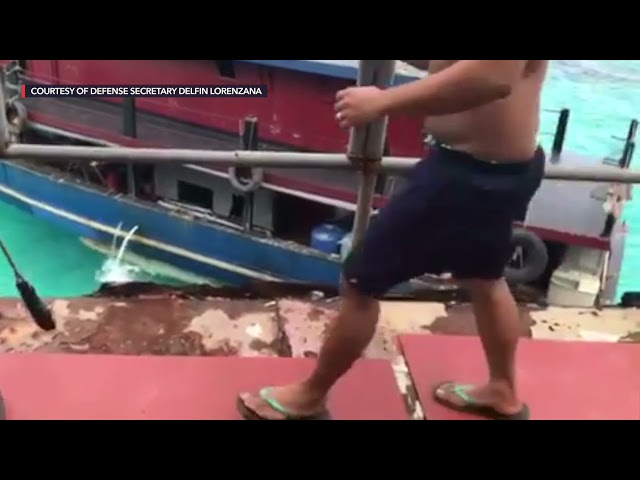 The water cannon incident took place on November 16, while the Philippine vessels were en route to Ayungin Shoal to resupply Philippine military personnel assigned in the area.
The attack drew outrage from world powers, including the United States, and incensed no less than President Rodrigo Duterte who is known for his pro-China policy. In an ASEAN event, Duterte delivered a rare rebuke to China on Monday, November 22, saying the Philippines abhors the attack.
In a pooled interview with reporters, Armed Forces of the Philippines (AFP) Western Command (Westcom) commander Vice Admiral Ramil Roberto Enriquez confirmed that the Philippine ships had arrived in the maritime feature.
"Resupply boats safely arrived at BRP Sierra Madre at 11 am. No untoward incident," the AFP Westcom commander said.
On Monday night, Lorenzana said the Philippine resupply boats left on Monday morning.
Lorenzana added the Chinese officials have yet to give their latest statement on the incident: "I have not received any."
Ayungin Shoal, located 105 nautical miles off Palawan, is part of the country's continental shelf. China baselessly claims the feature, even after the 2016 Hague ruling ruled that the Philippines has exclusive rights over the shoal.
In 1999, the Philippines had intentionally parked Philippine Navy ship BRP Sierra Madre in the area to stand the country's ground against China. – Rappler.com