The target is based on highly tenuous timelines on vaccine deliveries to the country
The Philippines targets an August rollout of general adult population vaccinations if expected vaccine deliveries arrive, said National Task Force vs COVID-19 chief implementer Carlito Galvez Jr on Thursday, April 29.
"We are very confident that we can do it by August, general public vaccination," said Galvez during a Malacañang press briefing.
His confidence was based on his expectation that, by August, vaccines secured by the Philippines through deals with 5 manufacturers would start "pouring in."
Based on the government's projected schedule of vaccine deliveries, 15 million to 20 million doses would be arriving in August.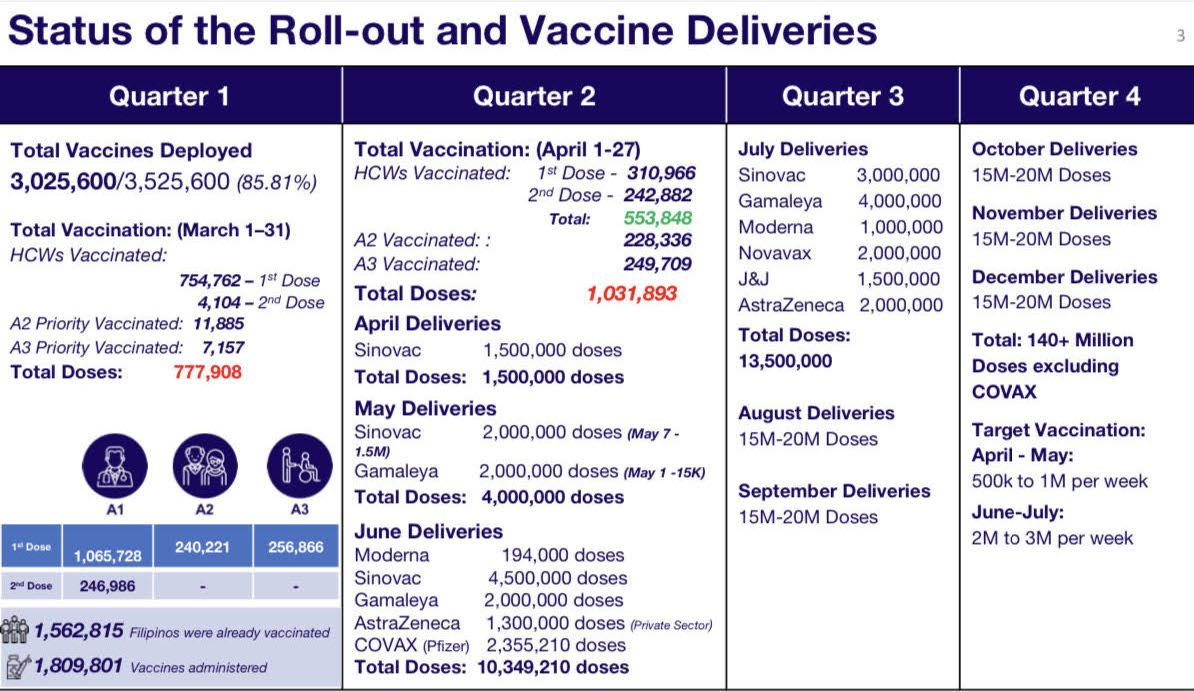 Even before that, Galvez expects 10.3 million doses to be in the country by June (a mix of vaccines from Moderna, Sinovac, Russia's Gamaleya Institute, AstraZeneca, and Pfizer) and then 13.5 million more doses in July.
These expected figures are a huge jump from the current 4 million doses in the country, a majority of which are Sinovac vaccines.
Who is in general population?
By general adult population, Galvez was referring to persons aged 19-years-old and above who fall under the "B" and "C" categories in the vaccine priority list.
They are as follows:
B1: Teachers, social workers 
B2: Other government workers 
B3: Other essential workers 
B4: Socio-demographic groups at significantly higher risk other than senior citizens and indigent people 
B5: Overseas Filipino Workers 
B6: Other remaining workforce 
C: Rest of the Filipino population not otherwise included in the above groups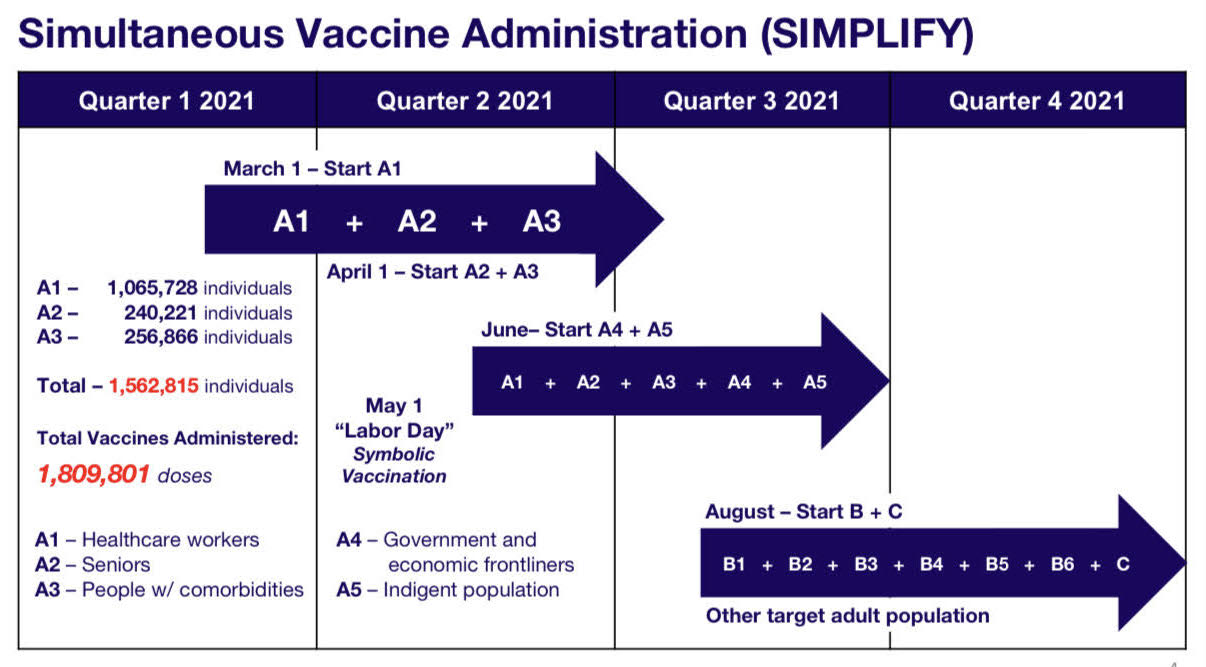 Realistic expectation?
The government has its work cut out for them.
Of the 70 million adult population it aims to inoculate to achieve herd immunity, only 1.8 million have gotten either their first or both doses.
To achieve the target by the end of the year, Galvez said the country needs to be vaccinating 500,000 people a day. Currently, the country's is vaccinating between 34,000 to 44,000 people a day.
To reach this daily target, the government aims to put up 5,000 vaccination sites nationwide which should be vaccinating 100 people a day.
Right now, there are over 3,400 vaccination sites.
But Galvez remained optimistic, saying that Metro Manila local chiefs have vowed they would be able to do 120,000 vaccinations a day as long as national government could assure a steady supply of vaccines.
Meanwhile, former health secretary Manuel Dayrit, said achieving herd immunity this year is doubtful.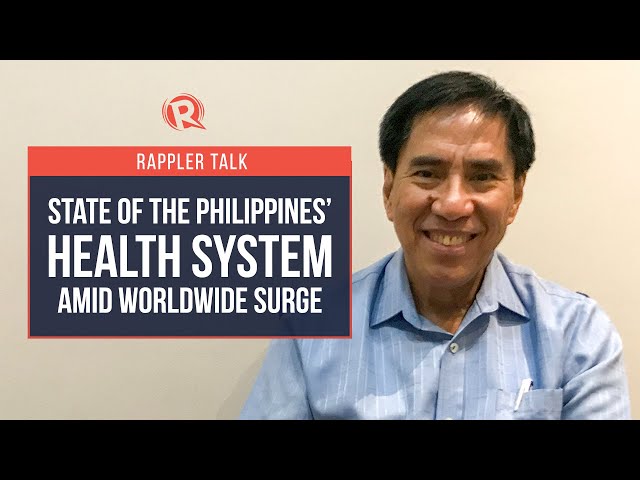 Supply is key
Whether or not expected vaccine deliveries arrive is a critical factor in the government's projections.
As the last few months have shown, these delivery schedules are highly tenuous and at the mercy of global and local events.
For instance, the Pfizer delivery the government was certain would arrive last February have not materialized though the COVAX Facility now says the country can expect it by end of June. That's a 4-month lag if ever it does arrive on that updated schedule.
So confident too were Health Secretary Francisco Duque III and Galvez that AstraZeneca jabs would arrive in April that they allocated all AstraZeneca shots on hand as first doses. Yet there is no set date for the arrival of the sorely needed AstraZeneca shipment that would serve as the second doses.
Galvez, on Thursday, said Gavi and COVAX Facility have promised an AstraZeneca shipment will get to the Philippines in May. But just to make sure, the government has written the United States and Israel for some of their extra AstraZeneca stockpile.
Only last month, Galvez was floating a possible nationwide modified general community quarantine by May on the assumption that the country would have "10 million doses" by then.
Yet, with April already ending, the country has just 4 million doses on hand. – Rappler.com