But with inadequate vaccine supplies, health officials say high-risk groups like the elderly and people with comorbidities will still be prioritized
The Philippines has amended its emergency approval of Moderna's coronavirus vaccine to cover adolescents aged 12 to 17 years old, Food and Drug Administration (FDA) Director General Eric Domingo said on Friday, September 3.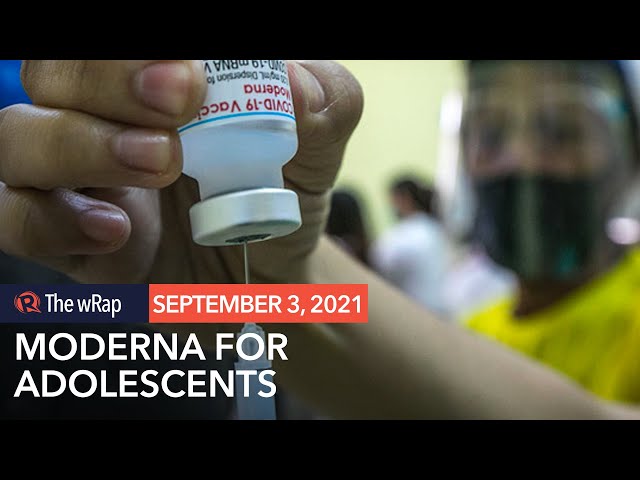 Moderna submitted documents and clinical data to the FDA on August 19 to widen the use of its COVID-19 vaccine among people below the age of 18.
Domingo said a through evaluation concluded that the vaccine was safe and effective for use among younger groups and that with the threat of the Delta variant, experts agreed that the benefits of using the vaccine outweighed its risks.
While the amended emergency use authorization (EUA) means adolescents aged 12 to 17 will be allowed to get the vaccine, supplies for priority groups are still limited in the Philippines. Owing to this, health officials and experts said that doses will continue to be prioritized for high-risk groups like the elderly and persons with comorbidites.
Experts likewise continued to advise that adults must get vaccinated as soon as possible and practice minimum health standards to protect children around them.
On Friday, Domingo said that Moderna doses delivered to the Philippines were not among batches being investigated for possible contamination as earlier reported in Japan, where doses were found to have steel particles. Health authorities said this was not expected to pose a health risk, citing the use of stainless steel in heart valves, joint replacements and metal sutures, and staples.
Despite this, Domingo advised vaccinators to carefully inspect vials prior to use.
Since staring its vaccine drive on March 1, around 17.53% of the country's population have received the first of two doses of the vaccine, while 12.51% of the population have taken both jabs as of August 29, 2021. – Rappler.com