Sinovac is the third company to secure clearance for Phase 3 trials, following Janssen Pharmaceutica and Clover Biopharmaceuticals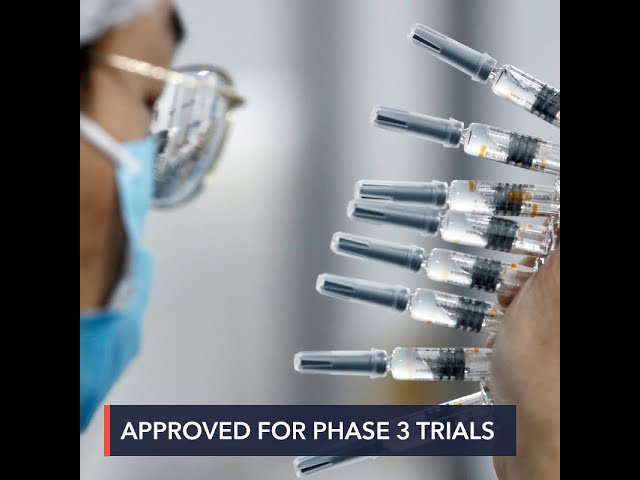 The Philippines has approved the application of Chinese drug maker Sinovac to conduct Phase 3 clinical trials for its COVID-19 vaccine in the country, the Food and Drug Administration said on Tuesday, January 19.
FDA Director General Eric Domingo gave the update during a virtual briefing, saying that the FDA has given the go-signal to all companies that applied for late-stage trials in the Philippines. These companies include Janssen Pharmaceutica of Johnson & Johnson, Clover Biopharmaceuticals, and Sinovac.
"'Yung clinical trials, lahat po ng nag-apply ng clinical trials sa FDA, na-approve na po 'yan (For clinical trials, all that applied with the FDA had been approved)," Domingo said.
Domingo told Rappler that Sinovac's application for late-stage trials was approved on January 15 or months after it first expressed interest in trials in October 2020. Janssen's was cleared on December 29, 2020, while Clover Biopharmaceuticals' application was approved last January 8.
Hosting Phase 3 trials is one of the Philippine government's strategies to ensure that Filipinos get access to a COVID-19 vaccine. It stands as one pathway to gain access, alongside efforts to procure doses, and joining multilateral initiatives like the GAVI Covax facility.
Unlike vaccines eyed for general use on a wide population, vaccines to be used in late-stage trials do not need to secure emergency use authorization (EUA) from the FDA.
However, conducting trials in the Philippines does not exempt companies from securing an EUA. Once trials are completed, vaccines considered for public use will still need to be cleared by the FDA for emergency use.
Controversial vaccine
The approval of Sinovac's trials comes after weeks of intense scrutiny of its controversial vaccine. Lawmakers have zeroed in on its price, its reported efficacy in Phase 3 trials done abroad, as well as the Duterte government's seeming "preference" for the Chinese vaccine.
Health experts and scientists involved in the country's selection process of vaccines have sought to temper discussion on the vaccine by distancing it from politics. The FDA gave assurances that all companies that apply for an EUA for their vaccines, including Sinovac, will undergo rigorous review by its vaccine expert panel before any regulatory decision is made.
This review will be separate from the Department of Science and Technology's vaccine expert panel assessment which first considers vaccines for possible trials or procurement. After FDA approval, the Health Technology Assessment Council of the Philippines is also expected to assess cost-efficiency and possible conflicts of interest – commercial or political – when using a vaccine in a public health program.
Data from Sinovac's Phase 3 trials conducted in Indonesia, Turkey, Brazil, and China have shown 4 different overall efficacy results, ranging from 50.4% to 90%. The results left experts with more questions on the performance of the vaccine as well as the transparency of its data.
Sinovac officials have attributed lower efficacy results in Brazil to participants who were medical workers facing high risk of contracting COVID-19.
While the FDA approved its application for trials in the Philippines, Sinovac has also submitted an application for emergency use of its vaccine. Vaccine czar Carlito Galvez Jr said the government locked in at least 25 million doses of Sinovac's vaccine though a final supply deal would still need to be signed. – Rappler.com