This is AI generated summarization, which may have errors. For context, always refer to the full article.
The task force also says 5 Chinese ships remain in Philippine waters as of April 28
FOUR government agencies have pooled their resources to strengthen the maritime patrols in the West Philippine Sea in the face of persistent Chinese incursion.
Assembling for a beefed-up flotilla are the Philippine Coast Guard (PCG), Department of Agriculture – Bureau of Fisheries and Aquatic Resources (BFAR), Philippine National Police – Maritime Group (PNP-MG), and the Armed Forces of the Philippines. The job of this bigger force is to deploy regular patrols in a wider area of Philippine waters.
As of April 28, the National Task Force for the West Philippine Sea reported the presence of Chinese Coast Guard (CCG) vessels in the following areas: 3 in Bajo de Masinloc off Zambales, 1 in the municipality of Kalayaan in Palawan, and 1 in Ayungin Shoal. The task force did not mention if Chinese ships were still in Julian Felipe Reef.
Meanwhile, BFAR has deployed its monitoring, control, and surveillance (MCS) vessels and multi-mission offshore vessels (MMOV) to the waters off Kalayaan. The PNP-MG contributed its high-speed tactical watercraft, gun boats, and fast boats to the new patrols.
The area task forces of the Armed Forces of the Philippines also designated naval vessels and military aircraft to conduct sovereignty patrols on a rotational basis over the municipalities of Kalayaan, Bajo de Masinloc and the rest of the western seaboard.
However, despite muscling up, the military said the current assets of the government were not enough to guard the entire Philippine seaboard. AFP chief General Cirilito Sobejana said this was because of the sheer vastness of the West Philippine Sea. 
"Kung ang tanong mo ay sapat na ang dami ng ating naval assets, even 'yung coast guard and BFAR, ang sagot ko sa'yo ay kulang pa. Dahil napakalawak po ng West Philippine Sea (If you ask if our naval assets are enough, including the coast guard and BFAR, my answer is no)," Sobejana said in a press conference on April 22.
No recent incidents with Chinese ships
NTF-WPS also said that there were no reported direct incidents between Chinese ships and Filipino fishermen in the West Philippine Sea from April 15 to April 22.
The most recent, however, was when missile-armed Chinese ships chased a Filipino television crew near Ayungin Shoal.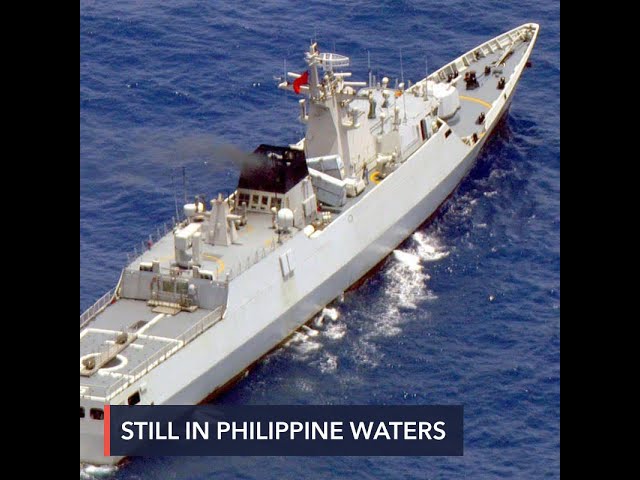 Meanwhile, the task force also said that the continuous Chinese incursion was currently under review for appropriate diplomatic actions. It also reminded its neighboring countries to uphold the 2002 Declaration on the Conduct of the Parties in the South China Sea signed by state-members of the Association of Southeast Asian Nations and China.
Section 5 of the treaty stated that countries should "undertake to exercise self-restraint in the conduct of activities that would complicate or escalate disputes and affect peace and stability including, among others, refraining from action of inhabiting on the presently uninhabited islands, reefs, shoals, cays, and other features and to handle their differences in a constructive manner." – Rappler.com