National Intelligence Coordinating Agency chief Alex Monteagudo regularly shares photos and memes with fake information on his Facebook page
The top intelligence official of the Philippines regularly shares false and fake information on his Facebook page, raising concerns about the ethics and standards of intelligence-gathering in the country.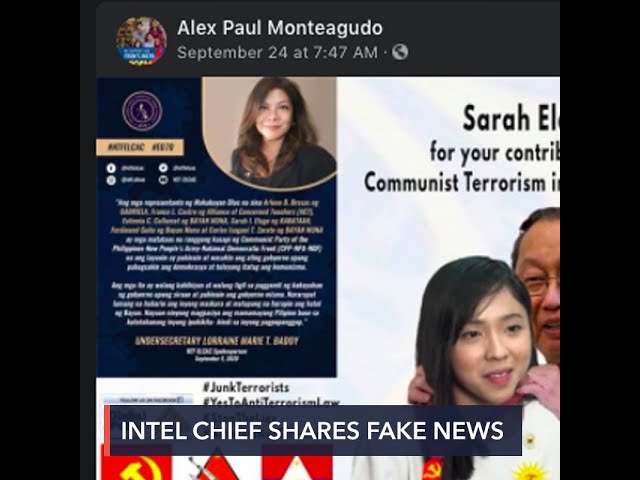 During the budget hearing of the National Intelligence Coordinating Agency (NICA) at the House of Representatives, Kabataan Representative Sarah Elago grilled the agency over posts made by its chief, Director General (DG) Alex Monteagudo.
For around 30 minutes, Elago grilled Muntinlupa Representative Ruffy Biazon, who sponsored the budget bill for the NICA, over Monteagudo sharing photos that spread false information on his Facebook page, which he admitted was his.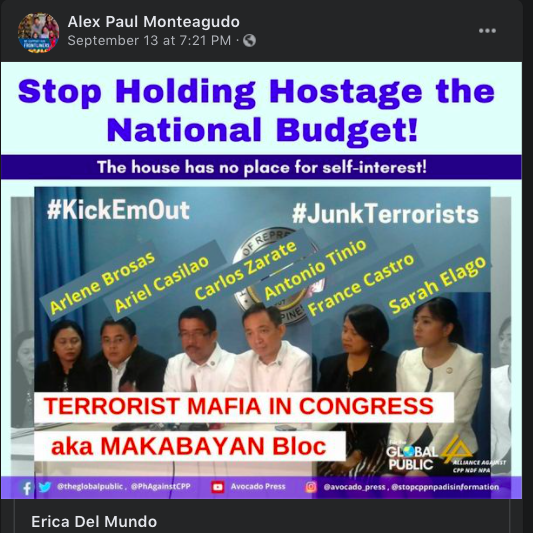 Monteagudo defended himself by saying that the posts he made and shared were for NICA officials and operatives' consumption. The posts, however, were set to be viewable by the public.
Most of the posts involved tagging lawmakers of the Makabayan bloc as "communist-terrorists," with their photos edited to include Communist Party of the Philippines founder Joma Sison.
Rappler scrolled through Monteagudo's Facebook feed and found at least a dozen posts with false, fabricated, and baseless claims between September 1 and September 28 alone.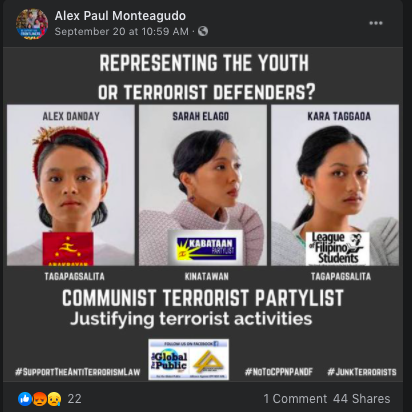 Another post he shared claimed without basis that the killing of Anakpawis chairman Randall "Randy" Echanis was the result of a "purge" after being involved in a "policy disagreement" with communists.
Another post edited a photo of Bayan Secretary-General Renato Reyes with the word "BEWARE" below him, then tagging him as a "communist terrorist provocateur."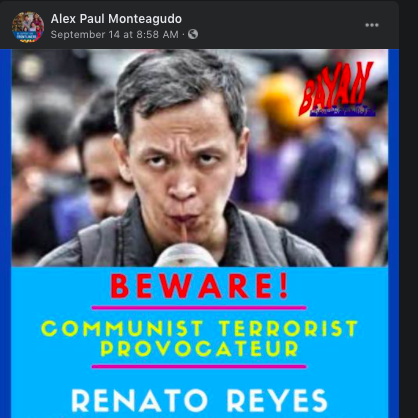 Elago asked if Monteagudo knew the operators behind the Facebook pages that he shared the false information from. Monteagudo, through Biazon, said that he did not.
"Shouldn't the NICA DG be more responsible? Since he is the DG of the premiere intelligence agency of the government?" Elago said.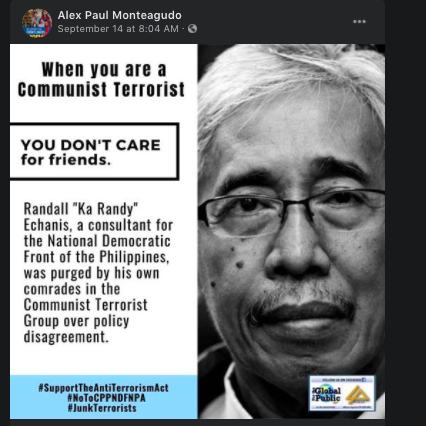 One of Monteagudo's posts that tagged Elago as a "communist terrorist recruiter" garnered a thousand shares.
Biazon closed the issue by saying that if Monteagudo committed any violations, he should be made accountable.
Elago said they will file a case against him through the National Bureau of Investigation. – Rappler.com