The government now has new classifications of 'yellow' and 'red' list countries on top of 'green' countries
The Philippine government on Saturday, September 4, lifted inbound travel restrictions on the United Arab Emirates, India, and eight other countries beginning Monday, September 6.
This means that travelers from the following countries may now enter the Philippines starting Monday:
India
Pakistan
Bangladesh
Sri Lanka
Nepal
United Arab Emirates
Oman
Thailand
Malaysia
Indonesia
"International travelers coming from the abovementioned countries shall, however, comply with the appropriate entry, testing, and quarantine protocols, depending on the country's approved 'listing,'" Presidential spokesperson Harry Roque said in a statement.
Thousands of stranded overseas Filipino workers (OFWs) had anticipated the lifting of the ban. In the UAE, host to around 650,000 Filipinos, thousands who wanted to come home faced expiring work contracts and overstaying woes.
The travel ban on the UAE has been in place since May 15.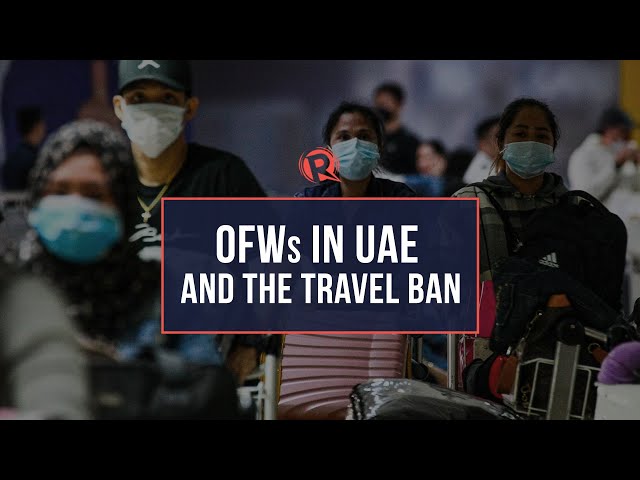 The government lifted the travel ban on the 10 countries days after the Philippines' worst COVID-19 surge so far. On September 1, the country reached a grim milestone of 2 million confirmed cases, while there are more than 158,000 people in the country sick with the virus as of Friday, September 3.
Green, yellow, red lists
The "listing" Roque referred to is the categorization of countries the government's pandemic task force enforces based on COVID-19 incidence and testing data per country.
Previously, the Philippines only had a "green" list of countries – fully vaccinated travelers coming from these areas would enjoy shorter quarantine if they traveled to the country. In his Saturday announcement, Roque said the Inter-Agency Task Force (IATF) had also approved "yellow" and "red" classifications.
"Yellow" list countries are "moderate risk," while "red" countries are "high risk."
Malacañang has yet to release the red or yellow lists as of posting time, nor did Roque specify what lists the previously travel-banned countries would be on beginning September 6.
Travelers coming from yellow list countries, regardless of vaccination status, will undergo a 14-day quarantine upon arrival. The first 10 days will be in a quarantine facility, while the remaining four days will be under home quarantine in their respective local government units of destination.
They will be subject to reverse transcription-polymerase chain reaction (RT-PCR) testing on the seventh day.
Meanwhile, persons hoping to travel to the Philippines from red list countries will not be allowed to enter. Transiting through a red list country will not be deemed as coming from there, if passengers stayed in the airport the whole time.
"Only Filipinos returning to the country [from red list countries] via government-initiated repatriation, non-government-initiated repatriation, and Bayanihan flights may be allowed entry, subject to entry, testing and quarantine protocols," said Roque.
When allowed, inbound Filipinos from red list countries will undergo the same quarantine process as those coming from yellow list countries. – Rappler.com