The Philippines' procurement law prohibits making advancement payments on items, posing a challenge for securing timely access to limited vaccine supplies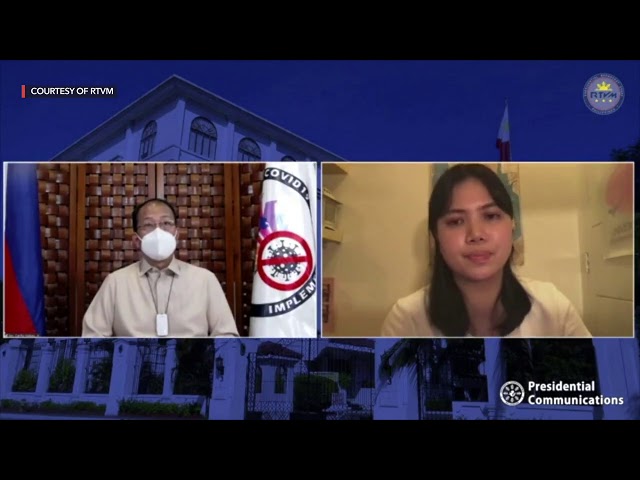 Philippine vaccine czar and National Task Force Chief Implementer Carlito Galvez Jr said health and pandemic officials have requested President Rodrigo Duterte to approve a special exemption from the country's procurement laws to facilitate the purchase of COVID-19 vaccines.
In a virtual forum with reporters on Wednesday, November 11, Galvez said the President's clearance was needed to ensure that officials could make necessary advance payments on vaccines – something strictly prohibited by government auditing laws.
Galvez said the country's pandemic officials met with the Commission on Audit (COA) to discuss the issue, since the Philippines, unlike most other countries, was not able to secure supplies for a vaccine without making the necessary payment as commitment.
"Tayo lang po ang medyo talagang merong limitations but ang sinasabi naman po ng ating COA is this is a pandemic crisis and once the President approves it (exemption), wala po tayong legal impediment kasi kailangan po natin na talaga makakuha tayo ng access," Galvez said.
He added, "The only way that we can have access is yung tinatawag nating 'advanced marketing program' or the payment na dapat nating ibigay, at least yung tinatawag nating a percentage of the vaccine ay ibibigay po natin."
(We're the only ones with these limitations but COA said this is a pandemic crisis and once the President approves it [exemption], we won't have any legal impediment because we really need to have access. The only way we can have access is through what we call 'advanced marketing program,' or the payment that should be given for a percentage of the vaccine.)
The law's limits
Section 88 of the Government Auditing Code of the Philippines says the government shall not be obliged to pay an advance payment for services and supplies not delivered yet. Health officials earlier said this has left the Philippines unable to secure early vaccine supplies from companies requiring advancement payments.
Galvez said this was also the model being used by the Global Alliance for Vaccines and Immunization COVAX facility which the Philippines is participating in. COVAX is supposed to guarantee counties that participate access to a portfolio of vaccines and doses for at least 20% of its population. It also assures countries of delivery as soon as these vaccines are available.
Galvez earlier said supplies of a COVID-19 vaccine will most likely arrive in the Philippines by the end of 2021 or in early 2022, owing to a lack of global supply for the coveted good.
Galvez said he wanted Duterte to grant the exemption by the end of the year, to ensure officials would have enough time to prepare and coordinate for necessary procurement and manufacturing processes of vaccines.
"We have to understand that we need to act fast and also act proactively and take the risk considering the money is intended for the vaccine and what our vaccine experts and procurement and financing officers are doing to make sure things are legal is very tedious," he said in a mix of English and Filipino.
Back-up plans
Galvez said the government was also discussing possible arrangements with the Asian Development Bank and other financing institutions that expressed willingness to handle advanced payments for the Philippines.
Aside from this, Galvez said a tripartite agreement is also being eyed with the business sector, which will facilitate the purchase and advanced payment for vaccines that will be donated to the government.
"Im very happy for the private sector and chamber of commerce that they are volunteering to buy for us so we can have equitable access to the supply," he said. – Rappler.com