(2nd UPDATE) The suspension is effective immediately
The Philippines has suspended the deployment of workers to Saudi Arabia.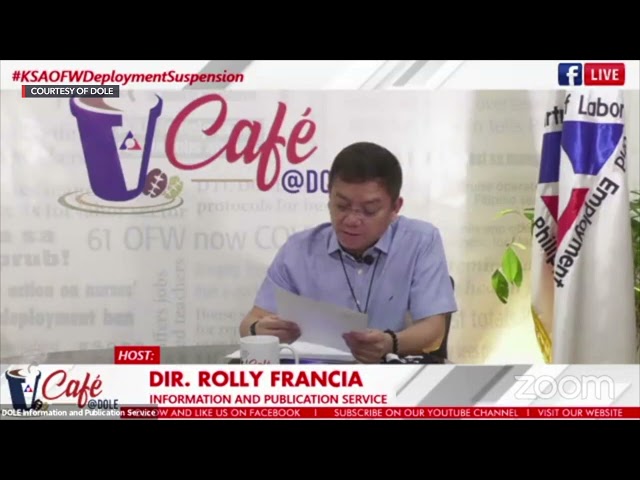 In a memorandum to the Philippine Overseas Employment Administration (POEA), Labor Secretary Silvestre Bello III said that the suspension order is "effective immediately."
"The department received reports that departing OFWs are being required by their employers/foreign recruitment agencies to shoulder the costs of the health and safety protocol for COVID-19 and insurance coverage premium upon their entry in the Kingdom," Bello said in his May 27 memo.
The memo, which was posted on the Facebook page of the Philippine Overseas Labor Office for Riyadh, received backlash from OFWs who have been waiting to be deployed.
This comes after the Department of Foreign Affairs had said that OFWs who were not vaccinated with Saudi-approved vaccines would have to undergo swab tests and a seven-day quarantine upon arrival.
Vaccines made by Pfizer, AstraZeneca, Moderna, and Johnson & Johnson were the only ones approved by the Saudi government.
Clarifications on Saudi advisory
In a briefing on Friday, May 28, POEA Administrator Bernard Olalia said that the Philippines has reached out to the Saudi government regarding the entry requirements which involve vaccine brands. The Philippines was informed of the advisory on May 11, but government officials have yet to receive a response on the matter.
"Hindi natin ito ma-interpret ng tama kaya tayo ay humihingi ng paliwanag na hindi dapat kasama ang OFW (We cannot interpret this advisory properly so we are asking for clarifications that overseas Filipino workers should be exempted)," said Olalia.
This, on top of reports that some OFWs were being billed for the cost of swab tests, insurance, and quarantine facilities. In January, the POEA issued a memorandum circular that orders recruitment agencies to cover the cost of these requirements.
"Ayaw natin patagalin ito dahil maraming OFWs ang umaalis. Maraming OFWs ang apektado at nagbabayad at kawawa naman ngayong panahon ng pandemic," said Olalia.
(We don't want to wait any longer because there are a lot of OFWs who leave the country. A lot of OFWs are affected, and have to pay, and have to bear the brunt of this requirement in the middle of a pandemic.)
Labor Director Rolly Francia said that balik-manggagawa or OFWs who are vacationing in the Philippines are also covered by the suspension.
400 affected
Flag carrier Philippine Airlines said on Friday, May 28, that the government did not inform them of the deployment suspension beforehand.
As a result, a total of 403 OFWs who were bound for Riyadh and Dammam were allowed to check in for their flights but were not allowed by the Bureau of Immigration to board the aircraft.
R5654 still flew to Riyadh, without passengers, to allow the next PAL flight from Riyadh to Manila to load passengers. PR5682 also flew to Dammam but carried only three non-OFW passengers.
"If PAL received official notice, then we would have advised passengers way before their flight. We feel their pain," said PAL spokesperson Cielo Villaluna.
Villaluna added that the situation was considered as force majeure – which means passengers can rebook their flight for free once the situation allows.
Olalia said that the Overseas Workers Welfare Administration will cover the accommodation and food for OFWs stranded in Manila. – Rappler.com