'This means that there is probable magmatic activity that may or may not lead to an eruption,' Phivolcs says on Tuesday, March 9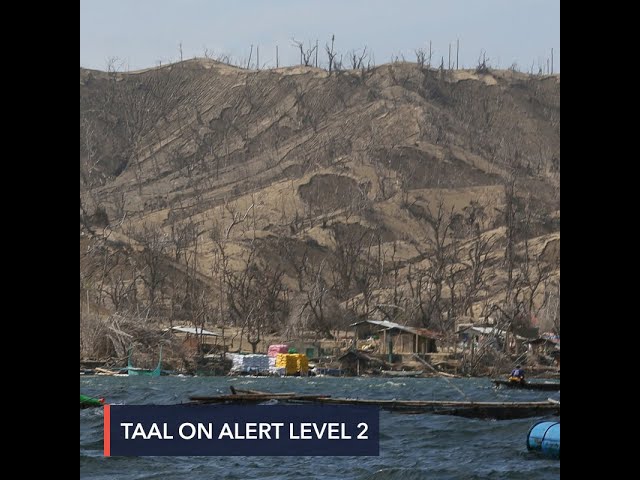 The Philippine Institute of Volcanology and Seismology (Phivolcs) raised the status of Taal Volcano in Batangas from Alert Level 1 to Alert Level 2 on Tuesday morning, March 9.
Alert Level 2 was raised due to "increasing unrest," coming from Alert Level 1's "low level of unrest."
"This means that there is probable magmatic activity that may or may not lead to an eruption," Phivolcs said in an advisory issued 8 am on Tuesday.
"At Alert Level 2, evacuation is not yet recommended. However, the public is reminded that Taal Volcano Island is a Permanent Danger Zone and that entry into TVI, especially the vicinities of the Main Crater and the Daang Kastila fissure, must remain strictly prohibited," warned the agency.
In particular, state volcanologists observed the following:
Volcanic earthquakes
In the past 24 hours, the Taal Volcano Network recorded 28 volcanic tremor episodes, 4 low-frequency volcanic earthquakes, and 1 hybrid earthquake at shallow depths of less than 1.5 kilometers beneath Taal Volcano Island.
"Volcanic tremors have increased seismic energy compared to previously recorded episodes and ranged between 3 [and] 17 minutes in duration," Phivolcs said.
The agency added that the total number of volcanic tremors has reached 866 since February 13, with 141 low-frequency volcanic earthquakes.
On February 15, state volcanologists already noted that more tremors and changes at the Main Crater Lake had been observed, prompting the evacuation of dozens of people from Taal Volcano Island.
"Overall, seismic activity in the past month indicates increased magmatic and hydrothermal activity at shallow depths beneath [Taal Volcano Island]," Phivolcs said.
Main Crater Lake changes
In mid-February, Phivolcs "recorded a temperature high of 74.6ºC and continuing increase in acidity to pH 1.59" of the Main Crater Lake.
"Increasing acidity is caused by sustained volcanic gas input into the shallow hydrothermal system that feeds into the lake, signifying degassing of magma intruded at depth during the January 2020 eruption," the agency said.
During the January 2020 eruption, Taal Volcano's status had peaked at Alert Level 4, which meant that a hazardous eruption was "imminent." Alert Levels 2, 3, and 4 were raised on the same day – January 12, 2020, when it had an eruption described as hydrovolcanic (phreatic, phreatomagmatic, hydrothermal).
The volcano's status was gradually lowered to Alert Level 1 on March 19, 2020, staying at that level until its latest upgrade to Alert Level 2 on Tuesday.
Ground deformation
Phivolcs said there is "slight deformation" of Taal Volcano Island "centered on a pressure source on its southeast sector."
There has also been "a very slow but steady inflation and/or expansion of the Taal region since the end of the 2020 eruption, at very much slower and stabilized rates compared to deformation before and right after the eruption."
Microgravity changes
State volcanologists observed "positive microgravity changes across Taal Caldera after the 2020 eruption consistent with density changes caused by magma migration, magma degassing, and hydrothermal activity."
Given the raising of Taal Volcano's status, Phivolcs reminded local government units to "strengthen preparedness, contingency, and communication measures in case of renewed unrest."
Residents of areas near the volcano are also "advised to be always prepared, to keep calm, and listen to information only from trusted or verified sources," added the agency.
The January 2020 eruption affected over half a million people in the provinces of Batangas, Quezon, Laguna, and Cavite. – Rappler.com