Two strong volcanic tremors from Taal Volcano in Batangas are recorded at 4:36 am and 6:53 am on Thursday, August 12
The Philippine Institute of Volcanology and Seismology (Phivolcs) said two strong volcanic tremors from Taal Volcano early Thursday, August 12, were felt at Intensity II.
The strong volcanic tremors were recorded at 4:36 am and 6:53 am at magnitude 2.6 and magnitude 4.1, respectively.
Based on the Phivolcs Earthquake Intensity Scale, Intensity II means the shaking is slightly felt by "few individuals at rest indoors" and "hanging objects swing slightly."
"These events were accompanied by rumbling sounds as reported by residents of barangays Banyaga and Bilibinwang, Agoncillo, Batangas," added Phivolcs in its bulletin on Thursday morning.
Overall, in the past 24-hour period, the Taal Volcano Network recorded 141 volcanic earthquakes. These include:
121 volcanic tremors lasting 2 to 30 minutes
17 low-frequency volcanic earthquakes
3 hybrid earthquakes
Phivolcs also noted that low-level background tremor has persisted since July 7.
Aside from the volcanic earthquakes, upwelling or the rising of hot volcanic fluids continues in Taal Volcano's Main Crater Lake.
Phivolcs said the upwelling generated 1,500-meter-high plumes, which drifted to the northeast and southwest.
Upwelling which generated a steam-rich plume had also been observed on Wednesday, August 11, as shown in the video below.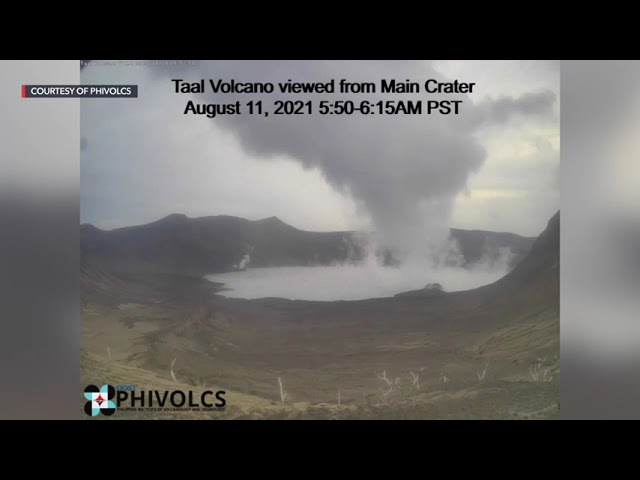 Sulfur dioxide (SO2) emission, meanwhile, averaged at 3,004 tons per day on Wednesday. This is much lower than the all-time high of 22,628 tons per day recorded on July 4, but it is also a notable level.
When SO2 is high, it means magma is relatively nearer the surface of a volcano.
Taal Volcano was downgraded from Alert Level 3 to Alert Level 2 last July 23, after it showed decreased unrest. At the time, Phivolcs said the volcano could either be further lowered to Alert Level 1 if activity continues to ease, or it may be raised back to Alert Level 3 if activity spikes again.
Under Alert Level 2, Phivolcs reiterated on Thursday that the following can occur:
sudden steam- or gas-driven explosions
volcanic earthquakes
minor ashfall
lethal accumulations or expulsions of volcanic gas
Phivolcs said entry into Taal Volcano Island, as well as occupancy and boating on Taal Lake, must remain strictly prohibited.
"Local government officials are advised to continuously assess and strengthen the preparedness of previously evacuated barangays around Taal Lake in case of renewed unrest," added the agency. – Rappler.com