(UPDATED) After initially responding harshly to the mother's criticism of how resort staff treated her and her child with special needs, resort owner Manny Gonzalez apologizes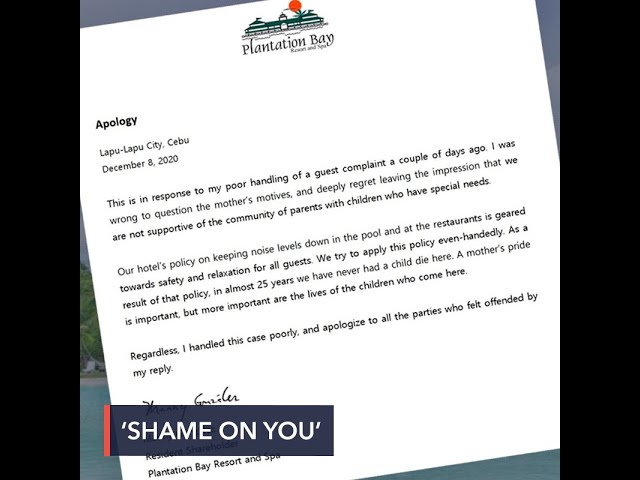 What was supposed to be a fun afternoon for a mother and child at Plantation Bay Resort and Spa in Lapu-Lapu City turned out to be anything but relaxing when they got reprimanded by resort staff after her son, who has autism, started squealing with delight when he swam.
"It could've been the perfect getaway for Fin, my child with special needs. When something excites him or when he is happy, he makes it known by squealing with delight," Mai Pages said in a Facebook post and on travel site TripAdvisor, where she gave the resort a one-star rating.
She said, however, that the resort staff reprimanded her for her child's noise even as she explained that her son had special needs.
"I thought that was okay until we were told from afar (a lifeguard). As a mother, your initial action would be directed to your child," she shared. "So I told him not to squeal because it wasn't allowed."
Pages said the incident was a "difficult moment" but one that she gets a lot.
In his initial response to Pages on TripAdvisor, which has been taken down and replaced by an updated statement, resort owner Manny Gonzalez said that "uncontrolled shouting is not a symptom of autism."
He said in his now-deleted post that has been reshared on Twitter, that "on the contrary, autistic children tend to be silent, non-verbal, and overwhelmed and withdrawn when faced with strangers." Gonzalez also advised Pages to "Google autism and verify for yourself."
A statement posted by the Autism Society of the Philippines said this was "ignorant of what the autism spectrum is."
According to the United States' Center for Disease Control, shouting is indeed one among many of ways autism spectrum disorder manifests in children.
Other ways include:
Hyperactivity (very active)
Impulsivity (acting without thinking)
Short attention span
Aggression
Causing self injury
Temper tantrums
Unusual eating and sleeping habits
Unusual mood or emotional reactions
Lack of fear or more fear than expected
Unusual reactions to the way things sound, smell, taste, look, or feel
Gonzalez replaced his response to Pages with a toned down statement also on TripAdvisor on December 7, where no reference to autism was made. He highlighted the resort's "strict policies regarding noise-making by anyone" because of safety reasons, among others, since the resort has "ten times more water" than other resorts in Mactan.
Apology
Gonzalez later apologized in a statement posted on social media.
"I was wrong to question the mother's motives, and deeply regret the impression that we are not supportive of the community of parents with children who have special needs," Gonzalez said.
He also said, "Regardless, I handled this case poorly, and apologize to all the parties who felt offended by my reply."
The apology came after intense backlash on social media. Pages' Facebook post has 4,200 shares and over 1,700 mostly supportive comments.
In his latest statement, Gonzalez noted that "our hotel's policy on keeping noise levels down and at the restaurants is geared toward safety and relaxation for all guests."
"We try to apply this policy even-handedly. As a result of that policy, in almost 25 years, we have never had a child die here. A mother's pride is important, but more important are the lives of the children who come here," he said.
In his existing TripAdvisor statement, Gonzalez said the resort's policy against noise-making is to allow their staff to "be able to hear cries of distress even from far away" since the resort has almost 3 hectares of lagoons and swimming pools.
"Moreover, it is essential that our staff not become so used to hearing screaming that they ignore a real cry for help. And once one child starts screaming, others tend to follow in imitation," he said on TripAdvisor.
Pages told Rappler that she had read the apology, but did not say if she has accepted it. She expressed hope the incident would raise awareness about the needs of kids and individuals with special needs.
Backlash
Hundreds of netizens have showed support for Pages and her child.
"Shame on you Manny Gonzales of Plantation Bay for trying to school a parent of a child with autism on what the symptoms are," broadcast journalist Karen Davila tweeted. "You are a disgrace to the tourism industry. Your words & heartlessness do not belong in the world today that seeks to include all persons with needs."
Carlos Conde of Human Rights Watch Philippines suggested TripAdvisor take action against Gonzalez's resort.
"Considering your principled action against Thai hotel that retaliated vs a guest for a bad review, you should take action against Plantation Bay Resort and Spa for its management's inappropriate & harassing behavior against those that legitimately criticize it," Conde said.
The Autism Society of the Philippines said the incident was an opportunity for sensitivity training and a "review of the resort's policies and procedures for compliance with Republic Act No. 7277, or the Magna Carta for Persons with Disability.
The Department of Tourism (DOT) said in a press statement it already began investigating the incident and "mete the proper administrative sanctions to the resort."
The tourism department also said they would coordinate with the Department of Justice (DOJ) to investigate the resort if it violated the law. – Rappler.com