Police chief General Debold Sinas allegedly says invoking Miranda rights was the start of a Lumad student's path to becoming a communist rebel
Philippine National Police (PNP) chief General Debold Sinas allegedly scolded a Lumad student for invoking her Miranda rights, said the student's father in a court petition, as the Duterte government intensifies its crackdown on dissent.
Sinas, according to the petition, said invoking her Miranda rights "was the start of her path to becoming" a member of the communist New People's Army (NPA).
The petition for habeas corpus was filed by Lope Haictin, father of the Lumad student then being held at a facility run by the Department of Social Welfare and Development (DSWD). The petition, filed on March 4, is cited in a court ruling dated March 11.
In his petition, Haictin said Sinas, who visited Lumad children after a police raid, warned the student because she invoked her Miranda rights, which a person can cite when he or she is being apprehended. Among these Miranda rights are the right to remain silent and the right to have legal counsel present at all times.
"She further told him that she was threatened by PNP Chief Debold Sinas when the latter visited them because she invoked her Miranda rights. PNP Chief Sinas told her that her invocation of the Miranda rights was the start of her path to becoming an NPA and that they will start fighting each other in the mountains in 10-15 years," according to the court petition filed by Haictin.
DSWD took custody of Lumad students, claiming they were rescued but activists, teachers, and the University of San Carlos (USC) administration insisted the operation was a raid. The PNP accused teachers of radicalizing Lumad students to become NPA members while sheltered in the USC retreat house.
Rappler tried to get Sinas' side by reaching out to the PNP National Office beginning Sunday, March 14, but was instead directed to the PNP Central Visayas regional office.
We called the Central Visayas police office multiple times on the same day but were unable to get a comment as of posting. We tried to reach the police regional office again on Tuesday, March 16, but failed to get a response as of posting time.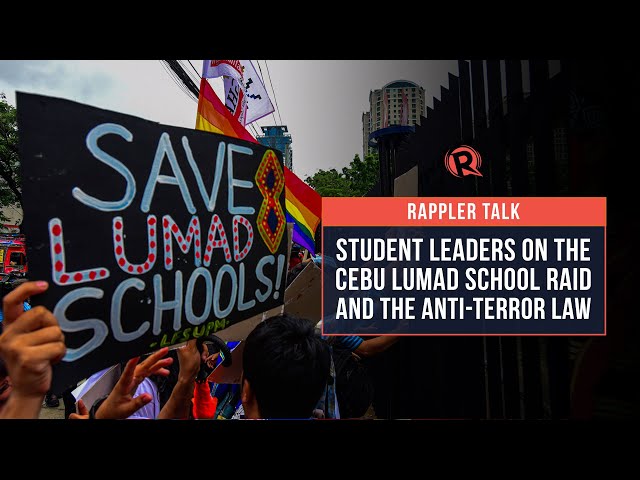 The Cebu City Regional Trial Court Branch 20 on March 11, granted the Lumad father's petition for habeas corpus for the release of his child from the custody of DSWD-Central Visayas. A petition for habeas corpus is an extraordinary remedy from unlawful detention.
The DSWD only released the student to the father only after 24 hours from the court order, and only after a standoff between the Integrated Bar of the Philipines-Cebu Chapter and the DSWD Regional Office. The DSWD is yet to release an explanation on the Lumad child's delayed release. – Rappler.com