(UPDATED) 'It's a responsibility of each individual to place what is right, because ikaw mismo ang nagkakalat eh,' says police chief General Camilo Cascolan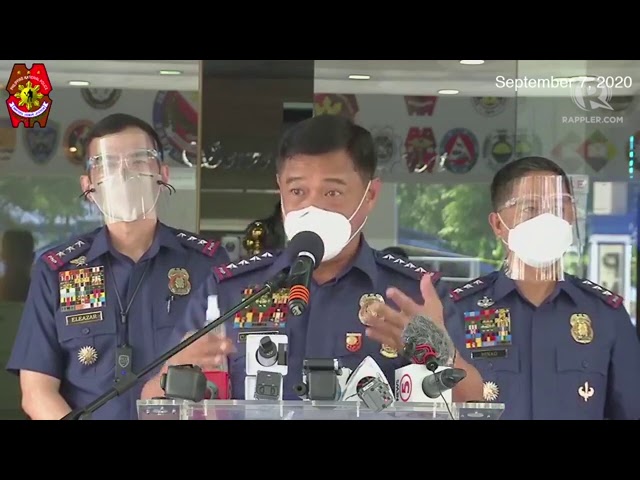 Downplaying their controversial initiative to probe Filipinos for lockdown violations through social media, Philippine National Police (PNP) chief General Camilo Cascolan said they will only go after users whose posts are set for public consumption.
"Social media. It's a responsibility of each individual to place what is right, because ikaw mismo ang nagkakalat eh (it's you yourself who is making a mess)," Cascolan said in his first press briefing in Camp Crame on Monday, September 7.
The police will investigate a social media post only "if it's posted publicly," Cascolan said. "I didn't say that if it's posted privately. If we enter your account, you file a case against us."
In social media applications like Facebook, Twitter, and Instagram, users can set the people who can access their posts. A default setting for these platforms is to post entries in "public" mode, which is means their posts are accessible to anyone.
Cascolan was responding to a reporter who raised concerns of lawyers that the police should not "stalk" citizens, especially those with accounts set on private, in order to build up a criminal case.
In a press briefing later on Monday, Presidential Spokesperson Harry Roque said "social media monitoring" is not illegal under the country's cybercrime law.
"Wala pong mali doon sa ginagawa ng pulis kung tinitignan lang nila 'yung mga napo-post sa social media (Nothing is wrong with what the police are doing if they will only monitor what is posted on social media," Roque said.
Talks about police monitoring social media began on September 5 after Joint Task Force COVID-Shield chief Lieutenant General Guillermo Eleazar said that police will "regularly monitor" social media accounts to catch quarantine violators.
Several government officials, including police executives, have been caught violating quarantine rules through their posts on social media. However, only a few of them have been prosecuted after they offered the alibi that their gatherings were done in their line of work.
From Cambodia to Hong Kong to Israel, the push for surveillance is not unique to Duterte's Philippines. Authoritarian governments worldwide are ramping up online surveillance to stifle dissent during the pandemic, experts point out, raising concerns about the state of democracy as the world fights the coronavirus. – Rappler.com