The Philippine National Police is set to distribute over 2,000 body cameras, 3 years after the murder of teenager Kian delos Santos sparked calls for transparency in police operations
Three years after the murder of 17-year-old Kian delos Santos sparked calls for transparency in police operations, 2,600 cops may soon be fitted with body cameras, the Philippine National Police (PNP) said on Thursday, October 1.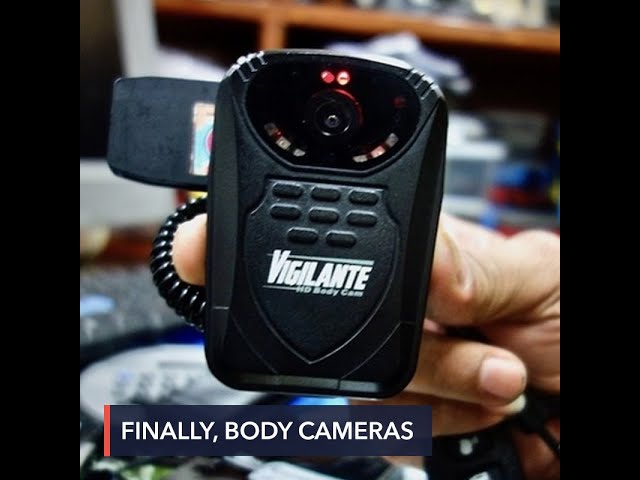 PNP chief General Camilo Cascolan said this in response to questions of another former top cop – Senator Ronald dela Rosa – while presenting the PNP's proposed budget for 2021 before a Senate panel on Thursday.
Dela Rosa asked the PNP about the agency's procurement and use of body cameras, which has been in the pipeline since 2017, when he was still PNP chief.
Cascolan said some 2,600 body cameras are up for tests on October 12 before their distribution to police field units. They were purchased for P287 million.
"The protocol on the use and the procedures of maintaining these body cameras was actually approved by you," Cascolan told Dela Rosa, referring to police internal policies on how to use the body cameras.
It is still unclear how the PNP will decide which police stations will be prioritized for the body cameras.
Prior to the PNP rollout, some police stations already started using body cameras such as the Pasig City police station which received financial assistance from the local government and private individuals.
Why does this matter?
The use of body cameras is seen as a deterrent to police abuse especially in anti-drug operations marred by allegations of human rights violations. (READ: Will body cameras solve alleged police abuse in the drug war?)
Discussions about the procurement of body cameras began in September 2017, after Caloocan cops killed teenager Kian delos Santos . A CCTV camera caught what was believed to be the Caloocan cops dragging Delos Santos in an alley in his own community before killing him.
The procurement of the cameras was first delayed in 2017 because the PNP had no budget allocation to purchase them that year. Dela Rosa, then the police chief, had even called for donations, but it is unclear if his call was heeded.
The procurement of the gadgets was also delayed in 2018, after a disqualified bidder for the body camera procurement alleged that 3 policemen asked for P5 million so he could win the deal.
The pandemic, which caused global travel and delivery restrictions, further delayed the arrival of the body cameras.
Even with their arrival, however, the PNP's policy of using the body cameras is still criticized for not requiring their use in anti-drug operations.
Instead, the policy formulated and signed by Cascolan and Dela Rosa only "encouraged" police operatives to use them. – Rappler.com