The PNP says that policemen were briefed to peacefully serve search warrants, but they are also trained to defend themselves
Two days after "Bloody Sunday" that saw the killing of at least 9 and the arrest of 6 others in Calabarzon, the Philippine National Police (PNP) said they followed standard protocol in raids they conducted.
According to a PNP statement, the police applied for search warrants in different courts, following standard legal procedures, basing these on "verified facts and not on mere membership or affiliation with any organization."
Manila judges issued at least 4 search warrants in the Calabarzon crackdown. Manila Regional Trial Court (RTC) First Vice Executive Judge Jose Lorenzo dela Rosa issued at least 3 search warrants, and Manila RTC Branch 174 Judge Jason Zapanta issued at least one.
The circumstances were similar to the years 2019 and 2020, when at least 70 activists were arrested through search warrants released by a single judge: Quezon City Executive Judge Cecilyn Burgos Villavert.
In a statement, human rights monitor Karapatan Southern Tagalog chapter pointed out the coordination between the Calabarzon police and National Task Force to End Local Communist Armed Conflict (NTF-ELCAC).
"Calabarzon police chief P/BGen. Felipe Natividad confessed that COPLAN ASVAL, which resulted in the Bloody Sunday Massacre, was done with the cooperation of the NTF-ELCAC, the source of Duterte's red-tagging offensives."
The police were silent about the discrepancy in accounts pertaining to the killing of activist Manny Asuncion. Cops supposedly shot him dead in Dasmariñas, Cavite, but the search warrant issued was for his home in Rosario town.
'Trained to defend themselves'
The PNP also said that policemen were briefed to peacefully serve search warrants, but that they are also trained to defend themselves. They also pointed out that claims about "hindi nanlaban (did not resist)" and "planted evidence" were baseless.
In its report, Karapatan said that Asuncion tried to "negotiate with the police and assured them that he would cooperate if there is a legitimate search warrant being served" but he was later dragged away from his wife before being shot.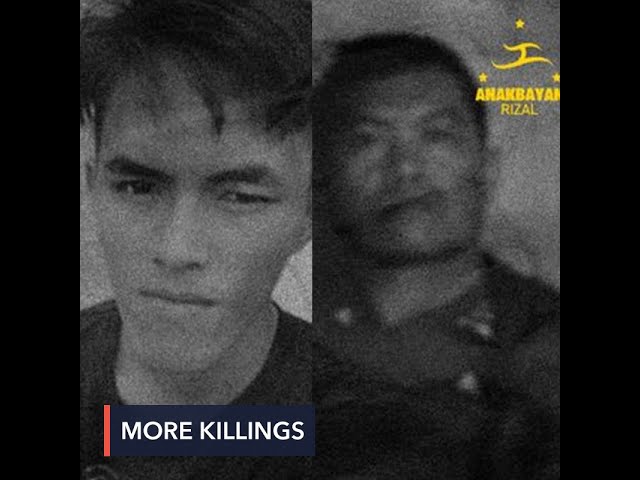 In the case of Mark Lee "Makmak" Bacasno and Melvin Dasigao of San Isidro Kasiglahan, Kapatiran at Damayan para sa Kabuhayan, Katarungan at Kapayapaan (SIKKAD-K3), both were killed in raids that started at around 5 am "with two dump trucks full of soldiers and police from Cavite conducting the operations." Dasigao was shot at least 7 times.
Sunday's deadly raid is reminiscent of the single-day operation in Negros Oriental in March 2019 that killed 14 people tagged as sympathizers of the communist New People's Army. Both raids were implemented by the police. – Rappler.com