(UPDATED) Quezon City Mayor Joy Belmonte says the brutal killing of Ebeng Mayor has no place in civilized society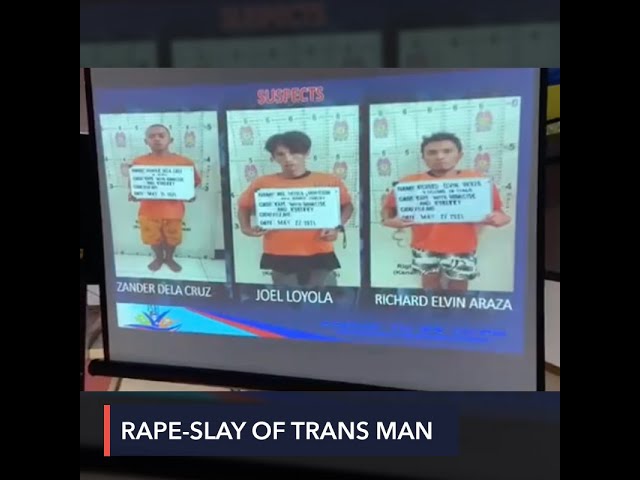 Trigger warning: The following article carries descriptions of extreme violence.
Three suspects behind the gruesome rape-slay of transgender man Ebeng Mayor have been arrested, with the Philippine National Police (PNP) now investigating them for committing a hate crime.
In a press conference on Sunday, May 23, PNP chief General Guillermo Eleazar confirmed the arrest of suspects Zander Dela Cruz alias Dugong, Joel Loyola alias Nonoy Sablay, and Richard Araza alias Tiago in Quezon City the night before.
Dela Cruz – a childhood friend of Mayor who was the last person seen with the victim – confessed to the crime himself and pointed the police to the other suspects.
The PNP has already filed rape with homicide and robbery cases against the three before the Quezon City Prosecutor's Office on Saturday, May 22. The suspects are also facing an additional charge for violating the Comprehensive Firearms and Ammunition Regulation Act.
"We should all condemn this heinous crime committed against Ebeng. As to whether this is a hate crime, it is part of our investigation. But the bottom line here is that all of the suspects or those responsible in the commission of that heinous crime have been arrested already," said Eleazar in a mix of English and Filipino.
Mayor's bloodied body was found in Quezon City on May 20 in a vacant lot at Sitio Bakal in Barangay Silang, three days after the trans man went missing.
His skull was crushed and a wooden stick had been impaled into his genitals. A medico-legal certificate, according to police, shows that the cause of death was "blunt traumatic injuries to the head; blunt penetrating trauma to the vulva and perineum."
According to Police Major Elmer Monsalve, chief of the Quezon City Police District's Criminal Investigation and Detection Unit, Mayor had been out drinking with the suspects on May 17 until the wee hours of May 18.
At around 2:30 am on May 18, Loyola allegedly punched Mayor while they were on the way home. When the victim lost consciousness, Monsalve said the three suspects then carried Mayor to the vacant lot to rape him.
Monsalve said the suspects hit Mayor on the head with a rock when he first regained consciousness and tried to break free.
After raping Mayor, Loyola allegedly impaled a wooden stick into the victim's genitals. It is unclear for now if Mayor had been conscious when this happened.
The suspects then bashed his head again with a rock, leading to his death.
"He died because his head was crushed. His face is almost unrecognizable," said Monsalve in Filipino.
Quezon City Mayor Joy Belmonte condemned Mayor's murder, calling it a hate crime that has no place in a civilized society.
"This type of violence has no space in a civilized society where everyone is treated equally and with utmost respect. I hope that those behind this will be punished to the full extent of the law and rot in jail," Belmonte said in a statement.
The Commission on Human Rights already said it would launch its own independent investigation on Mayor's rape-slay and would work closely with authorities. – Rappler.com