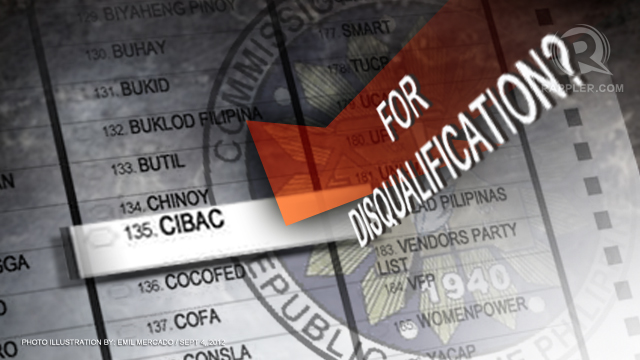 MANILA, Philippines - Party-list group Citizens' Battle Against Corruption (Cibac) faces a disqualification complaint from two private citizens who have asked the Commission on Elections (Comelec) to cancel its registration for the 2013 elections.

In an August 31 letter, Milagros Amores and Jessy Valenzuela asked the Comelec to disqualify Cibac from next year's partylist elections.

Cibac, a consistent party-list winner since the 2001 elections, is among the 289 groups that submitted their manifestation of intent to join the 2013 polls.

The petitioners claimed that the nominees do not belong to the marginalized sector. They cited the nominees' relation to the Villanueva family, whose members hold government positions and own vast lands in Bulacan and the ZOE Broadcasting Network.

They also claimed that the group is being used as a religious front for the Jesus is Lord (JIL) Church. "All of their nominees are members of the JIL or a relative of a member, who represent the interests of JIL and used Cibac as a religious front for the church in order to justify their scheme aimed at politization of religion," they said.

Cibac fielded the following nominees for next year's poll:
Sherwin N. Tugna, incumbent Cibac representative and son-in-law of JIL evangelist Eddie Villanueva
Cinchona Cruz-Gonzales, incumbent representative and JIL member
Armi Jane R. Borje, JIL pastor
Virginia S. Jose, niece of Villanueva
Former Cibac representative Emmanuel Joel Villanueva is now Secretary of the Technical Education and Skills Development Authority (TESDA). He plans to run for the Senate under the Liberal Party-led administration coalition.

The petitioners claimed that according to Comelec resolution 9366, the poll body may deny the registration of a group that is "a religious sect or denomination, organization or association organized for religious purposes."

The group's nominees, they said, are also members of the political party Bangon Pilipinas, which fielded Villanueva in the 2004 and 2010 presidential elections.

"To allow Cibac to participate in the 2013 partylist elections will set a very dangerous precedent wherein major political parties will be indirectly allowed to participate in the partylist elections," the petitioners said.



Case 'rehashed'?

TESDA's Villanueva said in a text message that the case filed is "the same rehash petition [that] always comes out every election."

Petitioner Amore previously filed a disqualification case against Villanueva and the group after Cibac won a seat in the 2007 partylist elections. The Supreme Court dismissed the case. "SC already decided on our favor but these guys looking for trouble will not stop," Villanueva commented.

Aside from the petitioners, poll watchdog Kontra Daya has earlier filed a petition to disqualify Ang Galing Pinoy in the 2013 elections, claiming that the partylist group does not represent the marginalized sector.

Comelec said that it would accept petitions to bar groups from joining next year's partylist elections before it decides on a final list of party-list candidates by end of September. - Rappler.com
View the Elections 2013 Microsite here.
More in Rappler's Elections 2013 Coverage: