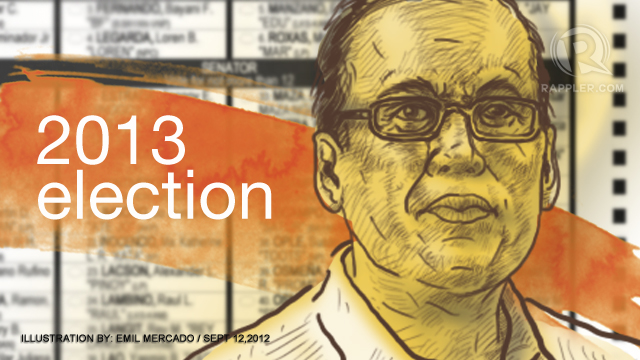 MANILA, Philippines - The 2013 mid-term elections will measure, to a certain degree, the extent of the administration's commitment to President Benigno Aquino III's "daang matuwid" platform in 2010.
Running on an anti-corruption campaign then, Aquino now faces the challenge of dominating the local and senatorial races without compromising his promise of good governance.
Several factors may make this difficult. For one, choosing candidates with a strong and good governance track record, alongside an ability to win, will be tough.
Likewise, provinces in the Autonomous Region in Muslim Mindanao (ARMM), which remain trapped in a culture of patronage and violence made worse by grinding poverty, will be most vulnerable to vote-buying. Effectively handling what has been traditionally regarded as an election hot spot because of recurring incidents of cheating and violence, will be even tougher.
Third, winning senatorial seats and posts in key local areas with an eye to the 2016 presidential elections, will be both symbolic and strategic. The temptation to compromise will be harder to dismiss and play down, considering the number of elective seats that need to be filled.
Reform-minded groups will also be eager to see if the same familiar faces and names will continue to dominate the elections and the political scene, and if any of them will be worth considering for the 2016 presidential contest.
What's at stake
Come May 2013, there will be 12 senatorial seats that need to be filled. Of the incumbent senators, 6 will be running for re-election – Alan Peter Cayetano, Francis "Chiz" Escudero, Gregorio Honasan, Loren Legarda, Aquilino "Koko" Pimentel III, and Antonio Trillanes IV.
Those elected next year will remain in office until June 2019 and will make up the 16th Congress, along with the rest of the senators.
At the local level, based on 2010 figures provided by the Comelec, 231 congressional and 46 party-list seats will be up for grabs. Voters will also choose 80 governors and 80 vice governors, and 766 board members. In addition, they will elect 1,634 city and municipal mayors, 1,634 city and municipal vice-mayors, and 13,502 city and municipal councilors.
Traditionally, according to Yoly Ong, group chairperson of Campaigns and Grey, voter turnout during local elections is less compared to presidential elections. If about 80%-90% of those eligible actually vote on Election Day during presidential elections, the number declines to about 70% for local elections. Pushing up the turnout rate next year will indicate greater interest on the part of voters and could even affect the outcome of elections.
Armed with a 78% approval and trust rating in September 2012 (according to Pulse Asia), Aquino has enough political capital to expend. Earlier in August, the Social Weather Stations reported a net satisfaction rating of +67% -- thanks to the conviction of former chief justice Renato Corona, the well-received State of the Nation Address, and government response to floods caused by heavy monsoon rains.
Will this political capital be worth much in the coming elections, and will it matter in the presidential elections of 2016, preparations for which are already being seen this early?
The choice of Roxas
For instance, the appointment of Liberal Party (LP) president Manuel "Mar" Roxas II as replacement of the late Interior and Local Government Secretary Jesse Robredo is already indicative of administration plans for 2016. Mid-term elections are, after all, regarded as a preview of presidential elections.
Opposition legislators were quick to point out that Aquino's choice of Roxas was clearly politically motivated, especially since the post will give him strategic access and exposure to local government officials. His appointment will give him the edge if and when he decides to seek the presidency.
Yet partymates acknowledge that Roxas, who is perceived to be more a technocrat working within his comfort zone at the transportation and communication department, may not find it as easy to deal with elected officials at the local level.
Roxas could either botch the job or learn how to deal with the locals, and in the process even enhance his "winnability" if he decides to seek the presidency.
"It can make or break him. We hope that it will make him…There's no way you can be effective if you don't improve your accessibility, and he knows that," said one LP member.
Roxas, after all, had struggled with a previous decision to drop out of the presidential race in 2010 to give way to Aquino. But even then his handlers saw the need to package him as someone accessible to the less fortunate of voters. He will be remembered as "Mr Palengke" when he topped the senatorial race in 2004 with close to 20 million votes, and will be associated with "padyak" when he campaigned for president early on.
Image-driven
Will Aquino's impressive ratings translate to votes for his anointed one or the administration senatorial candidates? Unfortunately no, according to pollster Pedro "Junie" Laylo Jr of Laylo Research Strategies.
As Ong explained, decision-making by voters is different for local and senatorial elections. If for presidential elections, voters decide on the basis of a candidate's programs and priorities, for senatorial elections, it's mostly about "name recognition and entertainment value."
Thus during mid-term elections, candidates who seek endorsements via political ads, or who resort to entertainment may actually end up with more votes, Ong said.
This is because for senatorial elections, a voter's mindset is shaped by the number of names he chooses. Because there are many to vote for, a voter thinks that the less outstanding candidates he includes in his list will be made up for by the better candidates anyway. The voter could end up being less discriminating.
The local elections, Laylo said, can be expected to be more "individualistic" where candidates expect to fend for themselves rather than depend on the party to deliver the votes. Each to his own for victory at the polls.
Laylo agreed that the 2013 elections will be "image driven" but added that while political ads are an image enhancement tool, they will appeal to only 20% of the electorate. Candidates must also do well on "earned media," referring to interviews where a candidate's opinion on issues bear some weight, he said.
With the plagiarism episodes involving Sen Vicente Sotto III, it remains to be seen whether voters will be more discriminating in their choice of senators. Laylo said he believes voters will be more discerning and will look for clearer messages amid the noise and clutter of political ads.
Campaign methods
Given the candidates' need to create awareness and entertain, the media will continue to play a major role in campaigns, both senatorial and local. Given the 98% ownership of television nationwide, Ong said TV will continue to trump radio as the preferred medium of candidates.
Yet the number of Filipinos who are online and who use social media continues to grow, according to Laylo. Of the estimated 33% of Filipinos who have access to the Internet, 97% or more are on Facebook. This means that senatorial candidates who expect tight contests will likely make their presence felt online.
For instance, as of the first week of September, all 6 incumbent senators who are seeking re-election are on Facebook and only Cayetano and Trillanes are not on Twitter. The increasing use of social media mirrors a gradual recognition by national campaigns of a relatively new platform where a younger and more involved citizenry express themselves and share their opinions.
For the local races, said Ong, candidates who do "house to house" campaigns and who press flesh will be rewarded. This is contrary to what is prescribed by campaign strategists for presidential campaigns where candidates – who need to make the most out of the campaign period and reach as many people as they can – are advised to cut on political rallies and use radio and TV instead.
As in previous elections, using the media necessarily translates to higher campaign budgets. Based on 2007 spending estimates, senatorial candidates spend from P150 million to P500 million.
For local campaigns, according to "How to Win an Election: Lessons from the Experts" published in 2009, those running for mayor shell out a minimum P10 million, while those running for Congress should be ready with at least P30 million.
Gubernatorial candidates, on the other hand, will spend from P5 million to P150 million, according to the Institute for Political and Electoral Reform in 2007.
Buying votes
Beyond media spending, however, there will still be candidates who will resort to desperate measures just to win. Deputy Speaker Jesus Crispin Remulla said that while automated elections may have reduced incidents of cheating in 2010, they have discovered that organized groups operate in areas with a high poverty incidence.
In Samar, for instance, votes were said to be bought for as much as P3,000 per voter. The amount even increased as closing time approached, a senior congressional leader disclosed. The poorer they are, the higher the price of their votes. They are more vulnerable to what has long been described as personalistic and patronage-based politics.
"Point persons" who operate at the local level, according to Remulla, are able to identify which voters are "atin" or ours, and "hindi atin" (not ours). When they vote the latter are given "fake ballots" which are naturally rejected by PCOS machines.
These are later replaced with filled-up genuine ballots once the voter is persuaded to leave the voting precinct. The voter often does so after being assured by teachers on duty they would see to it that the ballot being rejected is fed into the machine, which at the moment of the voting, was problematic.
For this operation to work, teachers and the Board of Election Inspectors will need to be paid by either "operators" or "point persons," Remulla said. Unfortunately, he said, there are teachers who can be bought.
Yet he added, there are still ways of detecting electoral cheating in an automated election. Remulla said the "audit logs" of PCOS machines should reflect the number of invalidated or rejected ballots. If they come in succession and the numbers are staggering, they would clearly indicate that cheating had taken place.
Of coalitions and compromises
Because of costs involved, and because political parties want to win, they often enter into coalitions. For 2013, the Liberal Party whose senatorial candidates are not particularly strong in surveys so far, entered into a coalition with the Nacionalista Party and the Nationalist People's Coalition.
With only 12 slots to fill and given the need to field winning candidates, the LP and Aquino were forced to choose between genuine LP members and other members of the coalition.
The announcement of the complete LP senatorial slate is expected to be made soon. The final choices will reflect Aquino's commitment to the party's good governance vision, if not the degree of political accommodation and compromise involved in decisions.
The administration party will be up against the United Nationalist Alliance ticket that groups the Partido Demokratiko Pilipino-Lakas ng Bayan (PDP-Laban) of Vice-President Jejomar Binay and former President Joseph Estrada's Pwersa ng Masang Pilipino. They will surely have a formidable ticket.
Roxas, the LP president, had declared, "The President is looking for true believers, and not just people who would want to wear campaign vests and want to barnstorm with us." The party's senatorial line-up, he added, will be "the litmus test" for both Aquino and the party.
LP officials concede "it will be a difficult balancing act."
Whether the President likes it or not, the 2013 elections will not only be about the candidates running for office, they will also be about the electorate passing judgment on the administration and the presidency halfway its term. – Rappler.com
View the Elections 2013 Microsite here.
More from #PHVote, Rappler's 2013 Election Coverage: