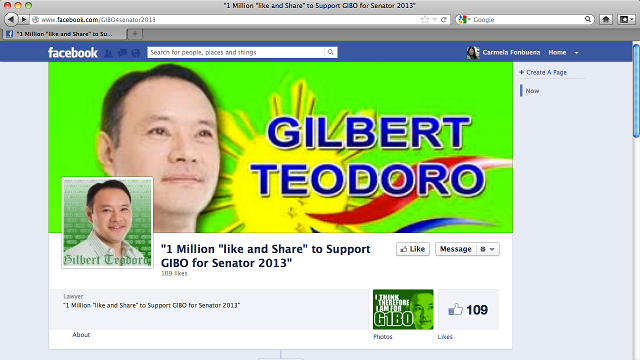 1 MILLION LIKES FOR GIBO? Facebook campaign launched to push former Defense Secretary Gilbert Teodoro to run for Senator (Facebook Screenshot)
MANILA, Philippines - It is not clear who's behind the Facebook campaign or if former Defense Secretary Gilberto "Gibo" Teodoro Jr knows about it. It's hard to tell these days.
A new Facebook page was created on Tuesday, September 11, to call for one million Facebook subscribers to "like" and "share" the page as an act "to support Gibo for Senator 2013."
Teodoro's plans are still unknown. The losing Lakas-Kampi-CMD presidential bet has avoided the media after the 2010 elections. His name has not been mentioned either by the administration or the United Nationalist Alliance of Vice President Jejomar Binay.
Teodoro's presidential campaign earned him a considerable following, especially among students and young professionals. The Facebook campaign also echoes his 2010 campaign slogans "I think therefore I'm for G1BO" and "Galing at Talino."
Teodoro won a total of 4,095,839 votes in the 2010 presidential race, ranking 4th among the 9 presidential bets.
As of posting, the Facebook page had 109 "Likes." - Rappler.com