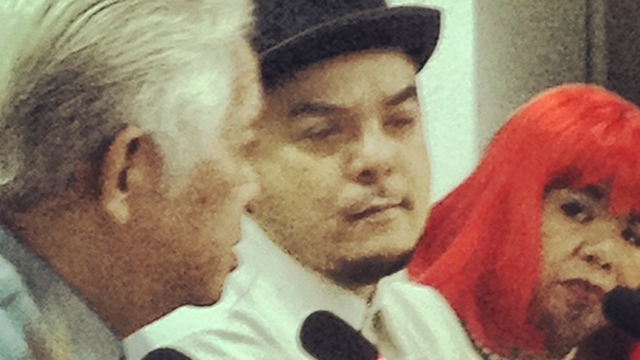 IT'S LEGAL. Comelec Chairman Sixto Brillantes Jr tells anti-epal advocates that putting up posters before the campaign period is not forbidden. Photo by Comelec Spokesperson James Jimenez
MANILA, Philippines - Sorry, "anti-epal" advocates. The law does not prohibit premature campaigning.
Acknowledging that he cannot do anything about the issue, Commission on Elections chairman Sixto Brillantes Jr met with advocacy groups on Monday, September 17, and reiterated to them that the Supreme Court decriminalized premature campaigning in a decision in November 2009.
Brillantes was referring to the Supreme Court on the Perena vs. Comelec case, in which the Court emphasized that "any person who files his certificate of candidacy within [the filing] period shall only be considered a candidate at the start of the campaign period for which he filed his certificate of candidacy."
"Right now, we can't do anything," Brillantes told reporters Monday. "We can only shout. But once the campaign period starts, it is when we can enforce the provision of the law."
The campaign period for senatorial candidates and partylist group will start on Feb 12, 2013, while the campaign period for congressional and other candidates will begin on March 29, 2013.
During the meeting, the "anti-epal" groups asked the Comelec to take a strong stand against the proliferation of streamers, billboards, posters and even relief good packages bearing the names and photographs of government officials and politicians. "Epal" is a derogatory reference to public officials who advertise themselves using government projects.
Vincent Lazatin, co-founder of "No More Epal Campaign," said they could no longer tolerate the "epal" practice which is an insult to the intelligence of voters. "If you look at the extent that this is happening, you've got politicians putting their names on relief foods, official receipts, backpacks and anything that they can put their stickers on, this is really ridiculous," he added.
Brillantes asked the groups not to be discouraged because once the campaign period starts, the Comelec will strictly implement the rules on campaign propaganda.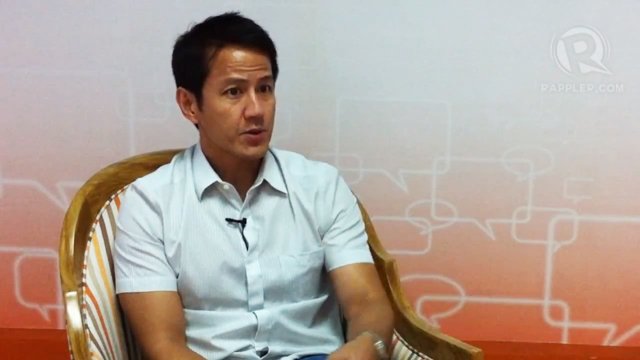 NO TO 'EPAL': Vincent Lazatin in an interview with Rappler on premature campaigning.
Macalintal's recommendation
Lazatin said that with premature campaigning now decriminalized, they would consider the proposal of election lawyer Romulo Macalintal to apply the rules on unjust vexation and anti-littering in going after "epal" politicians and government officials.
Macalintal earlier said citizens can complain against "unjust vexation" if they feel that early campaign materials cause "annoyance, irritation, torment, distress or disturbance to the mind of the person to whom it is directed."
In Metro Manila, where there is a sudden proliferation of banners and posters of local politicians, potential candidates may be charged with violating Metro Manila Development Authority Regulation No 99-006, in accordance with Republic Act No. 9003 or the Anti-Littering Law. The regulation punishes any person who "illegally posted or installed any signage, billboards, posters or streamers" without the corresponding permit from the city or municipal government.

Macalintal added that other local government units may apply this regulation in going after "epal" politicians.
"Once these persons are convicted, then they can be disqualified from seeking any elective position under Section 12 of the Omnibus Election Code which disqualifies any person convicted 'of a crime involving moral turpitude' to be a candidate or to hold any public office. Moral turpitude includes everything which is done contrary to justice, honesty, modesty, or good morals," Macalintal said.
"Definitely we will use them to make sure that they will start removing their signs with names and images in public places," he added.
Early ads
Among those who have produced TV advertisements this early are former Las Piñas Rep Cynthia Villar, Sen Francis "Chiz" Escudero, and TESDA Director General Joel Villanueva. These advertisements, though they lack direct links to the 2013 elections, are believed to be early forms of campaigning.

"Even if they directly invite the public to vote for them if they've become a candidate, there's no violation there," Brillantes earlier said in a radio interview last week.
Former SC Associate Justice Minita V. Chico-Nazario, who was among those who dissented in the ruling, had predicted this deluge of ads.

"Premature campaigning will now be officially decriminalized and, as a consequence, the value and significance of having a campaign period will now be utterly negated. Thus, one year, five years or even ten years prior to the day of the elections, a person aspiring for public office may now engage in election campaign or partisan political activities to promote his candidacy, with impunity. All he needs to have is a very deep campaign war chest to be able to carry out this shrewd activity," she said in her dissenting opinion.

In a tweet, Brillantes said the poll body is helpless in running after candidates involved in premature campaigning.
He supports the passage of a bill against premature campaigning, particularly the bill proposed by Sen Miriam Defensor-Santiago. In this bill, would-be candidates are required to file a "Certificate of Intent to Run for Public Office" (Cirpo) 6 months before the regular deadline for the filing of CoCs.

The Cirpo, a mandatory requirement before a CoC is filed, would then prevent any person from premature campaigning -- from product endorsements, media employment, buying ad spaces, or any other activity deemed by the Comelec as premature campaigning.

"Long-term solution is for Congress to reenact/pass a law prohibiting/punishing premature campaigning," Brillantes said. - Rappler.com