MOST SENIOR. As a 3-term senator, Gregorio Honasan II is the most senior of all the 6 reelectionists in the Senate. File photo by Edward Ganal/Senate PRIB
MANILA, Philippines – He has been a rebel soldier, an Edsa figure, and a 3-term senator, but Gregorio "Gringo" Honasan II believes he still has unfinished business.
Honasan first gained prominence as an officer in the latter part of the Marcos years. He was aide-de-camp of then Defense Minister Juan Ponce Enrile, later on helping his boss plot a mutiny against then President Ferdinand Marcos. The plan was foiled, but led to the Edsa Revolution that still ousted Marcos but installed Corazon Aquino in 1986.
When Aquino became president, Honasan led two unsuccessful coup attempts against her administration.
His reputation as a rebel continued in the Arroyo administration. He went into hiding after he was accused of masterminding the 2003 Oakwood mutiny. A Makati Court later junked the coup d'etat case against him. He was also linked to the 2006 Marine standoff against Arroyo, a charge he denies.
In politics, Honasan has been independent but a guest candidate of coalitions. He became the first independent candidate to win as senator in 1995 but ran on the slate of the Nationalist People's Coalition (NPC).
He ran for reelection in 2001 also as an independent but allied with the Pwersa ng Masang Pilipino (PMP) of ousted President Joseph Estrada. He placed 13th, but was able to get a 3-year term with the appointment of Sen Teofisto Guingona Jr as vice president. In 2007, Honasan ran again as an independent.
In his bid for a 4th term, Honasan is still running as an independent, but this time under the banner of the United Nationalist Alliance (UNA) of Estrada, Enrile, and Vice President Jejomar Binay. He said he shares Binay's advocacies on OFWs, poverty alleviation, and housing.
In his 3 Senate terms, he passed bills and led investigations into environmental, military, police, and agrarian reform issues. He is the sponsor of the Freedom of Information or People's Ownership of Government Information (POGI) Act of 2012.
Asked why he is seeking reelection, Honasan told Rappler there is simply so much work left to do. "From the 1896 Revolution to the 1986 People Power Revolution, there is unfinished business. I just want to continue and try to finish what I started in the context of sovereignty, national pride, the productivity that is there in our potential as a people."
Watch Rappler's interview with Sen Honasan here: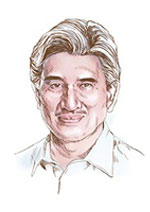 FAST FACTS
Political Affiliation: Independent
Age on Election Day: 65
Advocacies: environment, social reforms, national security, peace, good governance, education, youth and sports
Designation:
Chairman of Senate Committees on Agrarian Reform, Public Information and Mass Media, and Public Order and Dangerous Drugs
Chairman of the Congressional Oversight Committees on Dangerous Drugs, and Agrarian Reform
Chairman of the Joint Oversight Committee on the Human Security Act
Senate terms: Three (1995-2001; 2001-2004; 2007-2013)
Votes and ranking in 2007 polls: 10th; 11,605,531 votes
Latest survey ranking: 6th-10th, Pulse Asia September 2012 survey
Pork barrel released (2009-2012): P400,000,000
*Source: www.dbm.gov.ph
Education:
Masters in Business Management, Asian Institute of Management (1981)
Philippine Military Academy (1971)
Professional Background: Former soldier, politician
Commandant, Special Operations School at Philippine Army Training Command in Fort Magsaysay (1986-1987)
Aide-de-Camp and Chief of Security, Defense Minister Juan Ponce Enrile (1970s to 1980s)
Army soldier starting 1971, went into combat duty in Luzon and Mindanao
Bills passed in the Senate:
Clean Air Act of 1999 (principal sponsor)
Qualification Standards in the Appointment of Uniformed Personnel to the BFP and BJMP (sponsor)
Education Requirements for Promotion in the Philippine National Police (sponsor)
An Act Strengthening the Comprehensive Agrarian Reform Program (sponsor)
Revised Fire Code of the Philippines (sponsor)
Disposition of Firearms, Ammunition or Explosives (sponsor)
Terrorism Financing Prevention and Suppression Act of 2012 (co-author)
An Act to Further Strengthen the Anti-Money Laundering Law (co-author)
Subsidiary Imprisonment (co-author)
Expanded Senior Citizens Act of 2009 (co-author)
Philippine Technology Transfer Act of 2009 (co-author)
Military Service Board (co-author)
Philippine Disaster Risk Management Act of 2009 (co-author)
Climate Change Act of 2008 (co-author)
University of the Philippines Charter of 2007 (co-author)
Food Donation Act of 2007 (co-author)
Anti-Squatting Law Repeal Act of 1997
An Act Further Extending the Rent Control Period for Certain Residential Units
Housing Loan Condonation Act of 1998
An Act Strengthening Further the Comprehensive Agrarian Reform Program
Solid Waste Management Act of 2000 (co-author)
*Sources: www.senate.gov.ph, www.gringohonasan.ph