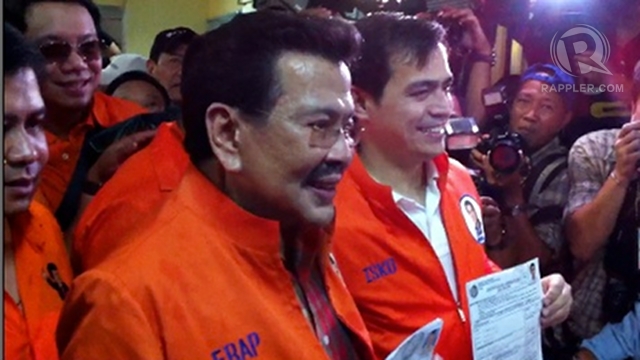 BEIJING-BORN? Is he a real Manilan? Former President Joseph Estrada turns the tables around, joking that Mayor Lim may have been born in Beijing. Photo by Ayee Macaraig
MANILA, Philippines – Will the "real Manilan" please stand up?
Former President Joseph Estrada responded to criticism that he is not a "real Manilan" in classic Erap style: by cracking a joke.
Estrada, 75, filed his certificate of candidacy for Manila mayor on Tuesday, October 2. After filing his election documents, Estrada told reporters that the barb from supporters of his rival, incumbent Manila Mayor Alfredo Lim, does not affect him in any way.
"Baka hindi siya! Ako born in Tondo, Manuguit Maternity Hospital, 1937. Siya, saan siya pinanganak, sa Beijing?" (Maybe he's the one who is not the real Manilan! I was born in Tondo, Manugid Maternity Hospital, 1937. How about him? Where was he born, in Beijing?)
Estrada added, "Ay! Sa Bulacan yata eh. Sorry ha, akala ko sa Beijing eh," Estrada said. (Ooops! I think he was born in Bulacan. Sorry. I thought he was born in Beijing.)
Lim supporters referred to the mayor as a "real Manilan," a swipe against Estrada who was a resident and former mayor of San Juan. In preparation for his 2013 mayoral bid, Estrada bought a house in Sta Mesa, Manila and transferred his voter registration.
Estrada and Lim used to be allies but ties turned sour after then Interior Secretary Lim withdrew support from the Estrada presidency amid ouster calls for the then president.
The former president turned serious when explaining why he chose to run for mayor of the country's capital.
"Tapos na ako sa San Juan eh at magandang-maganda na ang San Juan eh. Itong Maynila pagagandahin natin naman." (I am done with San Juan and the city has improved a lot. It's time for us to work on Manila.)
Estrada was also asked why he is still running for a local position after serving as San Juan mayor, senator, vice president and president. His presidency was cut short in the so-called EDSA 2 uprising in 2001. He was eventually jailed and convicted of plunder but later pardoned by then President Gloria Macapagal-Arroyo.
In 2010, Estrada again ran for president and almost won, finishing second to Benigno Aquino III.
"There's no boundary in serving the people, especially the marginalized people. Walang hanggangan sa paglilingkod sa taumbayan lalo na sa mahihirap nating mga kababayan. 'Di ako titigil hanggang sa huling hininga ko." (There is no limit to serving the people especially our poor countrymen. I will not stop serving until my last breath.)
Estrada filed his COC along with running mate, fellow actor-turned-politician Manila Vice Mayor Isko Moreno. He was accompanied by sons, Senator Jinggoy Estrada and Rep JV Ejercito, at the Comelec office in Arroceros, Manila.
The former president went with the traditional fanfare, holding a motorcade starting at his Manila home. Supporters came to meet him at the Liwasang Bonifaco in Manila, chanting his name. The group walked to the Comelec office in nearby Intramuros.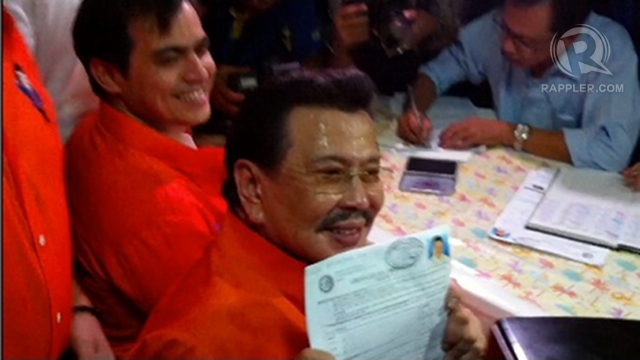 MAYOR AGAIN? Far from retiring, former President Joseph Estrada holds up his certificate of candidacy for mayor of Manila. Photo by Ayee Macaraig
'All-out war against criminals'
If elected, Estrada plans to serve for just one 3-year term and then allow Moreno to run for mayor.
Estrada told reporters his platform will be urban renewal, job generation, livelihood and peace and order.
"We will go all-out against police scalawags, hoodlums in uniform and I will declare an all-out war against kidnapping and carnapping," Estrada said.
The statement alluded to the all-out war he declared against the Moro Islamic Liberation Front during his presidency.
Estrada has stressed the need for urban renewal in Manila, saying the city is "decaying." He said the city, once more famous than the Philippines, has been left behind by cities like Makati, Quezon City, San Juan and Taguig. He blamed Lim for this.
Estrada has commissioned a University of the Philippines study on the urban renewal of Manila, and plans to execute the findings if elected.
Whether or not blaming Lim is correct, Estrada's observations about Manila has basis. A recent survey of Public Affairs Asia and public relations firm Ogilvy ranked Manila the last among 16 Asian Cities in the report, having the "worst branding" among cities.
The survey said Manila is lagging behind Asian Cities in business and tourism, particularly economic growth, quality of life, security, infrastructure, environment and tourist opportunities.
'Lim all press release'
Moreno (Francisco Domagoso in real life) also stressed the need to improve the state of the capital. He will be up against a fellow actor, Lim's running mate, 6th District Councilor Lou Veloso.
"We are about to go bankrupt," Moreno told reporters. "The Commission on Audit said Manila has P3.5 billion liabilities. This is a problem and I think the urban renewal program of the [former] President has something to do with financial distress and Manila itself, we are deteriorating."
He added, "As what DILG said, Manila is number 36 out of 38 in the entire country and number 15 out of 16 in Metro Manila so can you imagine that?"
An ally of Lim in the 2010 elections, Moreno joined Estrada's Pwersa ng Masang Pilipino in May. The two had a falling out, with Moreno even claiming that Lim threatened to kill him. Lim said the statement made in a speech was just a joke.
Moreno also rejected as politically motivated accusations that he hired ghost employees in his office.
Newspaper reports said Manila's legal department submitted documents to the Commission on Audit showing that Moreno allegedly has over 200 "ghost employees" on his payroll.
"If there's gun for hire, there's complainant for hire and there's evidence for hire. Until now, they just keep claiming these things but don't file a case …. I'm a public official. I can be subjected to any type of investigation but these things are not happening, these things are happening only in their own newspaper," Moreno said.
Moreno took another jab at Lim in defending himself from the allegations.
"I have so many programs na naestablish na sa City of Manila and the people, ang tao mismo, alam na nila kung sino ang nagsasabi ng totoo, sino ang hindi, sino ang nagce-claim lang, puro press release lang, especially yung isang matandang puti na ang buhok." (People know what my programs are, who is saying the truth, who is lying, who is just claiming and just making press releases, specially the old man with the white hair.) – Rappler.com