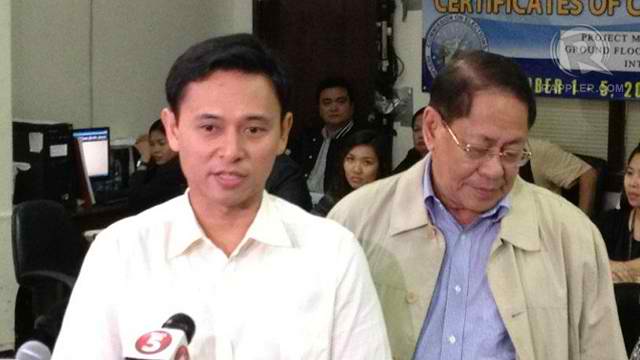 ANGARA LEGACY. Aurora Rep Sonny Angara says the difference with his family's dynasty is its legacy. Photo by Paterno Esmaquel II
MANILA, Philippines - They may have the same surname but the Angaras have different takes on the law -- including the controversial Cybercrime Prevention Act of 2012, a consolidation of bills they themselves authored.
Sen Edgardo Angara and his namesake Aurora Rep Juan Edgardo "Sonny" Angara had backed the bill on cybercrime, with father and son authoring bills in the Senate and the House respectively. They're both lawyers.
On Wednesday, October 3, the day the law took effect, various groups asked the Supreme Court to declare the law unconstitutional. Critics cited vague provisions that they believe threaten Internet freedom, privacy and freedom of speech and the press -- especially the provision on libel.
The law criminalizes online libel, with offenders facing fines or imprisonment.
Day 1 of the cybercrime law also marked the day the younger Angara filed his certificate of candidacy for senator, after which he told reporters at the Commission on Elections that lawmakers -- like himself -- should accept they made mistakes regarding the cybercrime law.
He backed calls to amend the law, but more crucially, he said he had not pushed for the libel provision of the act.
"Siguro kailangan magpakumbababa ang mga legisladaor at aminin na baka nagkamali kami diyan at baguhin nalang po," he said.
"I think doon sa online libel baka better na hindi criminal ang punishment. Baka masmaganda, ang trend kasi worldwide is civil nalang ang punishment," he said.
Angara also said in the same interview that he did not want to be elected just because of his last name.
In contrast, his father, who accompanied his son during the filing, told reporters at a separate event that he would file a bill to amend the law, but that he plans to retain the provision criminalizing online libel.
"Why not? You mean, the cyberspace is a zone of impunity that you can now begin to lambast maliciously your enemies without fear of any sanction at all?," he said. "I don't think that would promote our civilization or the use of the Internet."
Currently, there are 9 petitions pending in the Supreme Court arguing against the law and its libel provision.
The Angaras represent varying views on the provision shared by several lawmakers, some of whom have said they will first crowd-source suggestions on amendments to the law before deciding on changes. Others like Sen Francis "Chiz" Escudero and Sen Bong Bong Marcos have said they will seek to amend or repeal the libel provision. - Rappler.com