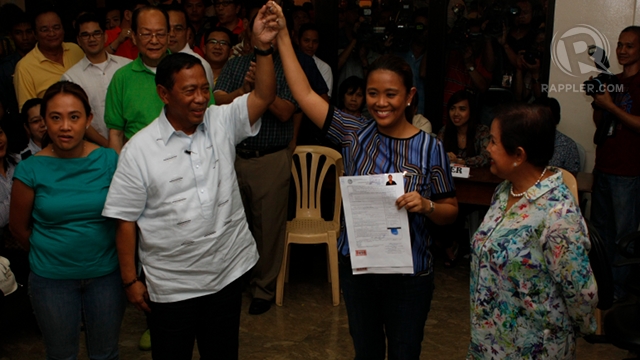 FATHER'S DAUGHTER. Vice President Jejomar Binay says her daughter will carry the "Binay brand" of public service in her senatorial bid. Photo by Don Regachuela
MANILA, Philippines – Being a father, he was initially reluctant but Vice President Jejomar Binay now goes all out in endorsing his daughter for senator.

Binay and his wife, Elenita, accompanied their eldest daughter Nancy Binay-Angeles in filing her certificate of candidacy at the last hour on Friday, October 5.

Nancy Binay is the 12th candidate of the United Nationalist Alliance (UNA), having been convinced to run at the last minute. She is a political neophyte but still placed within the so-called winning circle in election surveys.


Asked what her edge will be, the Vice President said, "She is my daughter, 'di ba? The Binays are associated with good public service. Eldest daughter ko pa ito (this is my eldest daughter)."

Binay admitted he did not want to field his daughter but had no choice after businessman Joey de Venecia backed out of the UNA ticket just over the weekend. He was outvoted by fellow UNA leaders former President Joseph Estrada and Senate President Juan Ponce Enrile in pushing Nancy to fill the slot.

"Baka ma-expel ako pag 'di ako pumayag," Vice President Binay joked. (I might get expelled if I don't agree.)

Father and daughter Binay had to respond to questions about political dynasty with two other family members already in government.

Makati Mayor Jejomar Erwin "Junjun" Binay Jr and Makati Rep Mar-Len Abigail Binay-Campos are both running for reelection in 2013. Binay's wife was also mayor of Makati from 1998 to 2001.

The Binay patriarch said, "Ano bang problema natin doon? I've always stated, tingnan niyo ang anak ko si Junjun, si Abigail, bakit mo idi-disqualify ang ganung mga may qualification, gustong mag-serve sa tao? (What's the problem with that? I've always stated, why would you disqualify Junjun and Abigail when they are qualified and want to serve the people?)

"Importante lamang, kailangan it must be a clean and honest election. Kung anong gusto ng tao, yun ang pagbigayan natin. It does not mean that you are the daughter, sister, mananalo. Dito sa Maynila, ang daming anak na natalo dito." (What's important is that it must be a clean and honest election. What the people wants, we should give it. It does not mean that you are a relative, you will win. Here in Manila, there are many political children who lost.)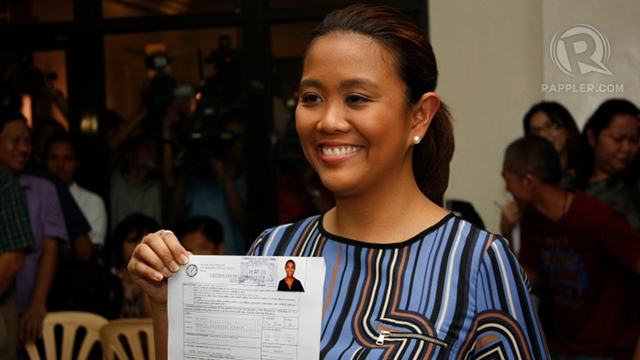 4TH BINAY. If elected senator, Nancy Binay will be the fourth Binay in government. Yet she says she is simply subjecting herself to voters' choice during the elections. Photo by Don Regachuela

'Surveys, kids were factor'

Nancy Binay, 39, is a Tourism graduate of the University of the Philippines-Diliman. She served as personal assistant to her parents during their respective terms as Makati mayors. She is now helping her father in housing concerns as Vice President.
This background prompted the Vice President to say, "Parang Ballsy na ito eh." (She's like Ballsy.) Binay was referring to President Benigno Aquino III's eldest sister, Ballsy Aquino-Cruz who served as a constant companion and aide to their late mother President Corazon Aquino.

Despite her lack of experience, Binay's daughter said voters should give her a chance.

"I think the campaign has not yet started. Just wait and see, there's more to me than my name," she said.

Nancy Binay said she hesitated about her senatorial bid. UNA Secretary-General Navotas Rep Tobias "Toby" Tiangco convinced her to run only on Thursday, October 4.

"He explained to me that you are placing in the survey. Not everybody gets that opportunity to serve in that capacity. So why don't you take that opportunity and I realized, why not?"

She said she initially also asked herself why she should gun for a top national post in her first foray in politics.

"I also asked the same question to myself because even I was surprised that I was placing in the surveys. Why was my name there? I did not know and there was no effort on my part but still I was placing high so the opportunity is there to serve."
Nancy Binay ranked 12th-15th in the September Pulse Asia survey.

Yet she said it was her 9-year-old daughter who was the deciding factor. She has 4 children.

"Mas sanay ako doon sa background, it's more of that. I had to consult my kids. A few months ago, ang isa kong anak ayaw niya talaga akong patakbuhin. I talked to her again last Tuesday and I explained to her and finally she said yes. I took it as a sign na ito ang go signal na iniintay ko," Nancy Binay said. (I am more used to being in the background. When my daughter agreed, it was the go signal I was waiting for.)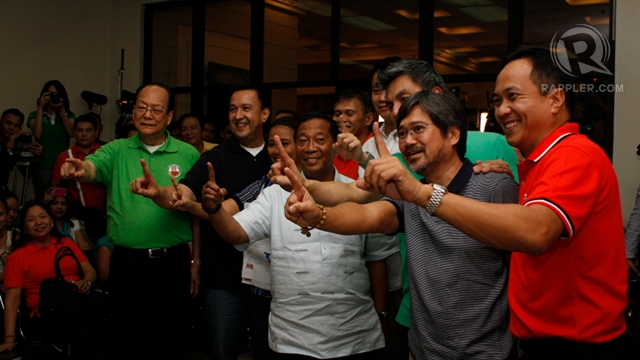 LAST CANDIDATE. UNA leaders and senatorial candidates accompany Nancy Binay as she files her certificate of candidacy at the last hour on the last day. Photo by Don Regachuela

Housing, children advocacy

Nancy Binay said she will campaign on a platform of housing and children's welfare.

"It's close to my heart. I am a mother. That is really my concern. Plus the two are also connected, housing and family. They are interrelated," she said.

Asked about her track record, Nancy Binay said her experience of helping out her parents in Makati and the Vice President in his housing programs will aid her.

She addressed concerns that she is not exposed to legislative work, with her parents being in the executive branch.

"I think at the end of the day, dapat pareho di ba? How can I craft policies kung wala akong feel kung ano ang nangyayari sa baba?" (Shouldn't it be equal? How can I craft policies if I don't have the feel of what's happening on the ground?)

Pressed about political dynasties, the senatorial candidate said, "People will vote for us, we don't appoint ourselves. We are subjecting ourselves to an electoral process."

Nancy Binay added, "As what my brother said, we are a dynasty of service." – Rappler.com

Visit #PHvote, Rappler's coverage of the 2013 Philippine elections.

Get to know the candidates through our comprehensive profile pages and help spread the word about these candidates by answering our poll.
Check out our fun timeline to find interesting trivia on the candidates.
Help us monitor violence & vote buying! Report them through #VoteWatch and our tool will automatically map your report.
Share this page and pledge to #votesmart by clicking on the button below.
---
More from Rappler's 2013 Philippine elections coverage: