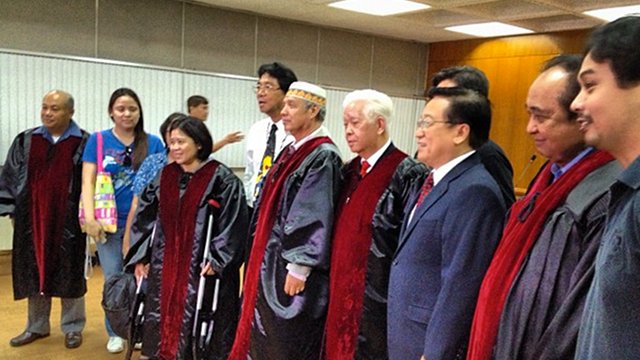 The Comelec en banc, with Atty. Romulo Macalintal and members of the media, after granting the petition for media absentee voting. Photo from Comelec EID
MANILA, Philippines - The Commission on Elections (Comelec) approved on Tuesday, October 9, the early voting of media practitioners.

The Comelec Education and Information Department (Comelec-EID) posted on its Twitter page that the poll body en banc has granted a petition to allow members of media to vote before the May 14, 2013 elections.
The petition was filed in June by Romulo Macalintal, counsel for a group of media practitioners.
In the petition, "media practitioners" are defined as "those certified by media entities as being connected or employed by them and who, on or a few days before election day, would be assigned to various areas to gather news, make reports or shoot video, thereby preventing them from voting in their respective precincts on election day."
They are usually asigned to media coverage on election day, hence most are not able to vote.
The petition though only covers voting for national positions and not for the local posts.
Comelec spokesperson James Jimenez told Rappler that the petition does not include specific details, such as the dates when media practitioners will be allowed to vote. "We still have to draft an IRR (implementing rules and regulations) for that," he said.
The Comelec decision comes before the legislation for media absentee voting is passed. House Bill 4241 (An act providing for early voting to qualified members of the media) was already passed in the House of Representatives in August 2011; it remains pending in the Senate.
Under this bill, media practitioners are allowed to vote "within 14 working days before the day of elections." - Rappler.com
More from #PHVote, Rappler's coverage of the 2013 elections: