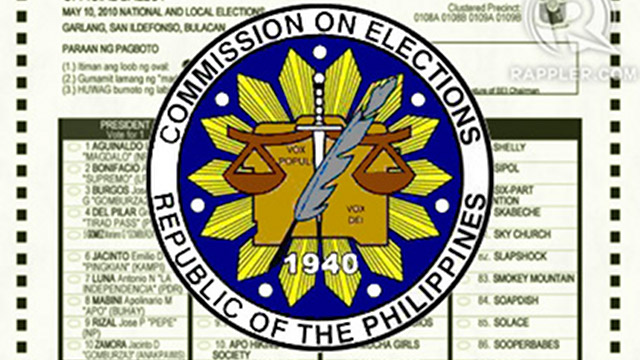 MANILA, Philippines (2nd UPDATE) – Ako Bicol, the party-list group that won by the biggest margin in the last elections, cannot run anymore in the 2013 polls.
The Commission on Elections (Comelec) has disqualified Ako Bicol and at least 12 others from participating in the coming elections. Comelec Chair Sixto Brillantes Jr announced this on Wednesday, October 10, as the poll body released a list of disqualified party-list organizations.
Brillantes explained that the group is a registered political party, not a marginalized people's representative.
"It was a big surprise, and it is unacceptable on our part, especially for Bicolanos," said Ako Bicol party-list Rep Alfredo Garbin Jr said in an interview with ANC. Garbin refused to comment further because his group has not received the Comelec resolution on this, but said the group will explore "legal remedies."
Ako Bicol has 3 party-list representatives in Congress – Christopher Co, Rodel Batocabe, and Garbin.
The Comelec also disqualified the following party-list groups:
1-AANI
1-BRO PGBI
1GANAP/Guardians
1st Prisa
A Blessed
Alliance for National Urban Poor Organizations Assembly Inc (Anupa)
Alliance for Rural Concerns (ARC)
Association for Righteousness Advocacy on Leadership (Aral)
Atong Paglaum
Organization of Regional Advocates for Good Governance Onward Nation-Building (Oragon)
United Movement Against Drug Foundation Inc (Unimad)
Yes We Can
The Comelec said it will issue a longer list of disqualified groups in the coming days.
'Rich' backers
In 2010, Ako Bicol had also faced a disqualification case before the Comelec for allegedly violating the party-list law, which allows only the marginalized and underrepresented sectors to participate.
The rich, prominent Co family in Albay supposedly formed and backed Ako Bicol, according to the petition. The petition said the Co family funded Ako Bicol through its companies.
The party-list group's chairman, Elizaldy Co, apparently headed the transnational group Sunwest Group of Companies, Tektone Global Technologies Foundation, commercial hub Embarcadero de Legaspi, and other construction firms, malls, and resorts.
The petitioners said Co, a business magnate, also ventured in "realty estate development, energy projects, and aviation, and mining."
The poll watchdog Kontra Daya also accused Ako Bicol of having been created by then President Gloria Macapagal-Arroyo. But the party-list group denied this claim.
On Wednesday, the activist group Anakbayan hailed Ako Bicol's disqualification, describing its representatives as "big businessmen and influential families, clearly not marginalized and underrepresented." "It is an injustice to allow them to continue holding seats in Congress to continue 'representing the marginalized.' They should be removed from Congress as well," Anakbayan said.
Marginalized sectors?
A means to ensure that marginalized groups get represented in Congress, the party-list system has received criticism for allowing even millionaires to run as party-list representatives.
A recent issue involves a party-list group associated with President Benigno Aquino III – Akbayan – which critics want disqualified. Since assuming office, Aquino has appointed several Akbayan leaders to government posts, drawing criticisms that the party-list group is now far from marginalized.
In a previous case, the Supreme Court ruled that party-list groups should enable "Filipino citizens belonging to marginalized and underrepresented sectors to be elected." The SC established 7 other guidelines for screening party-list groups:
The religious sector may not be represented in the party-list system;
The parties must not be disqualified under Section 6 of RA 7941 (Party-List System Act);
The parties must not be an adjunct of, or a project organized or an entity funded or assisted by, the government;
The parties must not only comply with the requirements of the law; its nominees must likewise do so;
The parties must represent the marginalized and underrepresented sectors; so also must its nominees;
The parties must likewise be able to contribute to the formulation and enactment of appropriate legislation that will benefit the nation
– Rappler.com
More from #PHVote, Rappler's coverage of the 2013 elections: