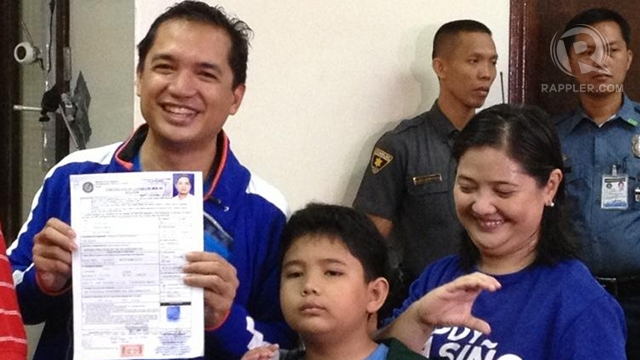 'VERY LITTLE.' President Aquino describes Bayan Muna Rep Teddy Casiño's survey numbers as "very, very little" in an interview with New Zealand media. File photo by Paterno Esmaquel II
MANILA, Philippines [UPDATED] – Take a look at yourself first, Mr President.
Bayan Muna Rep Teddy Casiño took exception to President Benigno Aquino III's statements belittling his survey numbers.
Casiño responded to a media interview of Aquino in New Zealand, where the President mentioned a leftist senatorial candidate who "currently has 2.6% of the population voting for him which is very, very little." Watch the interview here:
Aquino did not name the candidate but Casiño is the only Senate bet of the leftist Makabayan Coalition in the House of Representatives.
Aquino made the statement in an interview with Radio New Zealand, which asked him about the Philippines' human rights record. The President said the leftist groups were "very good at propaganda" but said that if surveys were any indication, the unnamed candidate will not win a Senate seat.
In a statement sent to House reporters, Casiño struck back.
"Let me remind the President that before his mother died, he did not even rate in any survey nor was [he] considered by anyone to be of presidential caliber. In fact, he only became senator because of his lineage and the heroic efforts of his mother and sister," Casiño said.
Casiño was referring to the death of Aquino's mother, former President Corazon Aquino in 2009, which catapulted him to the presidential race. Aquino's father, the late Sen Benigno "Ninoy" Aquino Jr was assassinated in 1983 under the Marcos regime.
On his Twitter account, Casiño clarified that he was not mad but just wanted to make a point. "I never fume. Hindi ako galit (I'm not angry). I'm just stating the truth and making the President realize he shouldn't look down on others."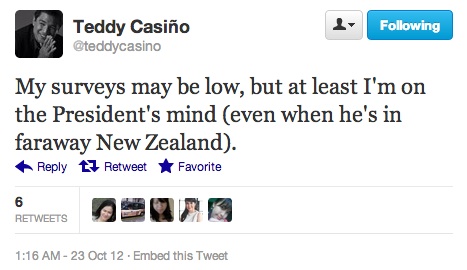 The congressman is running as an independent candidate in the 2013 senatorial polls. In the September Pulse Asia survey, Casiño ranked 31-35, a long shot from the so-called winning circle of 12.
Don't be a snob
He, however, said that Aquino should not look down on "ordinary mortals like me who have no political pedigree like yours but who have every right to serve the country as congressman or, for that matter, senator of the Republic."
Casiño said, "So before he derides me or any candidate for that matter for rating low in the surveys, he should look at himself first. Trust me, Mr President. If I had Ninoy and Cory as parents, I'd probably be in your shoes, too."
Casiño's Makabayan Coalition allied with Aquino's former rival, Sen Manny Villar, in the 2010 presidential race. Villar, however, has partnered with Aquino for the 2013 midterm polls.
Aquino is the chairman of the ruling Liberal Party, which is fielding its own senatorial slate for 2013. The slate includes members of Villar's Nacionalista Party.
'Record speaks for itself'
Human rights groups in New Zealand have urged Prime Minister John Key to raise human rights abuses in his meeting with Aquino.
In the interview with New Zealand media, Aquino said that the Philippines' human rights record "speaks for itself." He said while there are human rights violations, some state agents have also been abused in the conduct of their work.
"When they were enforcing, for instance, eviction notice on land issues, they were pelted with human waste and a lot of danger has happened to our people. Perhaps I keep saying that human right is for everybody. Not because you're a state [agent] or a government employee that your rights are any less than any other citizen's," Aquino said.
Aquino said his government is working to arrest fugitive retired Army Maj Gen Jovito Palparan, who is wanted for the abduction of University of the Philippines students Karen Empeño and Sherlyn Cadapan.
"We're trying to remove that impunity [that] used to exist. My predecessor is currently in jail awaiting trial. She's detained," Aquino said in reference to former President Gloria Macapagal-Arroyo.
Aquino added that his administration has removed former Chief Justice Renato Corona in an impeachment trial for failing to declare his assets.
"So basically, we want to ensure that the rule of law applies to everybody," Aquino said. – Rappler.com