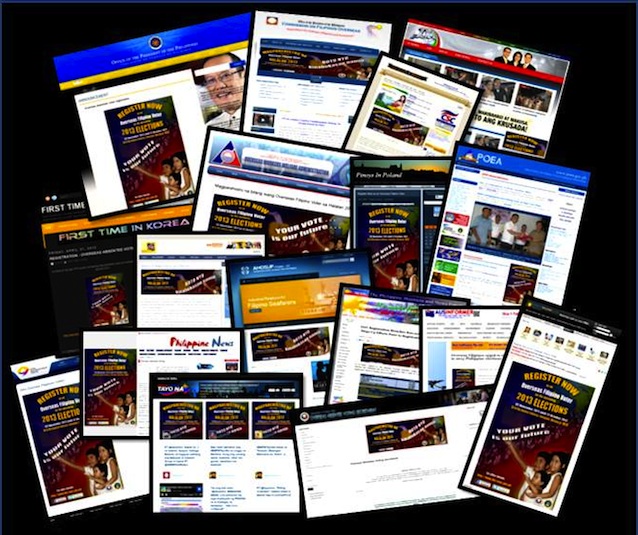 MISSION ALMOST ACCOMPLISHED. Overseas voting flyers sent to Filipinos abroad. Image courtesy of DFA
MANILA, Philippines - Very close, but not quite.
The Department of Foreign Affairs (DFA) revealed on Tuesday, November 6 that it will not be able to reach its target of registering 1 million Overseas Absentee Voters (OAVs) for the May 2013 elections.
Nevertheless, Foreign Affairs Undersecretary for Special and Ocean Concerns and Chairman of the Overseas Absentee Voting Secretariat (OAVS) Jose Brillantes is satisfied with the turnout, which will be more than 960,000 once the DFA collects all the reports from embassies and consulates.
Brillantes underscored that the figure -- not yet final -- will surpass the total number of voters who registered for the 2010 polls, while the number of new registrants topped its previous record dating from 2004. (Read: More Filipino voters from overseas register for 2013 polls)
"This time there was really a concerted effort on the part of our posts to really go out and get the Filipinos to register," in an interview with reporters.
Brillantes explained that the DFA "used all kinds of connections with the media, Filipino communities and associations" to disseminate the message that OAVs are "taking part in a very important political exercise" in the upcoming elections.
Extension denied
Before the Commission on Elections (Comelec) deadline for absentee registration on October 31, the OAVS requested an extension so that more overseas Filipinos could vote.
However, Comelec denied the request, arguing that no extension was allowed for local voters.
"They did not want to show any favor for overseas voters," said Jose Brillantes, who is incidentally the brother of Comelec Chairman Sixto Brillantes Jr.
The DFA undersecretary explained that "they needed at least 150 days before the election to put up a final list. With an extension, they would not have had enough time."
"But even without the extension, the target of 1M [OAVs] has been more or less reached," he stressed.
Role of social media
Brillantes also mentioned how social media has helped them almost reach their goal.
"Social media has a far more expansive reach than normal media, especially because of the popularity and the availability to many more people. We tried to get in touch with all our assets and we told all of them to use social media," he said, without giving figures.
The DFA official compared this past registration to others when Facebook or Twitter were not as popular.
"It was all a bit informal (…) No more appeal to one's patriotism and love of country as before. We were more down to earth and saying kasali kayo dito (you are part of this) so your voice can count," he noted.
Social media, Brillantes said, will become even more important when online voting becomes available in the future for overseas voters.
"It will be very dramatic, as it will substantially increase the number of registrants and voters because it becomes easier for them to register and vote" instead of the current system, which makes it very inconvenient for some OAVs to register in spite of the DFA's efforts.
Overseas vote growing
Asked about the relatively high cost of the OAVS program, Brillantes said that overseas absentee voters have every right to participate in the political process from their place of residence.
"They are still important factors in decision-making in the Philippines even if they are abroad," he stressed.
In the future, the overseas vote could even decide an election, especially for tight races in the last slots for the Senate.
"When you talk of votes in hundreds of thousands, this can make a big difference in elections (…) It is a big chunk of votes," Brillantes noted.
He believes the OAVs will grow in political importance in the coming years.
"Most of the candidates are already aware of this and have plans to address overseas absentee voters." - Rappler.com