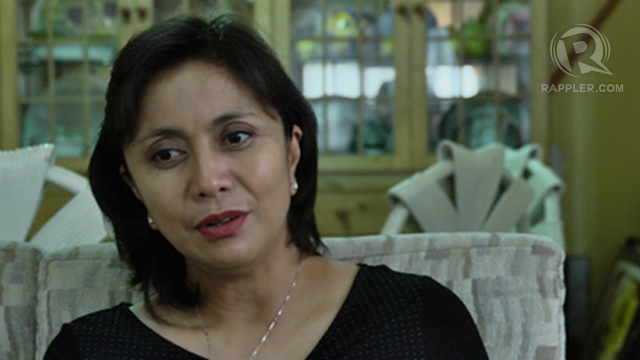 SPEAKING OUT. Leni Robredo says she is running for Congress in hopes to stop extending the Villafuerte political dynasty. Photo by Adrian Portugal.
NAGA CITY, Philippines - When Leni Robredo, the wife of the late Interior Secretary Jesse Robredo, decided to heed the call of supporters to run for Congress in Camarines Sur's third district, she said she was doing it to help stop the rule of a political dynasty.
In an interview with Rappler, Robredo said that under the Villafuertes, the province of Camarines Sur has not seen any progress.
"Parang if you look at the numbers in CamSur, because it has been ruled by this political dynasty for a long long time, hindi talaga siya umaasenso (it really hasn't progressed). Sa good governance index ng NSCB (National Statistical Coordination Board), second to the last ang CamSur," she said.
"The poverty level is so high that for me, to allow another member of the family to hold office, is to allow this kind of situation to continue, to further expand it. I am being given this one chance to stop it. Why won't I do it?," she said in a mix of Filipino and English.
Robredo claimed that the situation shows "how badly managed" the province has been.
Robredo will be up against Nelly Villafuerte, the wife of incumbent Rep Luis Villafuerte Sr, who has served the province since 1978 and who is Jesse Robredo's uncle. Villafuerte helped Jesse Robredo enter politics and win as mayor of Naga in 1988, but the two soon parted ways and became political rivals.
For the May 2013 elections, the Villafuerte patriarch is running for governor, a seat that he already held in the past for 18 years.
Villafuerte is running against his grandson, 24-year-old Miguel, the child of his own son, incumbent Gov. LRay Villafuerte, with whom he has had a falling out. LRay Villafuerte, now on his last term as governor, is seeking a congressional seat in the province's second district -- against incumbent Rep Dato Arroyo, son of former President Gloria Macapagal-Arroyo.
Leni Robredo, who had no plans to run for office until the very last minute, said she felt that she was the only one who had a good chance to fight the Villafuertes.
"Ako palagay ko kasi pag hindi ako tumakbo parang and laki-laki nung chance na ang mananalo 'yung opponent. Pag nanalo siya, she would be the 4th member of the family na tatakbo," she said. (I think that if I don't run my opponent will have a huge chance of winning. She is the fourth member of the family who is running.)
Camarines Sur is also home to some of the longest-serving political dynasties in the country -- not just the Villafuertes.
Members of the Fuentebella family have enjoyed power for 105 years. Others such as the Andayas and the Alfelors have also occupied positions for at least 3 decades.
Different beliefs
Robredo, who has since embraced her candidacy despite initial hesitation, considers herself different from her opponent.
"Definitely our beliefs are different. For me, the progress of a place is really based on good governance. The view needs to be progressive but progressive in the sense that we will start everything with good governance," she said. "In our district, the concept of a congressman is someone who brings projects here. It would be OK if the projects that are brought here strengthen the institutions and help encourage a mentality that is helpful to all."
But this is not the case in Camarines Sur, Robredo noted. The concept of "projects" in the province is creating barangay halls, painting schools rather than building new ones, and constructing waiting sheds -- all bearing the names of those who funded them, she said.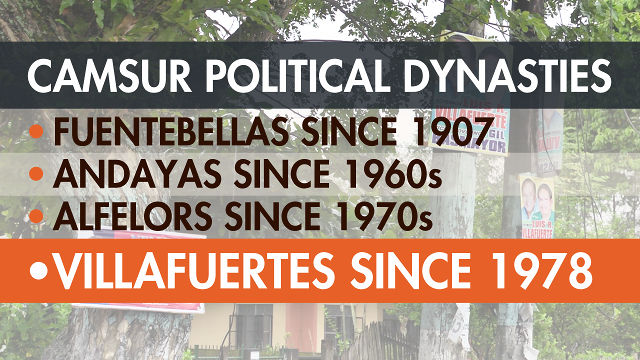 RULING FAMILIES. The Fuentebellas, Villafuertes, Andayas and Alfelors are some of the political dynasties that have ruled Camarines Sur. Graphic by Jessica Lazaro.
Her goal is to change the mindset of voters. "The concept of politics here is truly one of patronage)," she said.
"If I will be given the chance, I want to change all that. That was the mentality that my husband had to deal with, but he was able to change that in his first term of office. And when he did, the people here started to believe in themselves).
Robredo said that making the voters more engaged and involved would make a world of a difference. She said her husband's biggest achievement is that he made Naga residents take a more active role in local governance.
"Even the governors and local leaders can't afford to commit wrongdoing because people are very vigilant about their rights. I think that culture should be developed outside Naga. And if that happens, change won't be instant, but if that happens, there will be huge changes for CamSur."
'Perks and privileges'
Robredo told Rappler that she thinks the essence of political dynasties is the families' difficulty to let go of the perks and privileges that they have gotten used to.
"This is something I learned from my husband, very basic actually 'to, palagi niyang sinasabi, if you're a government official, parang automatic ang perks and privileges. You are in power, whatever you want to do you can do, everything is handed to you on a silver platter. Parang ganun kasi yung kultura ng Pilipino (Because that is the culture of the Filipino)," she said.
Because of this, she said her husband made sure not to take advantage of these privileges.
This is how it works, according to her. "First, one person from the family is in power. Then they experience many privileges. When the time comes that he has to leave, and because he enjoyed it so much, he is not willing anymore to part with it and because the law says he can no longer stay, he makes the family member run. This is like enjoying the same perks and privileges even if you are no longer in office," she said in a mix of Filipino and English.
Would Leni Robredo get the votes needed to change this? - Rappler.com