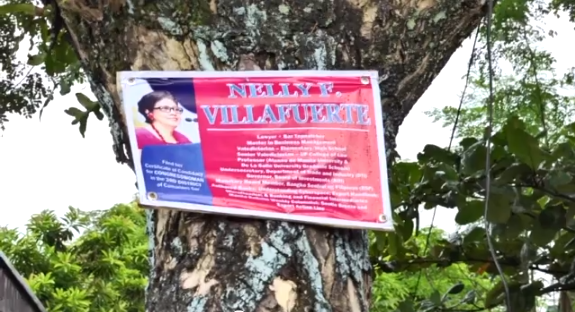 LITTLE CONCERN. Voters in Camarines Sur say they want change but also believe long-standing political dynasties will likely win in 2013. Photo by Adrian Portugal.
NAGA CITY, Philippines - Rappler goes around provinces in the Philippines for an in-depth look at the politics and the people, 6 months before the 2013 elections.
Here's a look at the political dynasties of Camarines Sur and the attitudes that perpetuate these clans in power.
Natashya Gutierrez reports.
Taxi driver Jojo Estrada lived in Camarines Sur all his life.
He tried to work in Manila, but eventually returned.
He says he is happier and less stressed here.
But Jojo is frustrated with the divisive politics-- he says its to blame for the slow progress of the province.

JOJO ESTRADA, TAXI DRIVER: Sa Camarines Sur sana maayos, magkaisa yung issue ng ma pulitika, para maging matagumpay yung isang bayan, para yung mga tao ba mabigyan ng pagkakataon na maginhawa rin sila.
(In Camarines Sur, I wish the politicians would unite so the nation succeeds and the people find progress).
Estrada's sentiment is common in CamSur, one of the country's poorest provinces.
Voters say they want change.
In the province, there's bickering not just between parties, but even within families.
77-year-old incumbent 3rd district congressman Luis Villafuerte Sr. is running for governor.
His opponent? His 24 year-old grandson.

He had a falling out with his rival's father-- incumbent third-termer Gov. L-Ray Villafuerte.

Congressman Villafuerte is also fielding his wife, Nelly Villafuerte, to take his position in the House.

She will go against late Interior Secretary Jesse Robredo's widow Leni.

The Villafuertes are only one of several political dynasties that ruled the province for decades.

Ironically, voters say they want improvement but also don't see anything wrong with the ruling families.

They say they vote for these clans because they have the experience anyway.

JOJO ESTRADA: Siguro ang magtatagumpay rin yung nasa pwesto kasi kilala na sila... sa tingin ko pare parehas lang naman sila eh, sa ibang mga ideas nila, yung proyekto, kung saan nila gagawin nila yung plataporma nila.
(I think the politicians that will win are those already in position because they are already popular... I think the politicians are all the same, the ideas are the same, the projects, the platforms of action).
This is the challenge for new candidates: to convince voters hope lies outside traditional politics.

Leni Robredo says she is running to end the Villafuerte dynasty, but she says in order to win, she must change voters' mentality.

LENI ROBREDO, CONGRESSIONAL CANDIDATE: Parang yung konspeto ng pulitika dito sa amin patronage talaga. Ako if i will be given this chance gusto ko mapalitan ko yung lahat. Kasi yung asawa ko yung nadatnang ditong pulitika ganun rin pero during his first term of office nabago niya yun ganung mentality at nung nabago niya yung mentality, ang mga tao dito sa amin mas naniwala sa kanilang sarili nila.
(The concept of politics here is really patronage. I want to change things. This is the kind of politics my husband found here. But during his first term in office, he changed the mentality, and when he changed the mentality, the people started believing in themselves).

Candidates have six months to make voters believe they are not just subjects, but also stakeholders.

Most voters in CamSur are like Jojo, who dream of change -- but don't fully understand what it takes to get there.

Natashya Gutierrez, Rappler, Camarines Sur. - Rappler.com