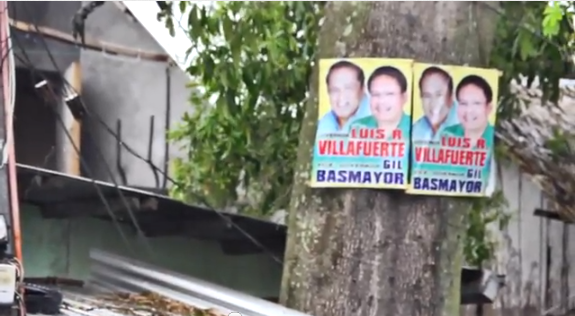 CONTROLLING CAMSUR. Members of political dynasties in Camarines Sur will run for the 2013 midterm elections and have started campaigning early. Photo by Adrian Portugal.
CALABANGA, Philippines - Six months before the 2013 local elections, Rappler goes around potential hotspots in the country.
This week, Natashya Gutierrez visits Camarines Sur, a place where political families have ruled for decades.
She filed this video blog.
I'm here in Camarines Sur to observe the political climate of the province 6 months before the 2012 midterm elections.

The politics of Camarines Sur is unique.

It is home to some of the country's longest serving political dynasties... including one clan that has served for over a century.

As early as now, despite Commission on Elections ban, the faces of some of this family members are already plastered on posters like these and on commercials airing on local TV.

Other regular candidates I have spoken to who don't have the same funds to campaign early or to use the same expensive campaign materials know they are at a disadvantage.

However, they are relying on volunteers and grass-roots efforts to level the playing field.
Analysts are adamant of the need to put a stop on the unhealthy nature of this political dynasties.
The good news is, not one candidate from mayor to governor is running unopposed. There are options and there are choices.
The question is, are voters ready for change?
Natashya Gutierrez, Rappler, Calabanga. - Rappler.com