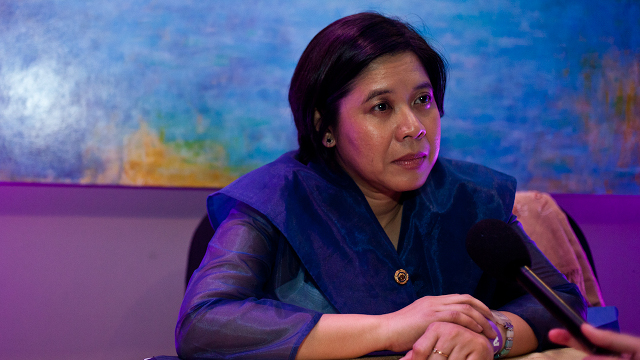 EYEING REFORMS. Comelec commissioner Grace Padaca is eyeing electoral reforms. Photo by Geric Cruz.
MANILA, Philippines – You want reforms in the way politicians get elected? Start with the arrest of vote buyers.
This is the proposal made by election commissioner Grace Padaca recently, saying that strictly enforcing the law on such an election offense will remove the undue advantage of rich but unqualified politicians.
Better yet, she said, start teaching children in school about elections so they will know early in life that vote buying is not, and should not be, the norm in deciding who to vote.
"It should not be difficult. If we just arrest two to three people in barangays and get the message across that this is a violaton of the law and for this you will be accountable, I think that will have some great effect on the need to eliminate or reduce vote buying," Padaca told Rappler on the sidelines of the Freedom Flame awards night on December 4.
Padaca questioned why the laws that prohibit vote buying are not being implemented and emphasized that eliminating the practice is one of the short-term goals of the Commission on Elections (Comelec).
"We've had one command conference so far with the Philippine National Police, but I hope that in the next meetings we have with them, we can tackle more the issue on vote buying," she said.
Article XXII of the Omnibus Election Code defines vote buying as giving, offering, or promising money, favors, or jobs in exchange for getting a person's vote for the principal or causing the person to vote against somebody else. It holds criminally liable both the vote buyer and vote seller.
Anybody found guilty will be imprisoned from 1 year to 6 years and will be permanently barred from holding any public office and will be denied their right of suffrage.
In a speech she delivered at the event earlier, Padaca said that her biggest concern and number one advocacy is electoral reform, since elections are the key towards good governance.
"During the campaign, during the counting of votes, especially during the election protests that almost always automatically happened after—if we don't do anything drastic with our electoral systems, we will see no more of the good people who would want to offer themselves as the alternatives to Filipino voters," she said.
Padaca, a former governor of Isabela, also cited changes she said she wants to see to improve elections in the Philippines.
"If only we can make the entry point better, if only we can make electoral processes saner and fairer," she said.
"Implement the laws against vote buying because this curse is giving us leaders who have lots of money but too little of the qualifications we need to grow as a nation. Begin teaching our children in schools about elections so that when they vote for the first time, they'll have other ideas of elections than money politics and peal campaigning," she said.
Padaca, 49, was appointed election commissioner in October. In 2004, without any political background and aided by her popularity as a radio commentator, she toppled the long-ruling Dy political dynasty in her province. She won her second term in 2007.
In 2010, she lost by a slim margin to the same member of the Dy family whom she defeated in the election before that. She lodged a protest, but Comelec Chair Sixto Brillantes Jr said the case was deemed abandoned when Padaca accepted her appointment to the poll body. – Rappler.com