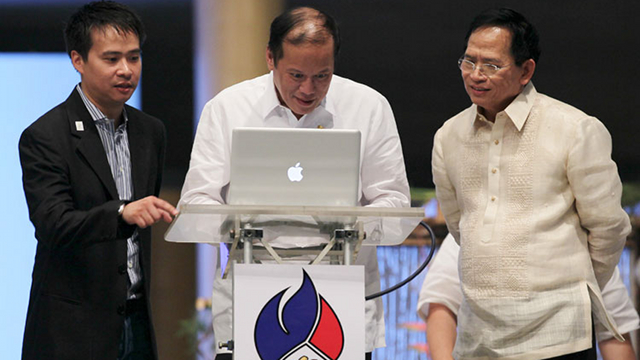 POLITICAL ASPIRANT. Bro Eddie Villanueva (first from right) has always sought, but failed, to enter politics. His son, Joel (third from right), is allied with President Benigno Aquino III (center). Photo from Malacañang Photo Bureau
MANILA, Philippines (UPDATED) – A self-styled kingmaker and twice-defeated presidential bet, Eduardo "Brother Eddie" Villanueva is trying a political comeback by filing his senatorial candidacy Thursday, December 20.
Villanueva, leader of the Jesus is Lord (JIL) Movement, replaced the lone senatorial candidate of his party, Bangon Pilipinas. His party's previous bet, educator Israel Virgines, withdrew his candidacy over two weeks after the Commission on Elections (Comelec) approved his Senate bid.
Villanueva filed his candidacy at around 1 pm on Thursday.
In an interview with reporters, Villanueva said he can serve as a "peacemaker" at the Senate. "I think I am qualified to patch up any possible differences and hasten the passage of possible legislation needed by our country," the 66-year-old Villanueva explained.
His candidacy was a last-minute decision, he said in a separate statement. "There has been a clamor within Bangon Pilipinas to field a candidate to keep the vision (of seeing a new Philippines) burning."
Virgines said he withdrew his candidacy "for the interest of the people." Comelec Chair Sixto Brillantes Jr, for his part, said substitution was a "valid tactic" until Friday, December 21, when candidates can withdraw in favor of substitutes.
In a statement, Bangon Pilipinas said it was former Chief Justice Reynato Puno, as well as the Bro Eddie for Senator Movement, who convinced Villanueva to join the 2013 midterm elections.
The preacher's son, Joel Villanueva, was initially considered for the senatorial slate of President Benigno Aquino III's Liberal Party. Eventually, the young Villanueva had to give way to former Senator Jamby Madrigal and the President's cousin, Bam Aquino.
A source in Villanueva's group, however, told Rappler that the preacher considered running for Senate after Joel's exclusion from the administration slate, but they had asked Virgines to file first while Brother Eddie was getting the blessing of his church's leaders.
Twice defeated
A political activist in his youth, Villanueva has always sought, but failed, to enter politics. He lost in the 2004 and 2010 presidential elections.
In 2010, Bangon Pilipinas had 5 senatorial bets, including former broadcasters Kata Inocencio and Alex Tinsay, who all lost.
Villanueva first exhibited political clout in 1992 after his anointed bet won the presidency. Fidel V Ramos became the Philippines' first Protestant president in a race that pitted religious groups, such as the Catholic Church and the Iglesia ni Cristo, in terms of direct and indirect religious endorsements.
The preacher's influence waned after 1992, however, after JIL's bet, Jose de Venecia Jr, lost to actor Joseph Estrada.
Despite this, Villanueva has said he wants to join politics for the sake of "alternative" leadership.
"Kami ay hindi nangangako ng kung anuman, kung hindi kami ay nag-aalay ng isang paglilingkod na tinitiyak kong hindi kayang ibigay ng traditional politicians. Sapagkat kami pong lahat ay hindi po beholden sa kahit kaninong interests, ng pribadong tao, o pribadong grupo," Villanueva said.
(We are not promising anything; instead we are offering a kind of leadership that, I am sure, cannot be given by traditional politicians. Because are all not beholden to any interests, of private individuals or private groups.)
But various issues have hounded Villanueva, according to Newsbreak.
These include a 2007 murder charge against his son, Eduardo "Jonjon" Villanueva Jr, which he said was former President Gloria Macapagal-Arroyo's way of harassing him as one of her staunchest critics. In 2005, he also evaded arrest after former First Gentleman Mike Arroyo's cousin filed a graft case against him. This was in connection to a management issue over Villanueva's television network, Zoe Broadcasting Network Inc. – Rappler.com