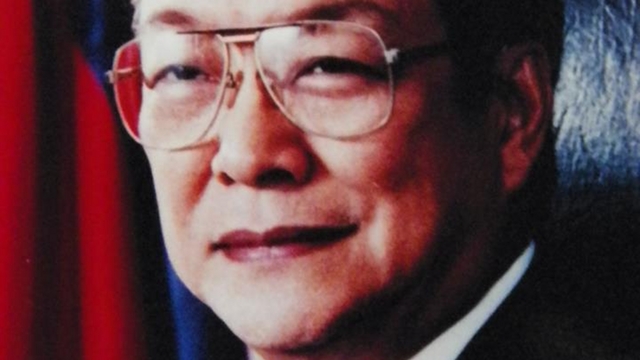 MANILA, Philippines – At 77, former Senate President Ernesto "Manong Ernie" Maceda is the oldest senatorial candidate in 2013. He is convinced, going by his track record, that he could be among the most brilliant too.
He has been out of the race for nearly a decade -- a has-been, critics say -- but the performance of the so-called "octomaneuvers" in the Corona impeachment trial early last year inspired him to get on the course again.
"If Senate President Juan Ponce Enrile and retired Justice Serafin Cuevas can do it, why can't I?" he thought then.
"Enrile is 11 years older than me, Cuevas is 7 years older than me, and I realized that if these people could do a good job at what they're doing, then I guess that I feel I'm in good health enough to be able to follow in their footsteps," Maceda told Rappler.
With senior senators like Joker Arroyo and Edgardo Angara retiring, he said voters all the more need to elect experienced lawmakers.
Maceda has lamented the "low caliber" of some senators after the election of celebrities. He yearns for the days the likes of Arturo Tolentino, Jose W Diokno, Gerry Roxas, and Ninoy Aquino walked the Senate halls.
"People are saying they miss the times when every single senator was brilliant in his own right and you really have to be prepared when you stand up to interpellate or to question because you know that you are going up against experts."
He cites the quality of recent debates on the reproductive health bill and the sin tax bill – measures that languished in Congress for 15 years and finally passed into laws in December.
"As shown by the RH bill debate, the sin tax debate, you saw only about 5 or 6 or 7 [senators] participating. Well, you cannot really participate in the debates unless you are really prepared and qualified," he said.
Estrada ally, Aquino critic
Maceda has 50 years of experience in government: 3 terms in the Senate and 5 Cabinet positions (see list below).
The lawyer started out as a Manila city councilor and went on to join the Cabinet of the late President Ferdinand Marcos, at one point becoming his Executive Secretary. He won his first Senate term in 1971. When Marcos declared martial law, he broke ranks, went into exile in the US, and allied with the Aquinos.
Post-EDSA, he ran under Corazon Aquino's senatorial ticket and won in 1987. He was reelected in 1992, this time under the Nationalist People's Coalition (NPC) of Eduardo "Danding" Cojuangco Jr.
In 1998, Maceda supported presidential candidate Joseph Estrada. He had just been ousted as Senate President, and decided to run for mayor of Manila but lost.
He was later apppointed by President Estrada as Ambassador to the United States. When Estrada was put through an impeachment trial, Maceda served as his spokesperson at some point.
In 2004, he again ran for the Senate under Fernando Poe Jr's slate but lost. He has since focused on advising Estrada, and on his newspaper columns and radio show. He was manager of the Estrada-Jejomar Binay 2010 campaign.
Last year, the impeachment junkie stirred controversy when he said a vote for Corona is a vote for Vice President Jejomar Binay. He said a conviction of then Chief Justice Renato Corona will strengthen President Benigno Aquino III and his "anointed candidate" while an acquittal will help the opposition bet.
Binay will likely be the opposition's presidential contender in 2016. Binay and Estrada quickly distanced themselves from Maceda's statement.
Maceda also said that pushing for the removal of Corona will expose Aquino "to grave temptations of being authoritarian, if not a dictator." The Palace refuted the statement.
SENATE PRESIDENTS. Maceda poses with fellow former Senate leaders Aquilino Nene Pimentel Jr, Jovito Salonga, Manny Villar, Edgardo Angara and Franklin Drilon in an event back in 2006. File photo from Senate website
He was Mr Exposé
Maceda couldn't care less. He is used to speaking his mind.
He was called Mr. Exposé in the nineties. He earned the moniker for pushing for Senate probes on various government scams and the "Brunei Beauties" controversy. Many of these investigations, however, never prospered, prompting various sectors to accuse him of using the Senate to harass political rivals.
"With my experience in 5 government departments and as a 3-time senator, if there are 10 pieces of a puzzle to prove an act of corruption, if you give me two or 3 pieces of the puzzle, I will already be able to look for the other 7," Maceda said.
Yet when he was councilor, Maceda was branded by Manila Mayor Arsenio Lacson as "so young, so corrupt." Maceda said raising the issue now is unfair.
"That was 50 years ago and it was a very small amount that Lacson raised considering, I think about 120 pesos, and it was not corruption that I pocketed it. It's because just like now in the city councils, when you have an item, you divide it among two or 3 people to accommodate more people," he said.

"I've been elected 4 times already and I've gotten all the awards, TOYM and all that stuff so why should that be held against me?"
As a former senator, he counts as his achievements the enactment of the so-called Maceda Law, which grants protection to real estate buyers on installment basis. He was also part of the so-called "Magnificent 12" senators who opposed the extension of the US bases.
Maceda was the co-sponsor of the Local Government Code, having chaired the government body that was the forerunner of what is now the Department of the Interior and Local Government.
The law that banned mail order brides was one of about 50 laws he authored and co-authored (see list below). He was also credited for having perfect attendance.
Should he be elected senator again, he plans to focus on job creation and reviewing the Local Government Code. His platform includes:
pushing for greater spending in infrastructure;
giving assistance and training to one million Filipinos into small and medium enterprises (SMEs);
granting tax exemptions and other incentives to foreign investors;
giving local governments more powers.
Maceda plans to file a bill reviewing the implementation of the sin tax reform law. He opposed the law, saying it puts local tobacco farmers at a disadvantage.
He is also against the reproductive health law. "I think mandating government to distribute, purchase, and spend so much money to buy contraceptives and condoms for free distribution is so controversial that it is better left to the NGO sector to implement it."
Maceda, though, supports the freedom of information bill.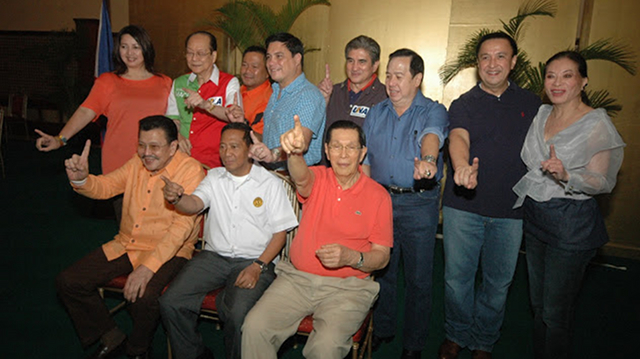 OPPOSITION COALITION. Maceda is running under the opposition United Nationalist Alliance (UNA) of Vice President Jejomar Binay. File photo from http://pdplabanmedia.blogspot.com/
Gangnam jingle, social media
Age does not hinder Maceda from mounting a campaign that is technology and media-savvy. As manager of the Estrada-Binay campaign in 2010, he was most open to harnessing social media and technology to boost awareness of and rally the votes for his candidates.
In his own campaign in 2013, he believes that "social media is the principal difference."
Maceda has a staff that maintains his Facebook and Twitter accounts, and they regularly ask him to answer questions posed online. He was also one of the first candidates to use the global hit "Gangnam Style" as his jingle.
He said he is in good shape to embark on what everybody knows will be gruelling campaign in the summer. Like Enrile and Estrada, he underwent stem cell therapy. "I've been going around for 6 months and to this point, I haven't gotten sick, not a single day."
Maceda is confident his campaign strategy will push him higher from his current 19th-20th rank in surveys.
To criticism that he should just give way to fresher faces in the Senate, he responded: "Well, that is the comment of critics but if you go by the surveys, the electorate seems to want the same old faces back." – Rappler.com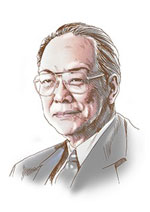 FAST FACTS

Senate Designations:
Former Senate President
Former Senate Minority Leader
Former Senate President Pro-Tempore
Former Chairman, Commission on Appointments
Former Chairman, Committees on Finance; Foreign Relations; Public Accountability; Constitutional Amendments, Revisions of Codes and Laws; National Defense and Security; Education; Crime; Games and Amusement; Accounts; Commerce and Industry; Provincial and Municipal Government and Cities; Economic Affairs
Political Party:
Pwersa ng Masang Pilipino
Nationalist People's Coalition (president emeritus)
Senate terms: 3 (1971-1972, 1987-1992, 1992-1998)
Survey ranking: 19th-20th (Pulse Asia, November 2012 survey)
Age on Election Day (May 13, 2013): 78
Education:
Basic Management Program, Asian Institute of Management (1977)
Harvard International Legal Studies Fellow (1962-1963)
Doctor or Juridical Science candidate, Harvard Law School (1963)
Master of Laws with distinction, Harvard Law School (1957)
Bachelor of Laws, cum laude and valedictorian, Ateneo de Manila (1956)
Associate in Arts, magna cum laude, Ateneo de Manila University (1952)
Professional Background:
Philippine Ambassador to the United States of America (1999-2001)
Minister of Natural Resources (1986, Cory Aquino administration)
Secretary of Commerce and Industry (1970-1971, Ferdinand Marcos administration)
Executive Secretary of the President (1969-1970, Marcos administration)
Secretary of Community Development (1965-1970, Marcos administration)
Chairman, Commission on Reorganization (1969-1970, Marcos administration)
Former Trustee, Government Service Insurance System (1967-1969)
Former Governor, Development Bank of the Philippines (1986-1987)
Former Member, National Economic Development Authority (1966)
Former Director Philippine Charity Sweepstakes Office (1966)
Former Member, Unesco National Commission of the Philippines (1966-67)
Former Governor Philippines National Red Cross (1967-69)
Legal Assistant to the Social Security Commission (1957)
Former Member, National Security Council (1969-1970)
City Councilor of Manila (1959)
Professor of Law, Government and Political Science, Ateneo Law School, University of Manila Law School, National University of Manila, Maryknoll College (1950s-1980s)
*For full list, visit http://www.senatormaceda.net/manongs-bio.html
Bills passed in the Senate:
Former Senator Maceda's Bills Passed into Law
*Source: senatormaceda.net
Advocacies:
job creation
senior citizens' welfare
education and full scholarship assistance for all poor students in college
increase to the fund allocation to local government units
clean and safe drinking water for every household
*Source: senatormaceda.net