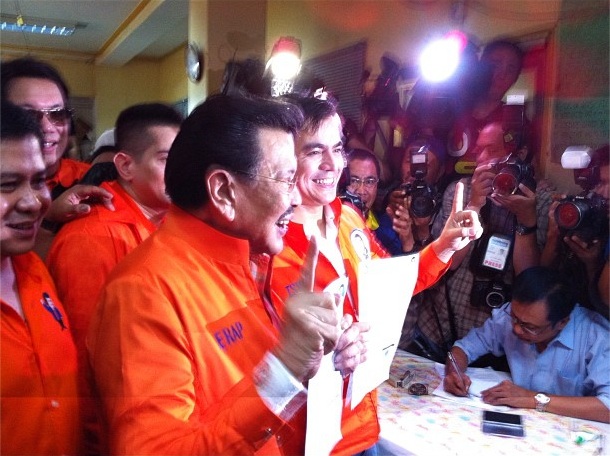 UNA'S MANILA BETS. Former President Joseph Estrada (L) and Manila Vice Mayor Isko Moreno (R) present their Certificates of Candidacy (COCs) for Manila mayor and vice mayor, respectively, to the media after filing at the Commission on Elections (Comelec) office in Arroceros, Manila, October 2, 2012. Photo by Ayee Macaraig.
MANILA, Philippines - Saying the motion is a "mere scrap of paper," the Sandiganbayan junked a petition seeking a clarification on whether deposed president Joseph Estrada could run for mayor of Manila in the May 2013 elections.
The Sandiganbayan special division based its decision on technicalities, saying the petitioners - lawyers Fernando R. Perito and Nepthali Aliposa - "failed to set the above motion for hearing and furnish copies to the concerned parties in this case."
Perito and Aliposa earlier pointed out that Estrada had agreed not to seek another elective post when he accepted the conditional pardon granted to him by then President Gloria Macapagal Arroyo in 2010.
Estrada was convicted of plunder in 2007 but Arroyo granted him conditional pardon in 2010. The pardon stated that Estrada has "publicly committed to no longer seek any elective position of office."
Estrada filed his certificate of candidacy for mayor in October 2012. Prior to this, he ran in the 2010 presidential elections.
Estrada will be running against Manila Mayor Alfredo Lim in the 2013 elections. - Rappler.com