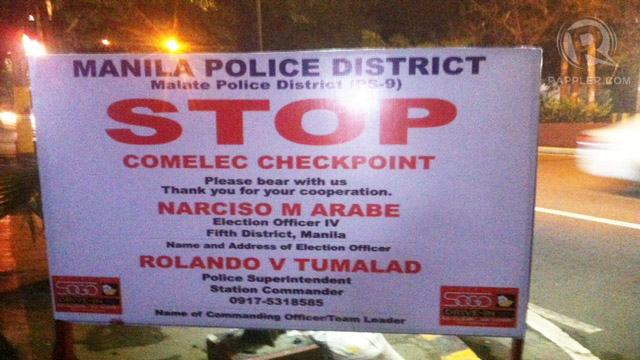 MANILA, Philippines – Commission on Elections (Comelec) personnel in Intramuros, Manila, turned away several gun owners who where applying for personal exemptions on Monday, June 14, the first weekday after the poll body implemented the election gun ban.
The staff at the office of Comelec Commissioner Elias Yusoph, who heads the gun ban committee, reminded them that Comelec Resolution No. 9561-A, which details the gun ban, prohibits them from applying for special exemptions.
"What they need to know is that we don't give personal exemptions... Only in extremely meritorious cases will it even be considered. But still I guess people would be trying," said Comelec spokesperson James Jimenez in an interview with Rappler.
Jimenez noted that Resolution No. 9561-A does not provide for personal exemptions. The most that it allows, for people with death threats, is additional security detail.
A candidate or his or her immediate family, if the need arises, may be assigned a maximum of two security personnel or bodyguards, according to the resolution. But Yusoph's committee "may increase the number of security details assigned to an applicant when the circumstances warrant."
Yusoph's office could not give an estimate of how many have applied for gun ban exemptions so far.
'Don't bother applying'
Resolution No. 9561-A spared only up to 38 groups from the gun ban. These included the Presidential Security Group (PSG), Supreme Court justices, and the government-backed civilian militias called Cafgus. The Comelec exempted 11 more groups in 2013 compared to 2010.

Earlier, Comelec Chair Sixto Brillantes Jr said the Comelec exempted more groups than in 2012 "so that you will not need to apply for a special exemption." "That is what we want to avoid. If you are not on the list, don't bother to apply," Brillantes said in Filipino.
In the resolution, the Comelec's exemptions did not cover President Benigno Aquino III himself. Aquino last Thursday, January 10, then asked the Comelec to exempt his revolver, which he wanted to use for practical shooting, according to Yusoph. That is the President's hobby.
Facing criticism, Brillantes later said Aquino is exempted from the gun ban, despite already having the PSG as bodyguards. He is the military's commander-in-chief in the first place, Brillantes explained. – Rappler.com
Related stories: