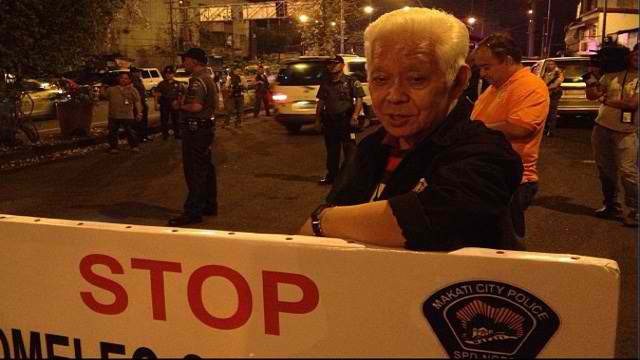 CHECKPOINT. Comelec Chair Sixto Brillantes Jr leads the inspection of Comelec checkpoints in Metro Manila, Saturday night, January 12. Instagram photo by Comelec Spokesperson James Jimenez
MANILA, Philippines – Two government officials led the first 14 violators of the election gun ban, which the government implemented for the third day on Tuesday, January 15, police said.
The National Operations Center (NOC) based in Camp Crame, however, did not name the two officials involved as of 8 am on Tuesday.
The Commission on Elections (Comelec) began to implement the gun ban last Sunday, January 13, exempting only 47 groups of officials, law enforcers, and security personnel. Leading exempted officials, based on an amended Comelec resolution, is Vice President Jejomar Binay.
While Comelec Resolution No. 9561-A and its amendment, Resolution No. 9608, do not state it, Comelec Chair Sixto Brillantes Jr said President Benigno Aquino III is automatically exempted from the ban. Before Brillantes said this, Aquino applied to exempt his revolver for practical shooting, his hobby, according to Comelec Commissioner Elias Yusoph. (More about exemptions in the infographic below)

The NOC said as part of the ban, police have confiscated 16 firearms, including 5 high-powered ones.
The police made the the most arrests – 4 – in Metro Manila. They arrested others in the Ilocos region, Central Luzon, Calabarzon, Western Visayas, Zamboanga, and Davao, said the NOC.
At the Comelec main office in Intramuros, Manila, several gun owners have taken chances to apply for personal gun ban exemptions. But Comelec spokesperson James Jimenez on Monday, January 14, said the Comelec, as a general rule, wouldn't allow personal exemptions. "Only in extremely meritorious cases will it even be considered," he said.
For those who have death threats, the Comelec will assign up to two bodyguards or security personnel – unless there is a pressing need for more of these.
With the gun ban, the Comelec intends to prevent election-related violence, amid a more politically charged environment for the midterm elections on May 13. – Rappler.com