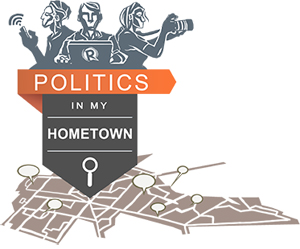 "Politics in My Hometown" is the reader's corner on #PHvote, a space for first-person accounts on how campaigns and elections, governance, and service delivery are in your locality. Send to phvote@rappler.com your 800-word essay, collection of photos, videos, or any medium through which you can best tell your story. A photo and note about yourself will be a good idea.
QUEZON City, Philippines – In my local community somewhere in Quezon City, one of the idiosyncrasies I have witnessed is the existence of a complex padrino system and other "customs" (like the lagay system) related to it.
My family owns a restaurant located near EDSA, and I am currently living two blocks away from it since it's also near Ateneo.
Rumor has it that the chairman of this said area has very close ties with our neighboring food establishments, which have been having less customers and, thus, less profit since our restaurant came.
Being "newcomers" to this community, my family has not yet established a strong connection with the local barangay. Beside our restaurant is a bakery, and we heard that its owners want to extend their perimeter, which will only be possible if we close down and vacate the said space. The owners of the bakery are very close to the chairman, and the processing of their business documents are always smooth and quick.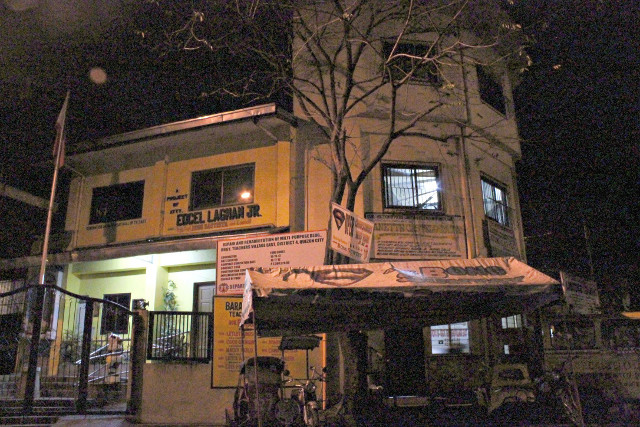 Recently, when my parents were fixing our business documents, the chairman undoubtedly gave them a hard time. He aired several sanitary complaints from customers who, according to him, approached him in the barangay hall. He advised us to hold a general cleaning, and despite the fact that our place was perfectly clean and that we didn't receive any complaints, we followed. Not long after that, he came to our restaurant and told us that he can't give us a clearance because our fire alarm wasn't working well. We had it checked, and as expected, it was in perfect condition.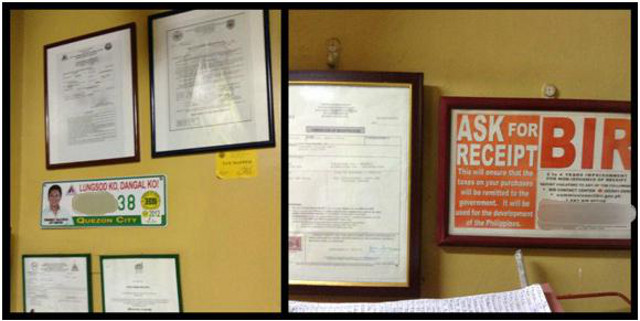 These are our restaurant's official business documents, which were recently released from the Bureau of Permits and Licensing Office of Quezon City Hall.
Weeks went by, and he talked to my parents about some other nonexistent "issues" he had with our restaurant. It was obvious that he was trying to get rid of us. Hearsay about him allegedly receiving special favors from different owners started to reach us, and that he was really trying to get rid of us because he hopes to "help" the bakery. In short, he was the owners' padrino.
When my parents confronted him, he simply said, "Pwede naman ho mapag-usapan." He was asking them to purchase from his office some kind of unnecessary equipment, which is called the grease trap and is worth P30,000.
My parents didn't allow themselves to be tricked. They may not have connections in the barangay, but they have a few friends from the Quezon City council and some of the congressmen. All it took were a few phone calls, a few inspections, and we were able to get our documents renewed in no time.
I believe that this is a clear manifestation of the padrino system. I am sure that almost all Filipinos have been involved in situations when a middleman was greatly necessary. Surely, most Filipinos know someone in at least one government agency.
I cannot explicitly say that this system is the root of graft and corruption, because looking at my family's experience, we were actually able to use a padrino to fight corruption—we didn't fall for the chairman's "Pwede naman ho mapag-usapan" line.
On the other hand, the assistance that the councilors and congressmen gave us automatically established a tie wherein we will have this debt of gratitude because they helped us renew the very important documents.
Currently, the chairman has been very accommodating and kind toward my parents and our employees. I believe that people like him are the reason why we think that the padrino system is the cause of graft and corruption. Analyzing everything carefully, I have come to the conclusion that the padrino system isn't entirely evil or unacceptable; it just depends on how and why you use it.
The said system is usually used by Filipinos to attain power and mutually gain favors. Whether this practice of patronage is used in applying for a job, getting a driver's license, having permits renewed or in getting rid of the MMDA officer peeking through one's car window, it all boils down to the circumstances, and primarily, to one's purpose and intention.
Is it for the good, or is it detrimental to society? Is it solely power tripping, or is it fighting for what is just? Is it for your own personal reasons, or is it for a greater good?
The padrino system can never be removed from society. It is part of our culture and our tradition as Filipinos. It is just important to know how to practice it moderately and decently. After all, everything has a touch of politics. This padrino system isn't just politics in my hometown; this is the politics in my country. – Rappler.com
Ms. Tolentino is a communications student at the Ateneo de Manila University.