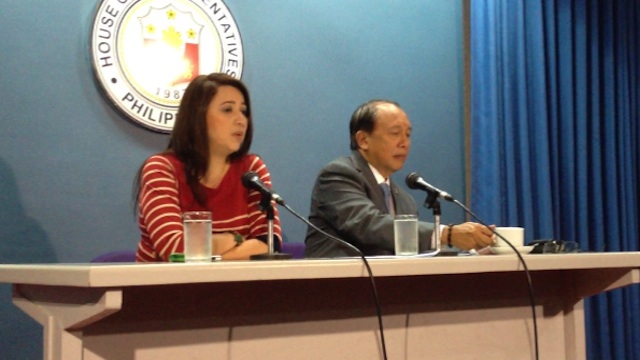 ADVICE. Zambales Rep Mitos Magsaysay and Minority Leader Danilo Suarez hold the minority bloc's weekly press conference.
MANILA, Philippines - Zambales Rep Mitos Magsaysay has a piece of advice for Filipino voters: use your brains, not your emotions.
Magsaysay, who is running for senator under the United Nationalist Alliance, told reporters on Wednesday, January 23 that she hopes voters will not resort to an emotional vote like they did in 2010.
"I hope it will be a battle of problem solving, for voters to vote not based on emotions like in 2010, when majority of the population said the reason PNoy won was... [because] Cory died," Magsaysay said in a mix of English and Filipino.
In 2010, President Benigno Aquino III became the standard bearer of the Liberal Party after the death of his mother, former President Corazon Aquino in 2009.
A study conducted by Gallup shows that the Philippines is the most emotional country in the world.
"I hope this time, mas maging cerebral yung mga botante in voting for their candidates, at yung mga issues na bumabalot sa bansa natin will be at the forefront, hindi yung emotional appeal ulit na kapag kandidato ka ng administrasyon gagamitin mo na naman yung so-called good will kunwari ni PNoy," Magsaysay said.
(I hope this time, voters will be more cerebral in voting for their candidates and the issues confronting the nation, not the emotional appeal that if you're a candidate of the administration, you will use the so-called goodwill of PNoy.)
A Social Weather Stations survey released on Dec 28, 2012 showed that President Benigno Aquino III had a net satisfaction rating of 55%, down by 12 percentage points from 67% in August 2012. His ratings dipped from "excellent" to "very good," according to the survey.
Magsaysay said most candidates were depending on the popularity of the President rather than on their own capabilities.
"We noticed that the other side is banking more on [PNoy's good will] instead of directly giving their opinions or solutions to the problems besetting our nation," she said in Filipino. - Rappler.com