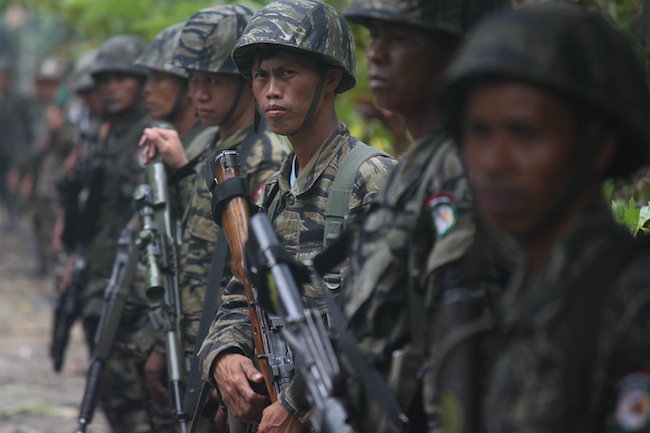 MILF fighters inside Camp Darapanan in Maguindanao. File photo by Karlos Manlupig.
DAVAO CITY, Philippines - The Moro Islamic Liberation Front (MILF) said it would respect the election gun ban imposed by the Commission on Elections (Comelec), a senior rebel leader said.
Von Al-Haq, spokesman of the MILF's Bangsamoro Islamic Armed Forces, said the MILF leadership has issued a memo ordering all members to adhere to the gun ban and keep their firearms within their camps.
"Members of the BIAF are prohibited from roaming around urban areas and highways to avoid violating the Comelec gun ban," Al-Haq said.
The Moro rebel spokesman added that the MILF would strictly observe the ceasefire mechanism so that the on-going peace negotiations would not be disrupted.
"If there would be BIAF movement it will properly observe the ceasefire mechanism," Al-Haq said.
"All alleged violations will be investigated and the findings will be submitted to the Disciplinary Board for them to determine what violation was committed and its corresponding sanction and punishment," Al-Haq added.
The Comelec imposed the gun ban last January 13 and will be terminated on June 12. - Rappler.com