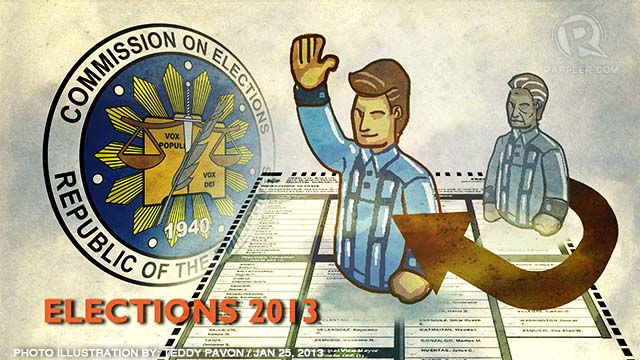 MANILA, Philippines – Nearly 500 candidates who filed in October their candidacies for various local positions for the May elections backed out, but most of them have fielded substitutes, usually their relatives.
Data from the Commission on Elections (Comelec) show that 471 individuals filed their certificates of candidacy to replace those who have either backed out of the race or died. Among those who were replaced are 9 congressional candidates, 6 gubernatorial candidates, and 56 mayoralty candidates nationwide. The rest were candidates for city or municipal councilor.
Of those who applied as substitute candidates, however, 446 were allowed by the poll body to join the local races.
Comelec did not allow 25 of the aspiring substitutes for the following reasons:
lack of proper documentation;
unauthorized signatures;
substitute candidate not meeting the requirements;
withdrawal of original candidate invalidated.
Most of the disallowed substitutes wanted to run for councilor. Only one substitution for a mayoral candidate was denied.
Comelec Resolution 9518 states that a candidate may withdraw his candidacy at any time before the May 13 election day, but a substitute can file his candidacy only until Dec 21, 2012.
The same resolution states that a candidate can only be substituted by someone who belongs to the same political party.
A big majority of substitute candidates -- 200 -- came from the Liberal Party (LP). Only 4 substitute candidates from LP, all for councilor, were denied.
Family affair
Out of the 446 substitute candidates allowed, 17 were coming in for original candidates who died. Among those replaced is outgoing Infanta, Pangasinan, Mayor Ruperto Martinez, who was shot dead on December 15. Martinez had filed as a vice mayoral candidate. His son, Richard, substituted for him.
The other 444 substitutes replaced candidates who backed out of the race. Among those who abandoned their re-election bids and have been replaced by relatives are:
Pasig City Mayor Robert Eusebio (substituted by wife Maria Belen);
Pangasinan 1st district representative Maria Rachel Arenas (substituted by mother Rose Marie);
Cauayan City, Isabela, Mayor Benjamin Dy (substituted by son Bernard Faustino);
Morong, Bataan, Mayor Cynthia Estanislao (substituted by husband Jorge);
Paombong, Bulacan, Mayor Donato Marcos (substituted by wife Maryanne);
Virac, Catanduanes, Mayor Jose Alberto II (substituted by wife Flerida);
Siasi, Sulu, Mayor Arthur Muksan (substituted by wife Mussah).
Some substitutions led to prominent families further dominating local races. For example, in Laoag City, Ilocos Norte, two members of the Fariñas clan (Michael and Rey Carlos) will be substituting for the original vice-mayoral candidates of LP and Nationalist People's Coalition (NPC). Two members of the Fariñas clan are also running for mayor.
In Urbiztondo, Pangasinan, NPC mayoral candidate Manolo Palisoc will be replaced by Marilyn Sison. Her running mate will be Martin Raul Sison II.
In Silago, Southern Leyte, LP vice mayoral candidate Noel Cruzada has been replaced by Sevelino Tomol. His running mate would be Martin Tomol Sr.
Indecision or strategy?
Some re-electionist or returning officials did not file in October, but later substituted for either relatives or allies.
Last-term Sulu Gov Abdusakar Tan, who didn't initially file for any other position but later on substituted for LP's vice gubernatorial candidate Erwin Tan.
Incumbent Salug, Zamboanga del Norte, Mayor Jeffrey Lim, who didn't initially file for reelection but later on substituted for NP's mayoralty candidate Jesus Lim, his father.
Returning Rizal governor Casimiro Ynares Jr., who initially filed his gubernatorial candidacy but later on was substituted by his wife Rebecca.
Election veterans doubt that this is a case of politicians changing their minds. They say this was a common strategy to make rivals put their guard down during preparations, with the latter thinking that they were up against weak candidates, or to scare off potential rivals into thinking they were up against formidable candidates.
In past elections, candidates were given until mid-day of election day to withdraw and be replaced. When polls were automated in 2010, however, withdrawal was entertained until five months before the elections due to the need to print the names of official candidates in the ballots. – with research by Kat Uyan and Gabriel Honrada, Rappler.com