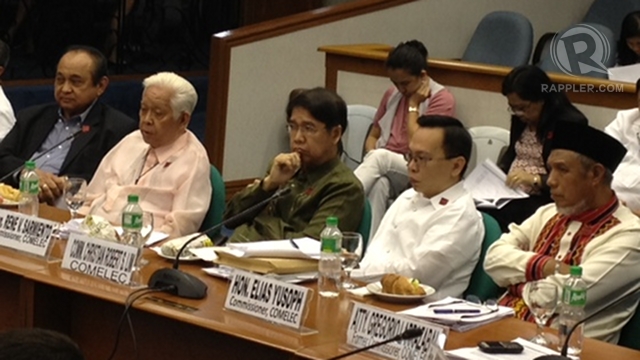 NEW INTERPRETATION. The Comelec will soon issue a resolution to 'clarify' its rule on news interviews. File photo by Paterno Esmaquel II
MANILA, Philippines - Arguing that it's unconstitutional and unrealistic, media organizations are asking the Commission on Elections (Comelec) to revoke its rule requiring them to obtain "prior approval" before conducting interviews with candidates for the May elections.
In a statement released on Friday, January 23, the National Union of Journalists in the Philippines (NUJP) called Resolution No. 9615 "absurd" and "downright unconstitutional," saying it constitutes prior restraint and curtails press freedom.
Athough the resolution does not impose time limits on "bona fide" news interviews, media outfits are required to seek the "prior approval of the Comelec" before interviewing bets and to provide candidates with "equal opportunities to promote their candidacy."
The Comelec earlier imposed this rule to determine whether an interview is election propaganda masquerading as news. The poll body vowed to more strictly limit candidates' campaign expenses, and possibly to charge subtle propaganda against their ad limits.
The Comelec, however, backtracked on this rule when Comelec chairman Sixto Brillantes Jr said the resolution may only require "prior notice" rather than "prior consent."
But NUJP said this "attempt" by Brillantes "to make the best out of an unsalvageable situation" only made matters worse because it would require the media to be "fortunetellers," especially in spontaneous situations such as ambush interviews.
"This practically precludes impromptu interviews, which are invariably better at drawing out as much of the truth from interviewees than staged or pre-arranged interviews, and could also have dire consequences in emergency situations, such as natural disasters, when officials, who may also happen to be candidates, need to get information out as quickly as possible," NUJP said.
"To be able to comply with this ridiculous edict, broadcast networks and their news staff will need to be fortunetellers who should be able to predict where and when a candidate will be at any future moment," it added.
The Kapisanan ng mga Brodkaster ng Pilipinas (KBP) also raised the same issues over the "prior approval" rule before the Comelec.
In a motion for reconsideration filed Thursday, January 25, the KBP said the resolution creates a "chilling effect" on the exercise of press freedom because its constitutes prior restraint on the press "even if there is no clear and present danger to national security, public order or public safety."
"There is created a burden of proving the bona fide exercise of press freedom before it is even exercised," the KBP said.
Impractical?
In a separate petition, GMA Network, who is not a member of the KBP, cited certain situations that would make the rule "complicated to implement."
GMA said the rule does not even consider how news bureaus outside the National Capital Region would seek Comelec's prior approval to interview candidates.
Another provision that would be difficult to implement would be the requirement on providing "equal opportunities" to candidates.
For example, when a senatorial candidate is granted a 30-second interview in a news report, should equal time also be given to the rest of the 32 senatorial candidates?
"If this were the case, it would mean that precious manpower and logistical resources including airtime would be conscripted or expropriated by the Comelec, without just compensation just to comply with this provision," GMA said.
The Comelec is expected to issue a new resolution clarifying its rules on media interviews. - Rappler.com