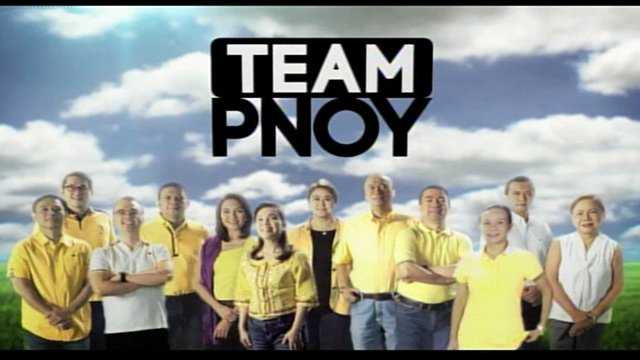 SCREENSHOT of the Team PNoy commercial
DIPOLOG CITY, Philippines – President Benigno Aquino III will arrive here Tuesday, February 5, officially to inaugurate a building at a private school owned by his poiltical ally. Reports from his party mates, however, indicate that the main purpose of the President's visit is to consolidate the Liberal Party's organization here.
Zamboanga del Norte is home to tight, one-on-one races for major posts between LP and the Nationalista Party (NP), or LP and United Nationalist Alliance (UNA).
The President will be inaugurating the new Graduate Building of Andres Bonifacio College (ABC), which is owned by the Amatongs, a business and political family allied with LP members Rep Rosendo Labadlabad of the 2nd district and Dipolog City Mayor Evelyn Uy.
"After the inauguration, the President will meet with local officials at the ABC gymnasium, but I didn't see the names of Governor [Rolando] Yebes and the Jalosjoses," said Alfonso Ruda, acting manager of the Philippine Information Agency here.
Yebes, who is with UNA, is allied with the other powerful political family, the Jalosjoses, led by former congressman Romeo Jalosjos.
Romeo's brother Cesar is the congressman of the 3rd district, while his son Frederick Seth is the representative of the province's 1st district. The Jalosjoses are with the NP.
The Jalosjos-Yebes group will be running against the Amatong-Labadlabad-Uy alliance.
Personalities, not parties
In the 1st district, Rep. Frederick Seth P. Jalosjos is being challenged by Vicente Balisado of the LP.
In the 2nd district, re-electionist Labadlabad is being challenged by Yebes, who is on his last term as governor
In the 3rd district, former governor Isagani Amatong is running against the daughter of Rep. Cesar, Johanna Jalosjos-Pareño, currently a provincial board member.
For governor, Congressman Cesar Jalosjos is hoping to succeed Yebes, and but is being challenged by Roberto Uy, husband of Mayor Evelyn.
The Dipolog mayor (Evelyn), who is running for re-election, is being challenged by former congresswoman Cecilia Jalosjos-Carreon.
Meanwhile, in Zamboanga del Norte's other city, Dapitan, two LP candidates are running against each other for mayor: newly installed Mayor Agapito Cardino and Jade Page. They are running against Councilor Rosalina Jalosjos-Johnson, sister of former congressman Romeo Jalosjos.
In the past decades, political life in Zamboanga del Norte has always been about the rivalry between the Amatong-Labadlabad-Uy group and the Jalosjos-Yebes group, and so much about opposing political parties. In 2007, the Amatong-Labadlabad-Uy group and the Jalosjos-Yebes group were under Lakas. But the former bolted Lakas claiming that Lakas finances went to the Jalosjos-Yebes group.
The Amatong-Labadlabad-Uy group then joined LP in 2010, while Jalosjos-Yebes group remained with Lakas supporting Gilbert Teodoro and Vice President Jejomar Binay.
With the virtual collapse of Lakas, the Jalosjoses transferred to the NP, while Yebes went with UNA. – Rappler.com